No doubt about it, this market has been extremely difficult for many traders. If you've been struggling in this market environment, that's okay because even some of the best funds out there are getting pummeled.
Bridgewater's main hedge fund lost approximately 20% in Q1 2020, while others like PointState saw $2B in withdrawals. That goes to show me even the smart money is lost.
The reason?
I believe they weren't able to adapt in time, and couldn't figure out a way to take advantage of all the catalysts out there.
The thing is, I've uncovered a plethora of unique opportunities — ones that are hidden throughout the market… and that allowed me to rake in more than $477K in trading profits during the month of March alone.

Today, I want to show you exactly what I'm doing to uncover winning trades in this market… and why I believe there are more opportunities to come.
[Revealed] How I Made $477K During One Of The Most Volatile Months
When it comes to this crazy market (or any other market environment for that matter), I believe it's important to focus on catalysts. I don't enter a trade unless there's a major catalyst on the table.
So what exactly are catalysts?
They're simply a reason why stocks and options move. Now, it could be earnings, data releases, product announcements, news headlines, or guidance. If you look at some of the best traders out there, they understand how catalysts work and are forward-looking…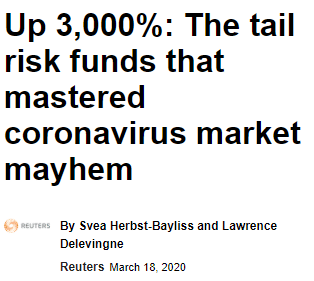 If you don't know how catalysts work or have never traded off of them before… then you're in luck because I want to show you exactly how I use catalysts to my advantage.
Catalyst Trades Are Poppin' Off
You probably heard the story about Luckin Coffee (LK), which some call the Starbucks of China, already. If you haven't, the company suspended its COO due to allegations of fake transactions. Of course, there were signs pointing to this.
Back in late January and early February, there was a battle between two famed short sellers Muddy Waters Research and Citron. These two were duking it out over LK.
The stock was experiencing a 25% decline after this tweet: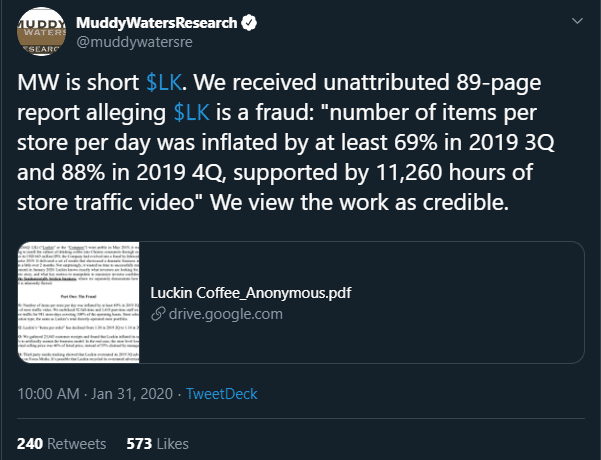 Famed short-seller, Muddy Waters Research blasted the company in a tweet, sending the stock in a downward spiral.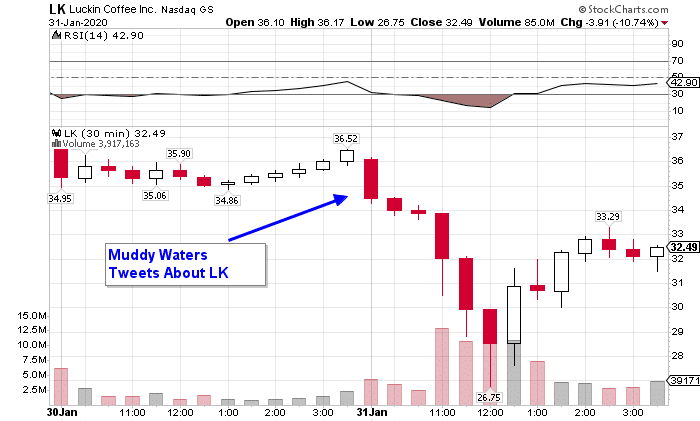 To Muddy Waters' and LK's surprise, another famed short-seller stepped in. However, this short seller wasn't bashing Luckin Coffee, in fact… he defended the company.
Citron Research's Andrew Left (he's featured in the Netflix documentary, Dirty Money) tried to come to LK's rescue.
Here's a look at the tweet Citron fired off…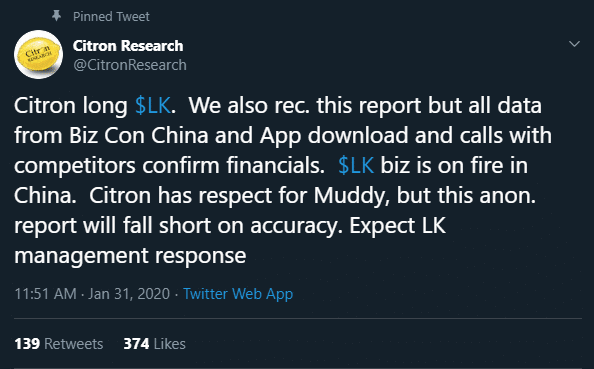 The stock managed to rally about 10% off its low that day after Citron's tweet.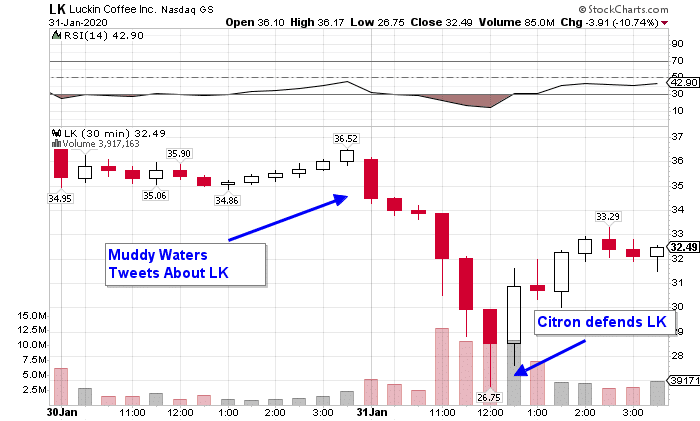 However, as traders know by now… there was a clear winner in this battle.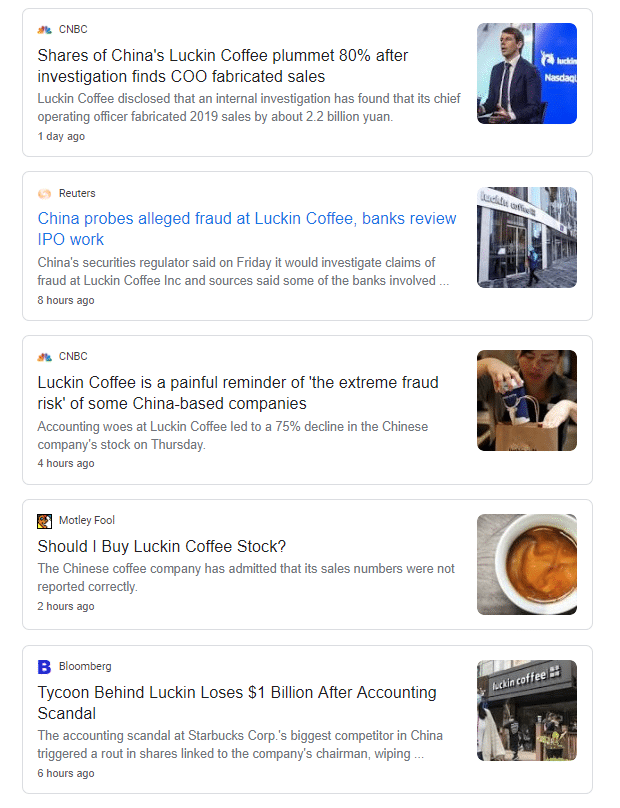 It turns out that Muddy Waters was ahead of the pack and right all along. Of course, there were other traders that profited off this… I actually spotted a massive options sweep in Luckin Coffee AHEAD of the news, and I let my clients know about the trade.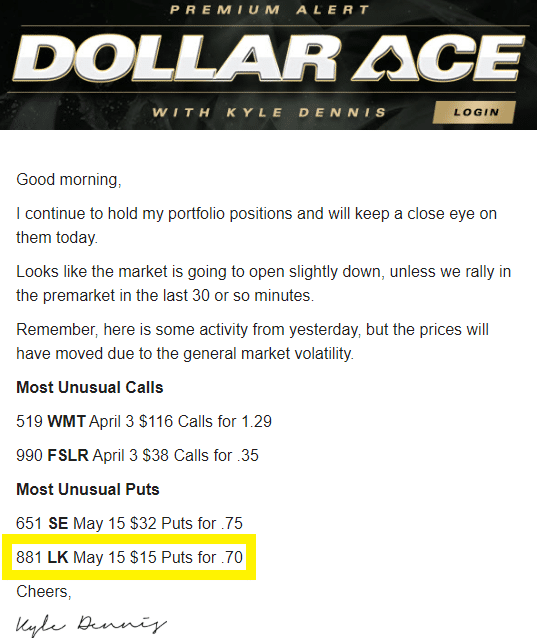 Did I know what the catalyst was going to be? Heck no! All I knew was that someone with financial backing was hopping into a long-shot bet.
Of course, some of my clients were able to profit off that catalyst…



Heck, some traders made more than 10 times their money. If you think these catalyst trades are one offs, think again.
I was able to rattle off a number of monster winners using my catalyst strategy, and I expect more of these opportunities for me to take advantage of.
The key takeaway here is to try to find a reason to get into a trade because it could potentially improve the chances of a trade working out. Of course, in this market environment, you have to know where to look for trading opportunities in order to put yourself in a position to profit from them.
I've uncovered what I'm calling a hidden bull market, and I want to show you how I've been able to lock in $477K in March alone and reveal the next big catalysts set to hit the market. Click here to sign up to my special training session, as I address the state of the market.