One of history's best investors Warren Buffett once said, "Be fearful when others are greedy and be greedy when others are fearful." With fear rampant in the markets, this quote is so applicable, especially today — and I want to put to bed what so many people are saying in the markets, "Buy and hold is dead."
It's been a scary day for investors as many stared at bleeding portfolios. Circuit breakers were triggered in the overnight futures — sparked by the massive drop in oil prices after Saudi Arabia slashed crude prices over the weekend.
Not only that, but coronavirus is starting to become widespread. All of those catalysts have overshadowed one of the largest catalysts this year, The U.S. Presidential Election. 
I think it's time to start looking for plays that could potentially benefit from the election, as I reveal in my brand new eGuide — The Election Catalyst Playbook. 
Of course, with so much volatility and fear in the markets, I believe many investors could start to head for the door… and they may think buy and hold is dead.
Sure, cash may be king right now… but I think that will all change very soon, and I want to show you how to start looking for investment opportunities.
For the most part, I'm highly selective when it comes to trading and investing. I don't just spray and pray, I stalk and wait for the right opportunity to snipe. But when stocks are bleeding, how do I find the right ones to invest in?
Simple, I focus on catalysts.
I find the best way to learn about investing is through case studies, so I want to walk you through a recent play I had in NortonLifeLock (NLOK).
How did I come about this play?
Political Elections Helped Me Uncover An Unprecedented $12 Dividend
Back in January, as I was looking for my next Sniper Report play, I uncovered 3 "P's" that I thought could drive NLOK, and potentially the entire consumer cybersecurity sector higher.
Over the last decade, billions of personal data files were hacked and leaked to criminals. Not to mention the political election hacks along the way. With approximately 3-4B accounts hacked over the last 10 years, I believed consumers would look to protect their information.
Not only that, of the companies hacked, I figured they would start to leverage cybersecurity companies to protect their data. As I searched for a high-probability investment opportunity, I came across NortonLifeLock.
The company was formerly named Symantec (SYMC), but now it had a new look. NLOK sold its old businesses in order to generate a strong cash position to focus on what was working for them — LifeLock.
By focusing on that division, NLOK is poised to become a growth company… and the company also generated a ton of free cash flow with the sale of its enterprise businesses. Guess what they did with a portion of that?
They wanted to reward investors with a special $12 per share dividend.
With this massive opportunity, all I had to do was own shares of NLOK by January 21 to collect that unprecedented dividend.
Here was a note I sent out to Sniper Report clients:
Please note: The dividend is payable on January 31, 2020 to all shareholders of record as of the close of business on January 23, 2020. Shareholders of record on January 23, 2020 must hold their shares through the close of January 31 payment date to receive the special dividend. The ex-dividend date will be February 3, 2020, the first business day after such payment date.
There Could Be Upside Potential For NLOK
Of course, after a massive dividend… the share price would reflect the payout.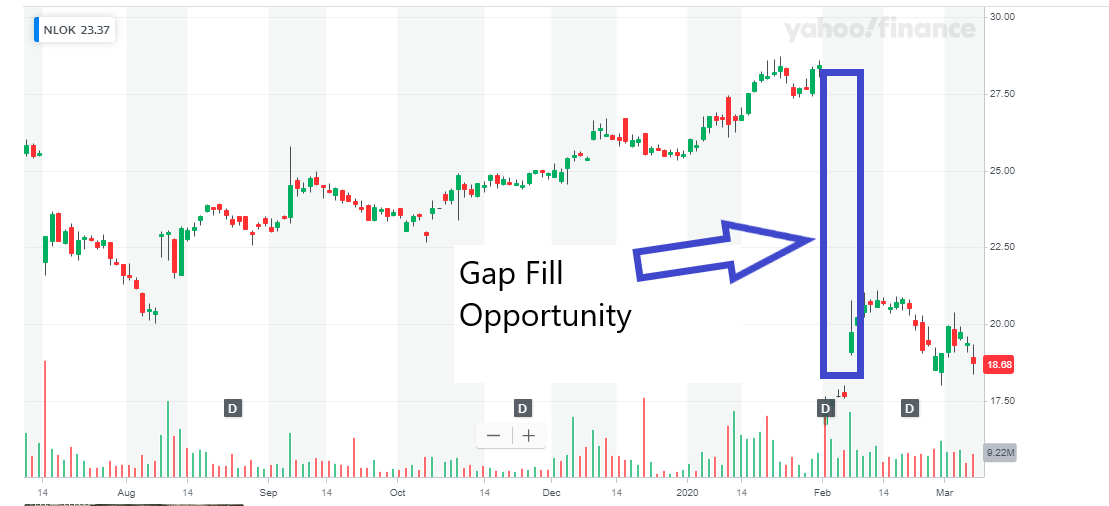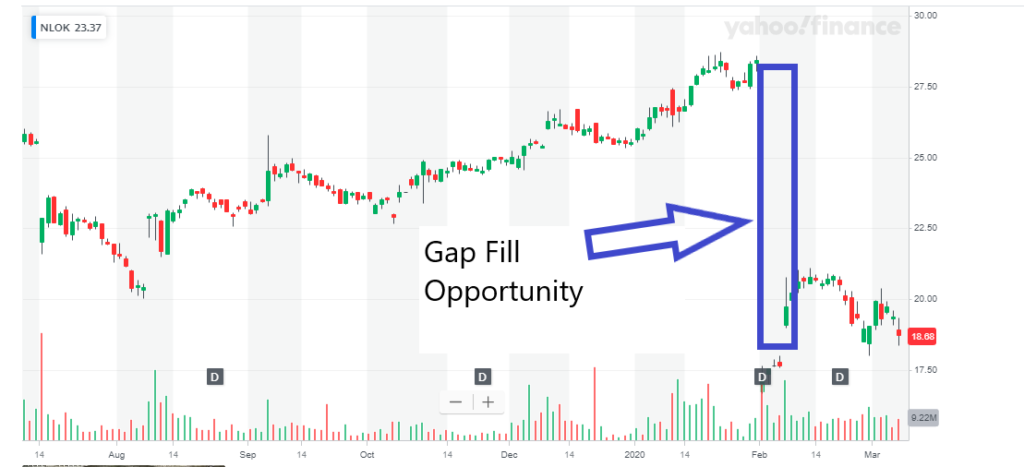 Source: Yahoo Finance
If you look at the chart above on NLOK, it looks pretty scary right… but that massive gap down as just a reflection of the $12 dividend. This creates a potential gap fill opportunity from a technical standpoint.
After I collected the $12 dividend, I decided to stay in the stock.
Note: I am long NLOK.
Just by focusing on potential catalysts, I was able to collect that massive dividend and put myself in a position to win… despite all the crazy market activity. Currently, I'm still up approximately 10% on the position.
The thing is, there are still so many catalysts on the table, and the 2020 Presidential Election has allowed me to uncover opportunities in this one sector. If you want to learn more about my investment moves, click here to receive my complimentary eGuide: The Election Catalyst Playbook.
Related Articles: