Well, there's vaccine news out and the economy could restart very soon…
There are some sectors that can start to pick back up.
My Dollar AceScannerhas picked up on a slew of activity, but there's one "smart money" trade that stood out from the rest.
There was more than 2,500% in call activity in a "little-known" steel manufacturing and mining company on Monday.
That signaled to me this company can make a move very soon becausethere's one thing I know about these Wall Street whales — they're typically right when they place a large bet.
So what stock am I referring to and what are my thoughts on the trade?
Can This Steel Company Pop?
To me, this "smart money" trade made a lot of sense. With signs of the economy picking back up and potentially re-opening soon, the steel industry would benefit.
Manufacturing and construction will start to pick up, and the demand for steel should follow suit.
Options traders were all over…
ArcelorMittal S.A. (MT)
Now, if you don't know what that company is, allow me to explain.
MT owns and operates steel manufacturing and mining facilities in Europe, North and South America, Asia, and Africa.
About a month ago, Goldman Sachs initiated MT with a buy rating, noting it expects to see a recovery in global steel demand thanks to construction projects coming back online and the automotive industry.
So what exactly did I see today that got me thinking about this stock?
Well, it wasn't one specific order, it was a series of consecutive trades that really got my attention.
For example, on an average day, you won't see more than 1700 MT callstrade.
However, by 11 AM ET on Monday, more than 40K call contracts traded.
That's a spike of more than 2,500% … and that was just the first 1 hour and a half of the trading day.
What kind of action did the Dollar Ace Scanner pick up on?
Here's one:
1500 MT Aug $12.50 Calls
Trader Paid $0.25 Per Contract
For A Total Of $38K In Premium
The trader needs to see about a 5% move between now and the expiration, which is 11 days away, to break-even.
However, this trader was already sitting in profits by 12 PM on Monday, as the $12.50 calls were going for $.35, representing a 40% gain.
Shares of MT were ticking up this morning… and those options are in the money (ITM).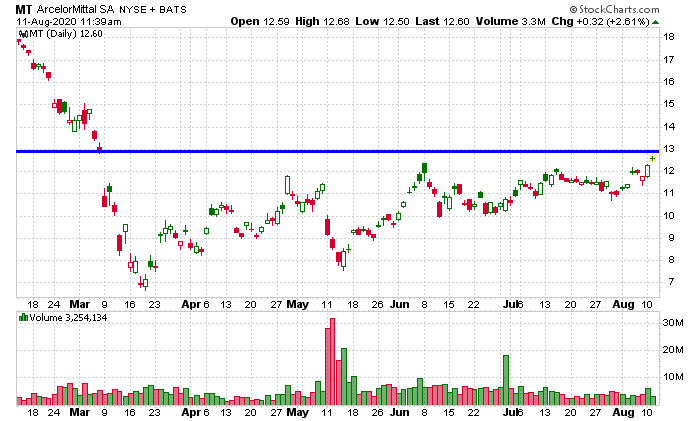 Those calls were going for $0.44 bid X $0.45 ask at 11:48 AM ET.
There are trade ideas similar to the one I just laid out to you that come across my scanner frequently.
If you want to learn how to use this information to your advantage, register for my upcoming training workshop.
Click Here To Discover How To Make Money Off The Dollar Ace Scanner.