Virgin Galactic Holdings (SPCE) was one of the hottest stocks on Monday after it skyrocketed and closed 25% higher.
Options traders were jumping into calls left and right, and more than 274K calls traded…
I looked at my "smart money" scanner to see if there were any specific trades that looked interesting, and there were two specific orders that looked interesting.
I want to show you how I locked in a 50% winner in less than 30 minutes, SPCE on Tuesday morning…*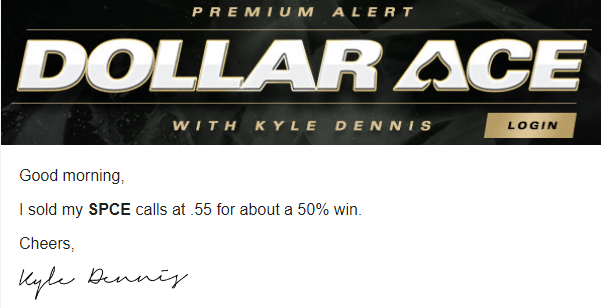 Can SPCE Take Off From Here?
Although SPCE wasn't popping off as it did on Monday, I think we're going to see a run higher very soon.
Why?
Well, let's turn back the clock a bit.
Shares of Virgin Galactic Holdings (SPCE) ripped higher on Monday, gaining nearly 25% and closing at $20.51.
All thanks to a very bullish note that Bank of America sent out to its clients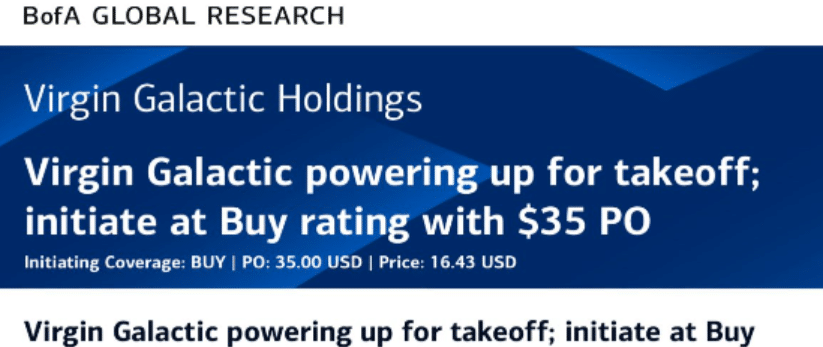 And you know what else?
Options traders were in a frenzy, as more than 274K calls traded.
In between all that action is information.
On my Dollar Ace Watchlist on Tuesday in the pre-market hours, I included this options activity:
2035 SPCE Oct. 2 $22 Calls For $0.50
They Paid $101,750 In Premium
Of course, that action happened on Monday, and I figured I can find a better entry than those call buyers.
At 10:22 AM ET, those calls came in a bit from the closing price on Monday.
I decided to follow the "smart money" into the trade, and I bought 100 SPCE Oct. 2 $22 calls at that price.
In less than 30 minutes, those options exploded from my entry price, and I locked in about a 50% win.*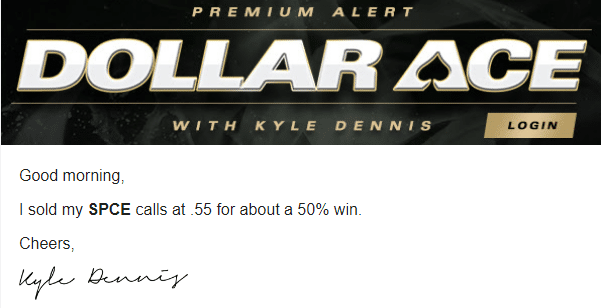 Listen, that wasn't the only activity that stuck out to me that indicates SPCE may be headed higher.
For example, at 10:44 AM ET on Monday, a trader came in and bought
1478 SPCE Oct $23 Calls
They Paid $1 Per Contract
For A Total Premium $148K
But that's not all…
This trader paid above the market's asking price.
That's how badly they needed these options.
At the time of the trade, SPCE was trading at $20.09.
I'm going to keep an eye on SPCE, even though I locked in a 50% winner on the options play already.
It's pretty easy to see that it's possible to effortlessly generate trade ideas. Allow me to show you how I let the "smart money" and Wall Street whales do most of the heavy lifting for me…
And how I legally take their best ideas and turn them into monster gains.*
Register for this exclusive training workshop.
Let me show you how to start following "smart money".
*Results presented are not typical and may vary from person to person. Please see our full disclaimer here: ragingbull.com/disclaimer