After the Moderna (MRNA) news this morning, you better believe traders are looking at healthcare stocks for potential opportunities.
It makes sense because many will look for sympathy plays, and there's an old Wall Street adage…
"Rising tides raise all ships."
Given the whole pandemic and the election, I believe healthcare stocks will remain hot not only for the rest of 2020 but well into 2021.
For me, that means more potential profits… after all, my bread and butter lie in trading healthcare stocks — and I want to teach you how I trade these names.
To be quite honest with you, it's a simple trading strategy for me… and it involves looking at one key "indicator".
The Right Way To Trade Healthcare Stocks?
When it comes to trading healthcare stocks, one of the most important factors is to look and see whether they have an upcoming event.
In other words, I want to find out if a specific healthcare company is set to release any data and trade around that.
You see, these catalyst events are typically known ahead of time.
Take a look at this screenshot from BioPharmCatalyst.

You'll notice there are timelines as to when a company will release news. Some have specific dates, while others will give you a range. For example, a company may be expected to report data in Q3 or say December.
If you think about what's been going on with these healthcare stocks, if traders know these dates…
They'll want to buy ahead of the event right?
At least that's what I believe, and that's what my catalyst runup strategy aims to take advantage of.
Rather than buying and holding into the event, I actually look two to four weeks out for potential catalyst trading opportunities…
I develop a trade plan, and typically, regardless of whether I'm up on the trade or not, I want to get out before the event.
For example, one stock that was on my radar this week is IMV.
IMV Inc (IMV)
Catalyst Dates: Phase 2 data to be presented December 3
Buy Zone: $3.30 to $3.70
Profit Zone: $4.00 or higher
Stop Zone: $3.10 or below
Options: No options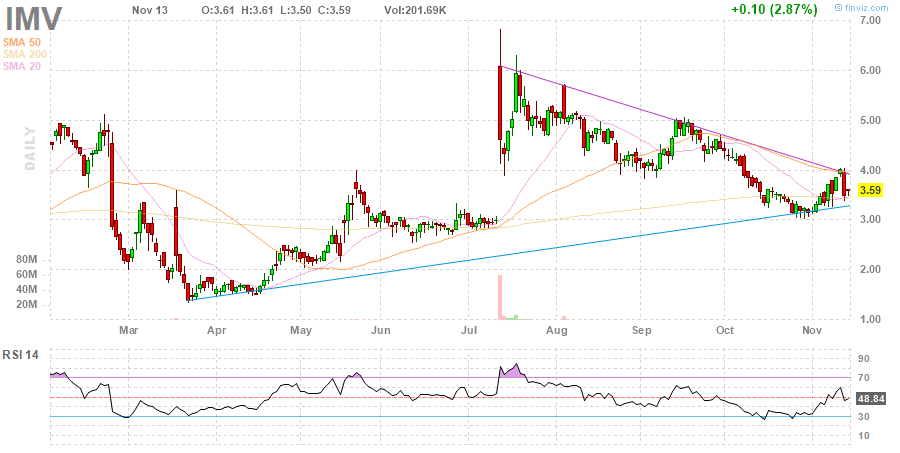 If I decide to make a move, I would hold for a few days to weeks (if the stock gets to my target or stop zone, I'm out of the trade) but I definitely would want to be out before Dec. 3 (the catalyst date).
Of course, I can tell you all about the plays on my radar… they're either going to work or not, and I believe what would be more valuable to you is if you attend this special training session.
You'll learn some of my best tools and techniques to time the market and uncover catalyst trading opportunities.
Given the environment we're in, this is one workshop you do not want to miss out on.
Find out how to start trading with an edge like no other and discover what catalyst trading can help you do.