What a wacky market it's been… and now trade war headlines are popping up again.
Of course, I do have some thoughts on the market, but it can get difficult picking the overall direction.
For me personally, I've found success with trading off catalysts… and that helped me generate more than $1M in trading profits during the first few months of 2020.


Today, I want to show you how I use catalysts to my advantage and reveal to you some stocks and sectors on my radar.
Why I Focus On Catalysts
I believe catalysts move stocks… now when I mention "catalysts", I'm really just referring to a fundamental reason that can move a stock. This could range from news events to unusual options activity.
Whatever the case may be, before I get into any position, I have a reason.
For example, one strategy I like to use is the "catalyst runup".
My theory here is when there's a known catalyst, traders and investors will try to rush in and bid the stock up… to take part in the potential catalyst.
Don't worry if it doesn't sound clear to you at first, I'll show you how it works.
Last week, I had Evoke Pharma (EVOK) on my Trade With Kyle watchlist… and here's what I sent out to my subscribers.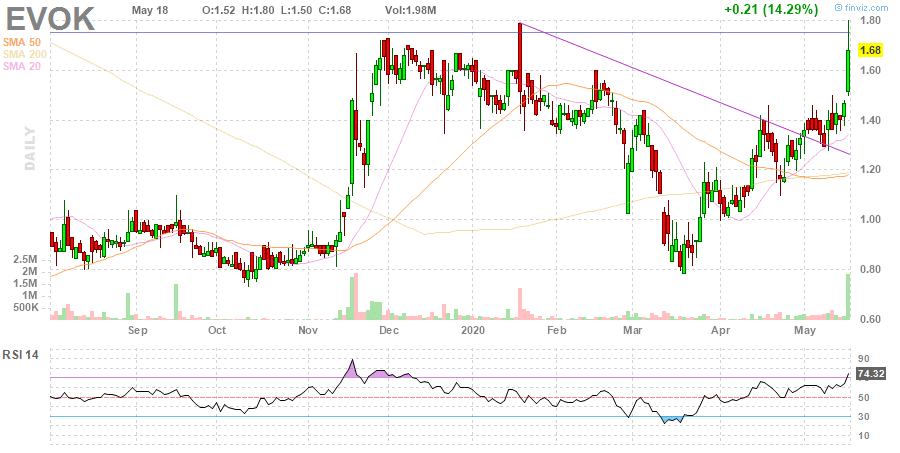 Source: Finviz
The reason I had this on my radar was this stock looked like it could breakout… and there was a catalyst in play — there was an expected FDA Approval date in June for the company.
With these specific catalyst plays, I plan to hold on from anywhere between 1-4 weeks… and since I have a plan in place, I can "set it and forget it".
My thinking here was EVOK could pop very soon… and I would get out ahead of the catalyst event, regardless of where my PnL for the position was.
Here's what I sent out to my subscribers, letting them know about my moves in EVOK.
Evoke Pharma (EVOK)
Catalyst Dates: FDA Approval date of June 19th
Buy Zone: $1.50 to $1.60
Profit Zone: Over $1.80
Stop Zone: $1.35 or below
Option: No relevant option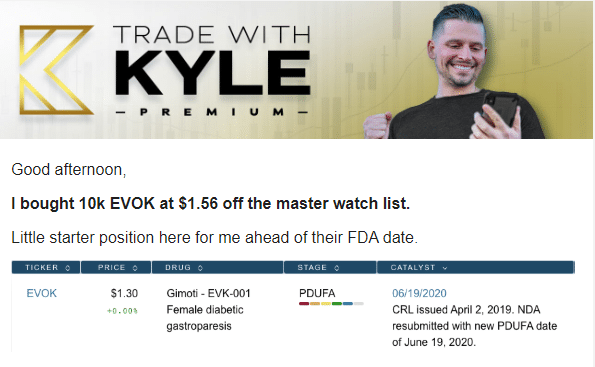 Now, not too long after I bought shares… in a surprise press release, Evoke announced that it received FDA conditional acceptance of Gimoti brand name following its NDA resubmission.
Basically, this was a positive catalyst and the stock popped!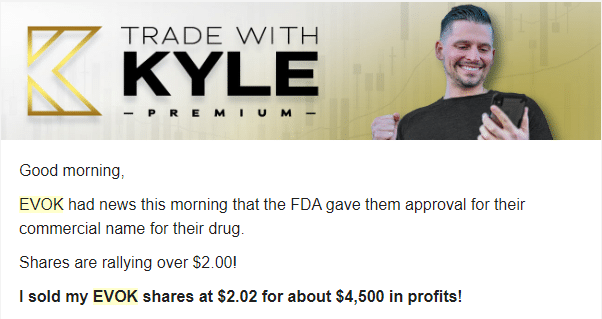 Now, if you look back to my trading plan that I let Trade With Kyle subscribers know about… I followed it to a T.
I bought shares between $1.50 to $1.60 (my actual buy was $1.56). My profit target was $1.80 or above… and I was able to sell my shares for $2.02, or about $4,500 in profits!
Of course, you're probably wondering where you could find these "catalyst" plays…
So I want to give you a taste of what I'm watching right now.
I've got some stocks on my radar that are working on coronavirus vaccines and treatments.
"Coronavirus Names": AIM, APT, CODX, INO, OPK, MRNA, GILD, NVAX.
Additionally, some oversold sectors I've got on my radar include: restaurants, airliners, casinos, hotels, entertainment.
With some states lifting stay at home orders, I believe some stocks in those sectors can bounce.
Now, if you want to learn more about my catalyst trading approach and my thoughts on the market at these levels… I've put together a special training session…
In it, I explain in detail why I believe catalyst trading is where it's at.
Click here to register for it now.