Nikola Corp. (NKLA) has been getting beaten down after a slew of negative catalysts hit the wire…
Now, the smart money was actually all over this trade before news got out that GM was pumping the brakes on its deal with the hydrogen-EV company.
Not to mention, they also caught the drop on Tuesday, after the lockup period expired.
Was this a well-timed trade, or did someone know ahead of time?
To be honest with you, it doesn't really matter — what matters most is whether you can identify the play or not.
Did The Smart Money Know About This Drop In NKLA?
Here's what came across my scanner on Friday…
1000 NKLA December 18 $18 Puts for .95
Someone bought 1,000 puts in NKLA puts with a strike price of $18, when the stock was trading above $25.
Now, it was known there was a lockup period for this stock on Tuesday. What that meant early investors would be able to sell shares. Of course, traders anticipated that news and bet against the stock.
Those who were short heading into this event (on Friday), actually got paid because there was news of how GM's deal wouldn't really add value to the company.
With the stock dropping from more than $30 to $17 in just a few sessions, I actually see that as a short-term trading opportunity.
You see, when traders see such a beaten down stock, the may see it as a value buy and if you can spot an upcoming catalyst — that might be a signal the stock can bounce.
Well, with NKLA, I actually purchased shares on Wednesday morning because there was another catalyst on the table.
Here's what I sent out this morning…
The company has been hammered over the past 5 trading session from near $40 to $17 and today after the close they are supposed to have a little investor day. I'm thinking we get some short covering and a rally into that at least above $19 before today's close. I'll look to exit sometime today, ahead of the conference.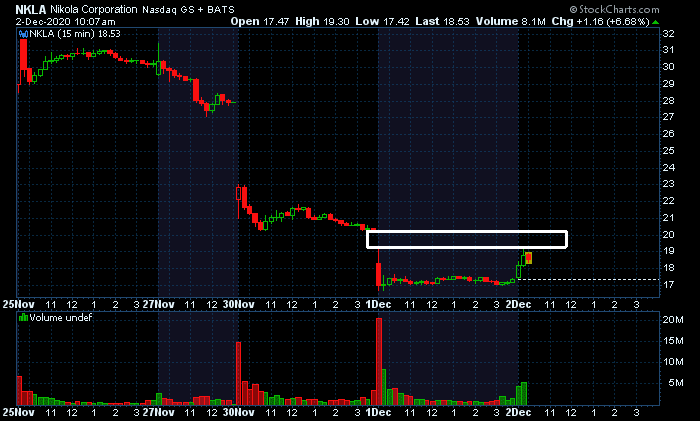 That catalyst actually helped me time my entry, and given the way the price action looks… I think NKLA might fill this gap. Whatever the case may be, I plan to exit ahead of the conference…
And I'll be sure to let subscribers know about my moves.
Now, if you want to learn how to better time your entries and exits… let me show you how you can utilize catalysts to your advantage.
Given the state of the market, I think it's of the utmost importance for you to attend this important session.
WE MAY HOLD SECURITIES DISCUSSED. RagingBull has not been paid directly or indirectly by the issuer of any security mentioned in the Services. However, Ragingbull.com, LLC, its owners, and its employees may purchase, sell, or hold long or short positions in securities of the companies mentioned in this communication.