Retail traders are running wild at these levels.
There's a lot of chasing…
And people are buying up random stocks.
Sure, it might work right now, but in the long run…
I don't think that's a viable strategy.
I mean take a look at some of the top adds for Robinhood users today…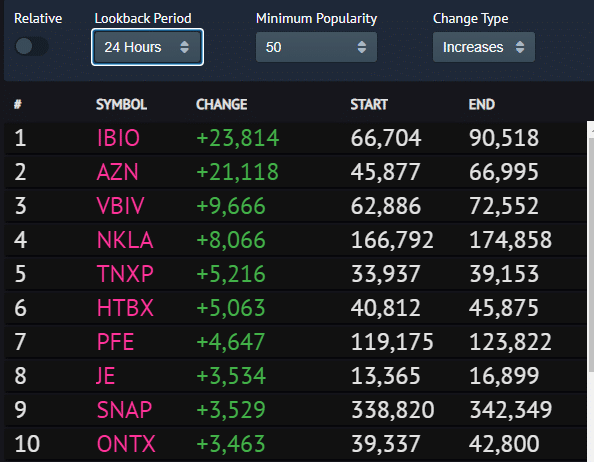 Traders are buying Nikola Corp. (NKLA), even though the stock was down more than 20% by 2 PM.
You see, most retail traders aren't focused on the one key element I believe all traders should focus on:
A Definable Trading Edge
Without an edge in the market, I believe it's only a matter of time these traders take it on the chin.
I get it, it can be difficult to identify an advantage in the market…
That's why I want to show you some quick techniques that can help you identify your trading edge.
How To Identify An Edge In The Markets
When it comes to identifying your edge, it's important to keep a journal of all the trades you took, whether they be paper trades or real money trades.
You see, there is a pattern in there if you have some wins.
For me personally, when I first started out trading… I had wins and losses of course, but I found there was one common theme with my winners.
Of course, I didn't know that at the time, but I realized all the winners had a fundamental piece of information that could send the stock soaring.
Once I figured that out, I developed a strategy around it.
I looked for potential catalysts and created a trade plan around it… and I'm still using those techniques to this day.
Let me show you what I mean by that…
How I Spotted The Massive Move In HTBX
Last week, I actually spotted Heat Biologics (HTBX). My edge was defined in this trade.
The company had an upcoming data release, and there was actually a bull flag developing.

I just needed to structure a plan around that idea…
Here's what I sent out to my subscribers,
Buy Zone: Under $1.25
Profit Zone: Over $1.40 to start, then upper $1's, possibly $1.90+
Stop Zone: .90 or below
No one was really talking about this stock early last week, but since I was able to identify a catalyst that could propel the stock higher…
I had an advantage.
Especially since it was such a low-dollar stock and working on a Covid-19 vaccine, the retail traders could buy it up if there was actually a press release.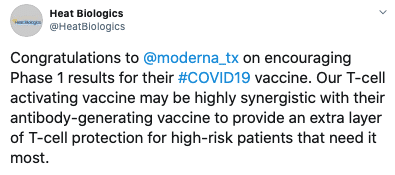 Well, the company actually tweeted about its vaccine, and the stock made a move…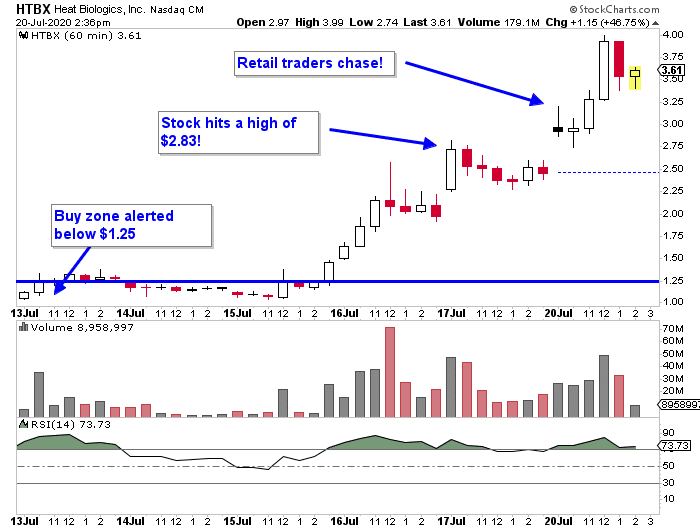 Source: StockCharts
You see, by having an edge in the market, I believe it's possible to identify stocks like HTBX… before the Robinhood traders catch wind of them.
If you're struggling to identify a trading edge, then check out this short training clip.
You'll learn how to filter out the noise by just focusing on one trade a week… and develop an edge in the market.