With states starting to slowly open back up… and promising results from coronavirus vaccine trials…
Traders are on the hunt for returns.
Of course, with so many new traders piling into the market… there can be a lot of noise.
That's why I'm always on the hunt for smart money activity.
Luckily for me, my Dollar Ace Scanner does the "heavy lifting" for me.
Just yesterday, it detected a large options bet in Lyft Inc (LYFT) — something tells me someone may know something.
In fact, the trader was up more than $130K on the position at yesterday's close.
So what's going on in LYFT, and what type of activity did I notice?
Does Someone Know Something About LYFT?
On Monday, my Dollar Ace Scanner picked up on some rather unusual options activity in LYFT.
Someone purchased 5022 LYFT Aug. 7th $31 calls at $1.834.
In other words, they dropped a whopping $921K in premium.
I don't know about you, but if someone throws down nearly $1M on an options trade…
It grabs my attention.
The activity was bullish because those options were $1.68 bid X $1.76 ask.
In other words, they could've actually got a better price, instead… the swept those calls and paid up.
Instead of putting a limit order, they lifted the order and didn't care about the price.
That aggressive action signals one thing… they're expecting LYFT to make a move.
They purchased those calls when LYFT was trading at $30.07, so a move above $31 isn't out of the question.
At the close of Monday's session, those options ended up at $2.10. In other words, they already were sitting on a 15% gain, or about $134K.
The thing is…
Those options expire on Aug. 7 and LYFT is expected to report earnings after the bell on Aug. 5.
Could LYFT run up into the earnings announcement and get back to recent highs around $35…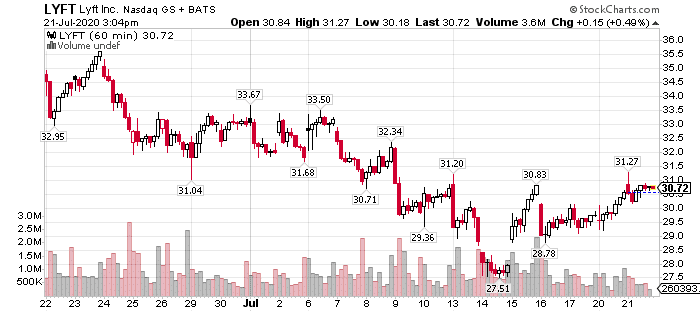 Source: StockCharts
Is the trader looking for a massive beat on earnings and for LYFT to explode…
Or are they expecting a press release very soon?
Who knows.
The one thing I do know is that traders may want to keep an eye on LYFT.
If you're unsure of how to use this information and use it to your advantage…
Then register for my exclusive training workshop here.
You'll learn how to find the "smart money" trade ideas, and how to legally steal them and make them your own.
It's what I believe can help to level the playing field with Wall Street and generate countless trade ideas.