With so many retail traders in the market at these levels, I've noticed one trend — they've made trading much harder than it should be.
I mean they most added name amongst Robinhood users over the last 24 hours this morning was Moderna (MRNA).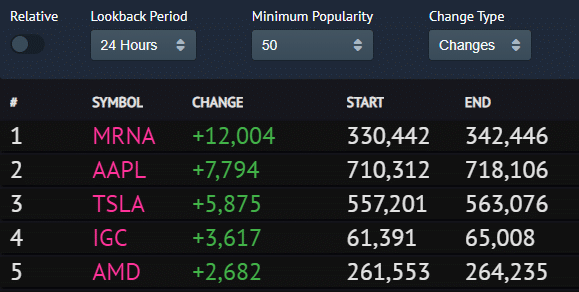 More than 342K traders hold this stock, and to be honest with you…
They're trading these plays all wrong, in my opinion.
They're more reactive to news events, which is a heck of a lot riskier and more dangerous than the way I trade.To each their own, but I like to put my money behind trades with a higher probability of success and are not as risky.
What's helped me achieve seven figures this year was due to the fact my timing has been spot on*.
Listen, I'm not telling you this to brag — at this point, I truly want to show traders there are easier strategies out there… and how they can trade with an edge.
Revealed: How I Time My Trades To Near Perfection
Listen, I think the best way for you to learn about one of my easiest trading strategies is through examples.
Let me set the stage for you.
I look for an upcoming catalyst event…
Develop a trade plan around the catalyst date…
Execute the trade plan.
Sounds pretty simple, right? At least to me, it does.
Let's jump right into it and look at some case studies.
Here's what I sent out to subscribers on Aug. 6 at 10:04 AM…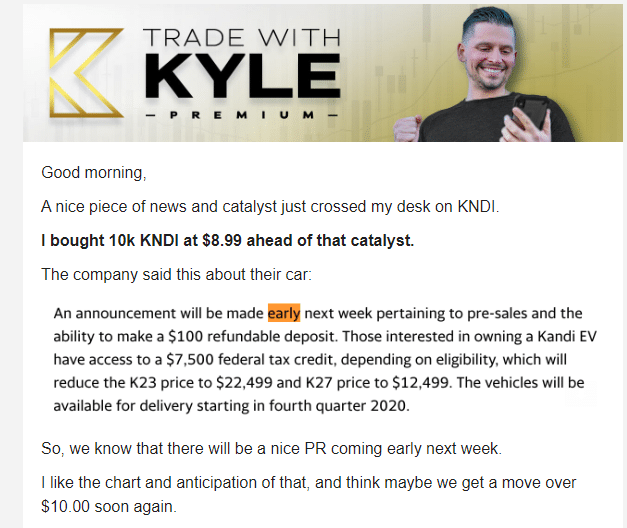 The reason I got into the trade is laid out above. The company mentioned it would be making an announcement about its pre-sales. There was a chance there would be a press release.
I wanted to get into the trade ahead of the event. Win, lose, or draw… I want to get out ahead of the event.
I had a plan in mind that suited my personal risk tolerance.
Literally, less than an hour later…
I took profits on 75% of my position*.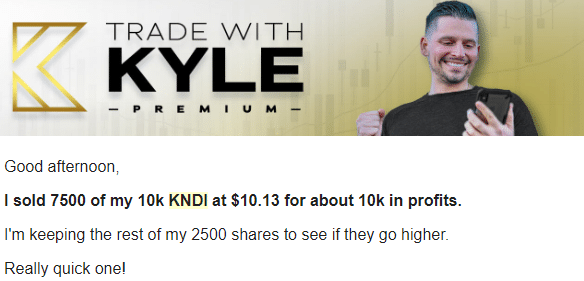 You see, it makes sense to lock in gains on a large portion of the position… and let the rest right.
The following day, I actually decided to sell the rest.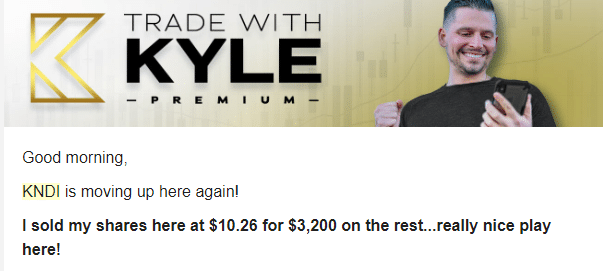 Why?
Well, KNDI was set to have a press release, and I didn't want to hold into it, just in case they disappointed.
Notice how my timing was all centered around the catalyst.
Here's a look at another catalyst trade I took in Dynavax (DVAX).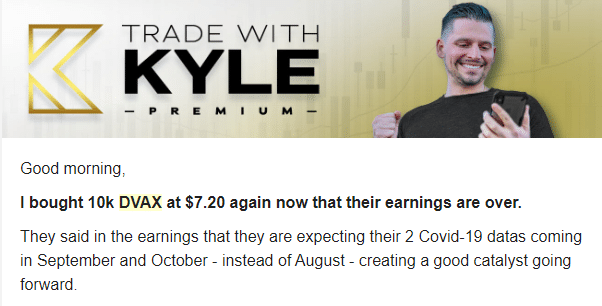 I want to get in ahead of the catalyst event, and lock in my gains when I see fit. In this environment, I've found I can trade in and out of these stocks multiple times BEFORE the catalyst hits.
Now, I've been trading in and out of DVAX right now, because there still is a catalyst event coming up. At the time of this writing, I am long some shares of DVAX, but intend to sell before the September data release.
The key is to spot the catalyst events ahead of time, and trade around them in my opinion. I actually utilize a calendar that helps me find specific catalysts in my favorite sector in the market.

That's right…
There are opportunities riddled in that calendar you see above…
That is, if you know how to interpret it and when to place your trades.
I probably made my first million in trading profits by the catalyst runup strategy alone*.
Now it's your turn to discover it.
I'll be conducting a catalyst trading workshop here soon, and I want you to join me.
I know this strategy works, the question is, can it work for you?
*Results presented are not typical and may vary from person to person. Please see our full disclaimer here: ragingbull.com/disclaimer