For the last few days, I've alerted you about the "smart money" activity in NIO Inc. (NIO).
NIO is one of the hottest stocks on the market now… 
And one "smart money" trader is up more than 100% on their NIO calls at one point today (if they still held them).
The thing is…
This trader was oblivious and left a paper trail.
Today, I want to teach you how traders could've stolen the "smart money" trader's idea in NIO…
And why I believe it's important to pay attention to their moves.
Smart Money Trader Nails NIO Move
On Monday at 11 AM ET, I noticed a Wall Street whale came in and bought 3983 NIO July $16 calls for $0.90 a piece.
In other words, they spent more than $350K on the trade.
Now, at the time the trade went off, NIO was just bouncing around the mid-$11 area.
I mean, who would buy $16 calls expiring in less than 2 weeks… when the stock is trading around $11?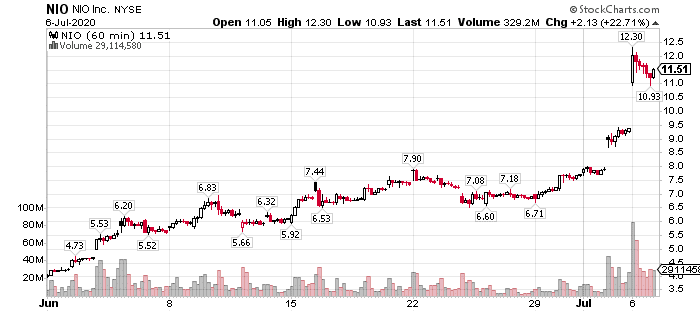 Source: StockCharts
That's what really stuck out to me…
That options trader bought deep out of the money options… and they were aggressive with their order.
You see, rather than putting a limit order and sitting on the bid… they paid above the ask to ensure they got filled on their entire position.
At the time, this trader needed the stock to rise by more than 40% just to break even.
Although the stock is trading below $16…
Those options they purchased were on fire…
And hit a high of $2.43 by the opening bell.
If they were able to sell at that price…
That would've been a 170% winner in just a matter of days.
Can NIO continue higher from here?
Only time will tell, but the point I want to get across is that the "smart money" leaves a paper trail when they trade…
And that information can be powerful.
If you think about their moves, it was pretty simple to figure out where NIO could be headed, in my opinion.
You see, that unusual options activity signaled someone was betting big NIO was going to run higher…
And they were right.
If you want to learn how I use this information to my advantage… then you'll want to check out this important training workshop I put together.
In it, I'll teach you how I use "insider" activity to steal the "smart money's" ideas and make them my own.