Robinhood traders have been leading the retail trader renaissance…
While some of the companies they're scooping up would be considered "dumb money" stocks…
There's one Robinhood favorite that the "smart money" was all over on Thursday.
It's one that will be on my radar this week.
You see, once the "smart money" piles in… that means they left a paper trail…
And since they "loaded the boat" with calls, this stock may go higher.
So which stock am I referring to and what was the activity my scanner picked up?
"Smart Money" Activity Detected In GNUS
By now, you should know I love following the options market for clues as to where a specific stock can go.
How do I do that?
Simple for me, I just look at the options action that my scanner detects. 
I noticed some action in Genius Brands International (GNUS) — a production company that focuses on children's programming.
Now, this activity came in after Genius Brands announced it was holding a conference call on Monday. 
That doesn't sound like exciting news, right?
However, since GNUS is one of the hottest stocks on Robinhood…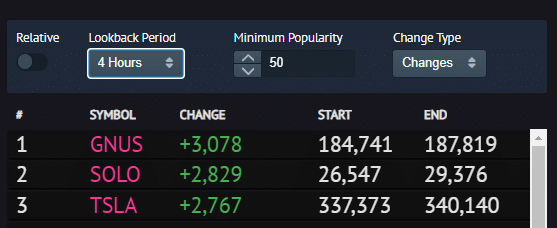 It's got a lot of hype around it…
That tiny announcement was enough to send the stock soaring.

You know what was even more interesting to me?
The options action was so wild…
More than 312K contracts on Thursday
Now, that's more option volume than United Airlines (UAL) and Netflix (NFLX) had combined that day.
The thing is…
Some "smart money" players were all over this, and they left a paper trail.
You see, on Thursday afternoon, my scanner started going ballistic when a series of July calls started hitting the tape…
One options player came in and bought:
2228 Jul10th $3 Calls
Paying $0.50 Per Contract
In other words, they spent $111K on that one trade alone.
By the close, those options were already valued at $0.85.
In other words, the options player was up $78K in less than 3 hours.
But that wasn't the only activity I noticed…
There were also 26K $3.5 calls traded and 19K $4 calls traded.
Is Genius Brands the real deal?
Can it run higher?
Only time will tell.
All I know is that this stock should be on traders' radars right now.
As you can probably guess, there was money to be made if you understood how the "smart money" moves and how my "insider" activity works.
Now, I want to reveal to you why I find this information so powerful… and how I use it to my advantage.
The elite traders tend to use options to express their opinions on a stock, in my opinion…
And in the process, they leave a paper trail.
Allow me to show you how I follow their moves.
Find out how you can steal the "smart money" players' ideas
Register for this exclusive trading workshop now.
*RagingBull does NOT track or verify subscribers' individual trading results and these individual experiences should NOT be understood as typical as or representative. Please see our full disclaimer here: ragingbull.com/disclaimer