"Smart Money" activity is picking up in this environment…
As financial institutions, hedge funds and Wall Street whales are chasing alpha…
And trying to outperform the "amateur" traders on Robinhood.
If you know anything about these large players, they have access to large sums of capital…
State-of-the-art technology and top-notch research.
In other words…
They Have An Unfair Advantage
Not only that but sometimes…
They may know something the average trader doesn't.
Now, what if you can "peek" into their portfolios and figure out where they're placing their money?
Trading would probably be much easier.
Well, there is a way…
Today, I want to draw back the curtain and reveal how I detect "insider" activity… and tell you about one stock I'm seeing "smart money" traders pile into right now.
When it comes to detecting where the "insiders" are placing their bets… I turn to the options market.
More specifically, I look at my "insider" activity scanner to sniff out their moves.
One name that came up on my scanner the other day was Box Inc (BOX).
If you don't already know…
Box Inc. (BOX) is a cloud-based storage and mobile collaboration platform.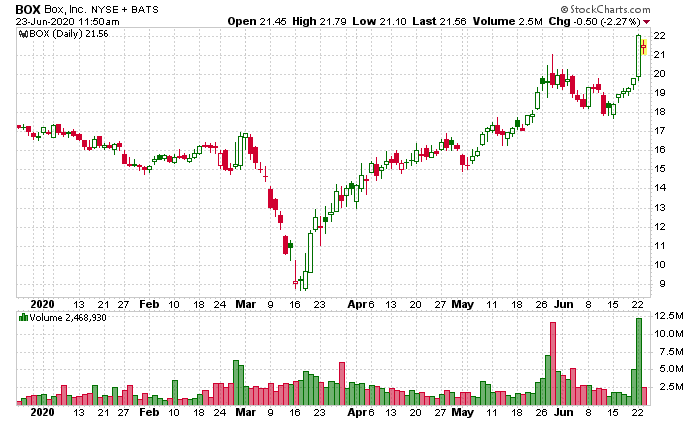 Chart Courtesy Of StockCharts.com
The company allows businesses to share and manage enterprise content, while allowing access and sharing from anywhere, on any device.
It's one of the work-from-home companies…
And with coronavirus cases ticking up in some cases…
There could be another pop in BOX.
A Slew Of Bullish Activity In BOX
The other day, I noticed a slew of activity in the options market.
Why do I say that?
Well, on an average day, about 1800 contracts of BOX options will trade. The other day, more than 100K options traded.
Guess what?
97K of those were call options…
That was 63 times the usual options activity BOX sees.
Here's another factor to note…
A lot of that action was bullish.
I don't know about you… but with such bullish activity, I believe this stock can continue higher soon.
Now, let's take a look at where these whales were placing their bets…
The smart money was going after July contracts…
More specifically, they were PAYING UP for the July 22 call strikes.
It all started around 10 AM ET…
A trader came in and bought 965 calls for an average price of $0.68.
At the time of the trade, the bid-ask spread was $0.60 by $0.65…
So the trader bid $0.70…to ensure they got filled on their order…
Some of it got filled for $0.65, while the rest got filled at $0.70.
Of course, it wasn't just this one order that caught my attention…
There were tons of repeaters…
In other words, someone kept popping up and kept buying those calls.
In fact, MORE THAN 73K contracts traded on that line alone.
Shares of the stock soared to $22.06, up 11.47% yesterday.
Those $22 calls…which were aggressively bought for $0.68…
Well… they closed at $1.35…
That's right… nearly a 100% gain in just a few hours…
That was some really aggressive activity… and while the stock is pulling back a little, I think the "smart money" may be expecting something out of BOX soon.
The thing is… this wasn't the only "smart money" trade my scanner detected.
You see, you never know for sure what the smart money is doing.
However, there are certain tells they leave… and my scanner picks up on it.
I've discovered what a few of them are.
So what are they and how can you get in on the action?
You can get all the details in my eBook Dollar Option Trader.
If you want to find out how I level the playing field and "steal" the Wall Street whales' ideas… grab your complimentary copy here.
WE MAY HOLD SECURITIES DISCUSSED. RagingBull has not been paid directly or indirectly by the issuer of any security mentioned in the Services. However, Ragingbull.com, LLC, its owners, and its employees may purchase, sell, or hold long or short positions in securities of the companies mentioned in this communication.
DISCLAIMER: To more fully understand any Ragingbull.com, LLC ("RagingBull") subscription, website, application or other service ("Services"), please review our full disclaimer located at https://ragingbull.com/disclaimer.