Every single day, I come up with so many trade ideas — sometimes, it leaves me a little fatigued.
After all, one person can only come up with so many solid and high-conviction trade ideas.
That's why I had a team of quants help me develop a scanner that alerts me to smart money bets.
It's helped me achieve some of my largest percentage gainers this year, without doing a lot of heavy lifting.*
Don't get me wrong though, I don't just blindly follow — I still conduct my due diligence. 
Today, I want to show you two interesting smart money trades that came across my screen and why they're on my radar.

On Friday, this hit the newswire…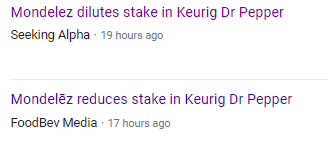 Mondelez International (MDLZ) sold 12.5M shares of its Keurig Dr Pepper (KDP) position, in a sale that brought $362M back to the company whose brands include Chips Ahoy, Oreo, and Ritz crackers (to name a few).
Although it might sound like a lot. 
But relatively speaking, MDLZ still owns about 158M shares of KDP.  
What's more important than the story?
How Wall Street reacts to it. 
And based on the price action yesterday… it was positive. 
But that doesn't sound nearly as sexy as the options action the Dollar Ace Scanner picked up. 
You see, very late in the afternoon that day, at 3:20 PM ET… a trader came in and bought..
9779 MDLZ Sep $58.5 Calls
They Paid $0.45 Per Contract
For A Total Of $440K In Premium
And you know what?
Within 40 minutes those options were worth $0.60
In other words, they were up to $156K!
This is one trade I'll keep on my radar and see if there's any other options activity I notice.
Next up, there's one trade that really piqued my interest.
Just a few days ago, Citron Research, a respected hedge fund run by legendary short-seller Andrew Left, sent this tweet out:

NLS is the ticker symbol for Nautilus Group…
Yes.. the makers of the Nautilus exercise machines. 
And with the recent runup in Peloton (PTON), which has seen its market cap rise to nearly $25B, and stock price move up by nearly 200% this year…
…maybe old-school Nautilus can make a move from here…
Now, I'm not sure about you. 
But NLS is up 751% year-to-date…
Now it's ironic for a short-seller to be pumping a stock up after such an epic rise.

But this is 2020…
…and all bets are off. 
After the Citron tweet, the stock hit a 52-week high of $16.86. 
However, one options trader wasn't as bullish. 
But before I tell you about this bearish bet. 
Please take a second to click here for my options flow training class
Why?
Because you'll get a better understanding of what I'm talking about here, and other posts I'll share with you in the future. 
Let's get started. 
For the most part, I typically buy stocks or call options, on occasion I will be bearish but not really. 
Also, big funds buy options to hedge their stock positions. And because of that, tracking bearish order flow can sometimes be tricky. 
However, I do want to tell you about this bearish bet in NLS, and why I don't think it's a hedge. 
The trader came out and bought…
160 NLS Sep20 $17.5 Puts
They Paid $2.55 Per Contract
For A Total Of $41K In Premium
Now, at the time of the trade, NLS was trading at $15.29. 
So what does this tell us?
This is unlikely a hedge. 
Why?
Because the options purchased were deep ITM. 
You wouldn't really hedge with deep ITM puts because it would limit your upside from holding the stock long. 
Why would someone buy put options after such a bullish tweet by Citron?
Maybe this trader believes there was some shady business going on. 
You see, prior to citrons tweets: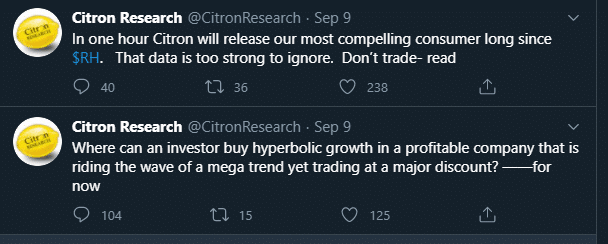 Actually days before them…
We saw bullish option orders from September 1st to the 4th. 
In fact, on September 1st, one trader bought 1,789 September $10 Calls for $4.20. 
Now if you do the math, that's a $751K bet 8 days before the Citron tweet. 
And like I said, there were a number of large-sized bullish bets during that time period. 
The crazy thing about it is this…
Most traders don't see this information so they can never act on it.
If you're interested in having more trading ideas at your disposal, want more confidence and conviction behind your trades…
Related Articles: