There are many catalysts on the table, and sometimes, it can get complicated when it comes to figuring out which one holds the most weight.
If you look at the major catalysts on the table, it's no wonder why major indices have been relatively flat.
When it comes to catalyst plays, I typically like to look at company-specific ones.
Right now, there's one area in the market that a lot of traders are interested in…
And I want to teach you what these are all about and how to identify catalyst events in these companies.
The One Area Everyone And Their Brother Are Trying To Figure Out
I'm sure you heard of Special Purpose Acquisition Companies (SPACs).
Now, these are blank check companies and don't operate in any particular industry, or operate at all, for that matter until the deal goes through.
Rather, these are literal "empty legal vehicles" to raise capital to acquire a company in the future. So for most of a SPAC's life, the team is looking for potential target companies.
As of late, startups from promising industries – EVs being the prime example – have reverse merged with SPACs to go public without doing the traditional IPO process.
There are known catalyst dates. For example, take a look at these SPACs below.
OPES (12/15), FEAC (12/16), IPOB (12/17), SAMA (12/17), LCA (12/18), PTAC (12/21) RMG (12/28)
Notice how I put dates next to these tickers.
The dates I listed above are vote dates. In other words, shareholders have to vote on the SPAC deal with the target company.
Based on my observation, I've seen SPACs run up into these events, and that's why I think my catalyst runup strategy can help identify these plays.
For example, take a look at Social Capital Hedosophia Holdings (IPOB).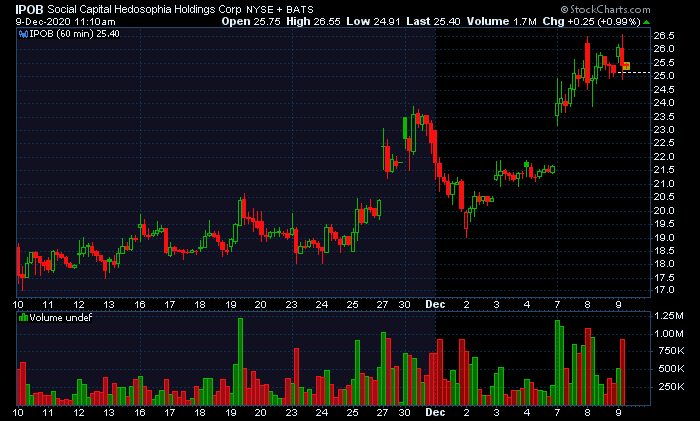 The vote date is expected on Dec. 17. Already, the stock has been running higher. I think there's a lot of demand for this stock, and some traders don't want to miss out on the action…
Especially when they look at stocks such as QS and LAZR.
When it comes to these catalyst runup plays, I think it's important to have a trade plan in place.
Let me show you how one can develop a trade plan around a catalyst event.
So RMG Acquisition Corp. (RMG) has a catalyst date later this month.
Based on this chart, one can identify the buy zone as say $18 – $19 (a previous breakout area), and which can turn into support, in my opinion.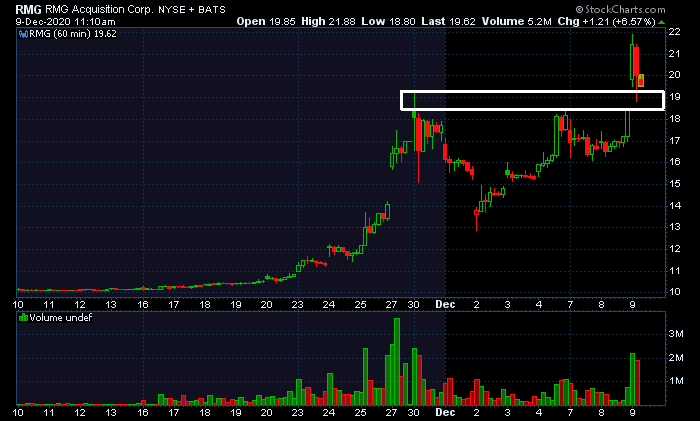 The stop can be 10% below the entry (or lower, depending on the risk tolerance). It's on the trader to decide what they're comfortable risking.
The target can be 20% (or whatever the trader is comfortable with). For me personally, I aim for base hits, and regardless of whether the trade is a winner, I want to sell my shares before the catalyst event, it's just less risky than holding it into the vote, in my opinion.
Now, remember, the market moves fast and these prices will change. I can't tell you how to develop your trade plans, it's on you to decide how you want to trade a specific name.
The key take away here is to identify the catalyst ahead of time, then develop a trade plan, and trade the plan. Of course, it's not as simple as doing just that, you'll have to conduct your due diligence.
Now, I'll be referencing the catalyst runup strategy a lot very soon, so if it doesn't make sense to you right now… don't worry, I'll do my best to teach you more about it in my next issue.