After I reached $10,000,000 in career trading gains recently*, I received an overwhelming amount of questions just asking how I achieved that milestone.
To be honest with you, I didn't even realize that happened until after the fact because I was just focused on finding my next play.
If I can describe what got me to where I am today in just two words…
It would be:
Catalyst Events
You see, my trading style typically revolves around uncovering catalysts and getting into these plays ahead of time…
Then locking in my gains once the stock makes a move and everyone hears about it.
I want to show you the turning point I took in my career, and teach you how to identify stocks before they move.
Why Catalysts Are What Matters
If you don't know already, catalysts are what moves stocks.
Sure, you might be able to identify chart patterns here and there… but you know what really causes prices to move?
Catalysts.
Basically, a catalyst is a fundamental reason for a stock to move.
For example, the Federal Reserve has been injecting money into the economy, and they mentioned they'll still try to do everything in their power to continue to support the U.S.
In other words, they were essentially giving out "free money" and that's what caused the massive runup off the March lows.
The massive drop and pop in volatility back in March was caused by COVID-19 and the worldwide shutdowns, which damaged economies and supply chains.
Makes sense so far, right?
Those are catalysts.
I believe the key is to identify these catalysts early and get a jump on the action before everyone and their brother start talking about it.
How do you find these catalysts?
For me, it's simple. I just conduct due diligence and look for specific sector and stock plays.
For example, right now, coronavirus stocks are still hot, so I keep the key names on my radar.
"Coronavirus Names": AIM, APT, CODX, CEMI, INO, IBIO, OPK, MRNA, GILD, NVAX, VXRT.
With these names, it's a heck of a lot easier to spot catalysts for me.
A lot of the time, these catalysts are known ahead of time… it's just that many traders don't know where to look for them.
Remember when Moderna Inc. (MRNA) made a move in early July?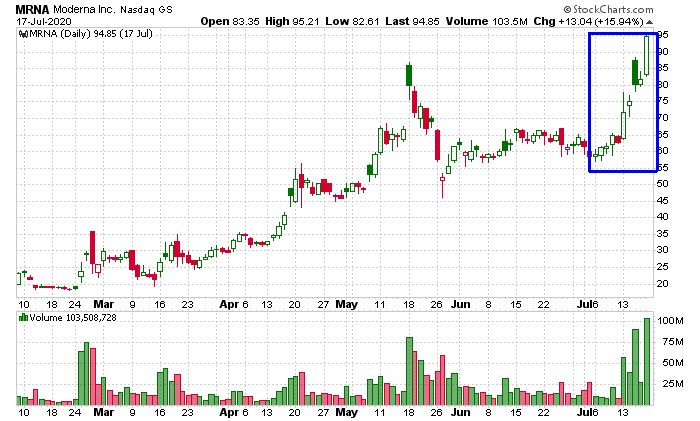 Well, there was a catalyst event upcoming, and traders could've actually taken part of the move.
The beauty of catalyst trading is you don't necessarily need to catch the entire move to have outsized gains.
The best part about this trading style is that there are catalysts in nearly any sector.
Right now, there are more catalyst plays than ever in my opinion.
That's why I believe now is the best time learn how to spot these catalysts and trade them.
I put together an important training workshop to show you how to take advantage of catalyst events…
And why this trading style is so darn effective.
What you'll learn may surprise you, all that I ask is you come with an open mind.
Register now, and see why catalyst trading is so powerful.
*Results presented are not typical and may vary from person to person. Please see our full disclaimer here: https://ragingbull.com/disclaimer.
Related Articles: