We're about to head into the last month of 2020, and I expect a barrage of catalysts to hit the wire.
What's that mean for traders such as myself?
A plethora of money-making opportunities to take advantage of.
Now, the key is to develop the skills to uncover these catalysts ahead of time and figure out which industries will be impacted the most.
I wouldn't be surprised if December pushes my 2020 trading gains to more than $5M — so I want to dial in and show you which major market catalysts I see on the table…
And which industries and sectors I want to keep an eye on.
Which Catalysts Will Impact The Market The Most At These Levels
There are major catalysts on the table right now, and here are just a few I've come across.
The election is one major event that can still shake up the market. However, the POTUS announced he would give up power if the Electoral College backs Biden.

If and when Biden does head to the White House, then it's likely former Fed Chair Janet Yellen will be back leading the central bank.

A few companies will be set to report data for coronavirus vaccines in December, and that can impact the travel, hotel & lodging, and other beaten-down industries.

The Santa Claus rally and January effect should be in play this year and 2021, but we'll have to wait and see for that.

Potential stimulus if Biden gets sworn into office.
These are all major catalysts that can directly impact the market.
Some industries and sectors that can be impacted include: healthcare, real estate, banking, travel and leisure, mining, and energy.
With these major market catalysts, it can be tough to read and that's why I love to pair sector-specific or company-specific catalysts with market-wide catalysts whenever possible.
For example, back in March and April when there was massive stimulus — I uncovered a "hidden" bull market in biotechs and pharmaceuticals (healthcare stocks). Right now, I think that same opportunity can arise.
That said, here are some stocks I want to keep on my radar, which just so happen to be Covid-19 names.
AIM, APT, CODX, CEMI, DVAX, FLDM, INO, IBIO, SRNE, OPK, MRNA, GILD, NVAX, VXRT.
When it comes to catalyst plays, I'm a firm believer in uncovering the catalyst event ahead of time.
For example, Odonate (ODT) has a catalyst event on Dec. 11.
So here's how I would come up with a plan.
Odonate (ODT)
Catalyst Dates: Phase 3 data presentation December 11
Buy Zone: $14.00 to $14.50
Profit Zone: $15.50 or higher
Stop Zone: $13.50 or below
Options: No options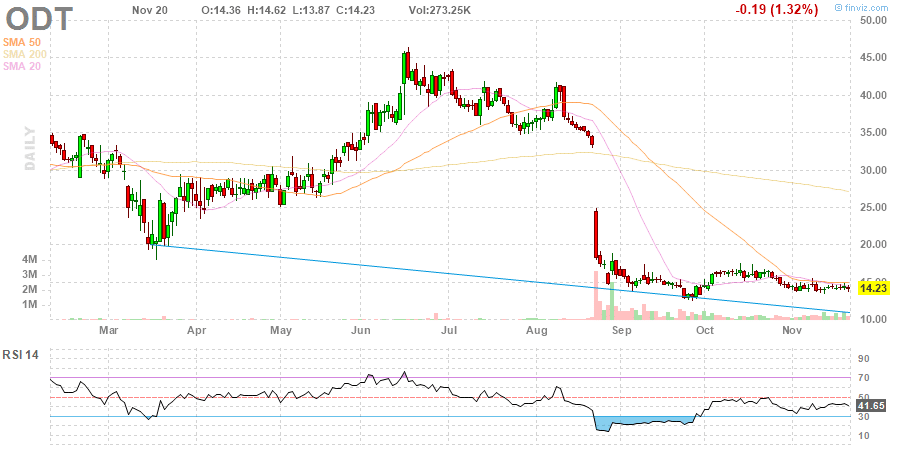 Makes sense?
I'll be doing this with other catalyst plays I see. Especially with December right around the corner — I'll be laser-focused on identifying these plays utilizing my number one strategy.
If you want to learn how to time these trades, then you'll want to attend this exclusive training session. Since it's a half-day (or you might have a day off from work), I think it's important you take some time out of your busy schedule to watch it because it can be a difference-maker.