We've seen the market go through some serious changes over the last few months.
One of the major shifts I've noticed is the:
Retail Trading Renaissance
The market has seen an influx of new traders, and it's created an entirely new market.
I mean if you ask any Wall Street veteran if these moves make any sense…
They'll probably tell you this is like the dot-com bubble.
The thing is, these new traders couldn't care less about the fundamentals — they're known to pile into trades and ask questions later.
All I can say is, some of these Robinhood traders have been right on some of their ideas…
And even elite traders are paying attention to their moves.
Today, I want to reveal one sector that Robinhood traders are jumping into… and why it can see continued momentum.
Are Robinhood Traders Set To Take Over This Sector?
No doubt about it, Tesla Inc (TSLA) has been one of the hottest stocks on the market. Despite its high price tag, Robinhood traders are still piling into TSLA.
I mean over the last week, more than 55K Robinhood accounts added TSLA to their accounts…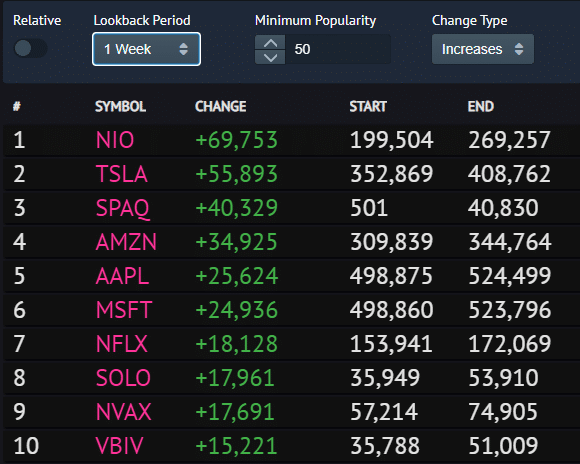 Bringing the number of Robinhood accounts holding TSLA to 408K.
Of course, since these are mainly retail traders, TSLA may be too expensive for a lot of these accounts… but there's one thing they do know, the electric vehicle (EV) industry is hot…
And they want in on the action.
So much so, they've been looking at sympathy plays.
If you look at the top 3 additions, they're all EV plays. NIO Inc (NIO) has seen its shares nearly triple within a matter of weeks.
Spartan Energy (SPAQ) is the latest EV name to come into play. This special purpose acquisition company (SPAC) is looking to take Fisker public.
Now, if you missed the move on those Robinhood names, that's okay… because there are other names to keep an eye on.
For example, another EV company is Electrameccanic Vehicles (SOLO). Only about 54K Robinhood accounts hold this name.
SOLO just pulled back from its recent high, but it can quickly get there if it's able to hold and rebound off the support level right around $4.
Source: Finviz
Not only does SOLO have the influx of Robinhood traders piling into EV stocks going for it…
The stock has a low float. With just about 30M shares available for the public to trade, if demand picks up… or if there's a positive catalyst, this stock could experience exponential moves.
Another EV name to keep on the radar is AYRO Inc. (AYRO).
This stock is well off its recent highs, and it's approaching a key area just below $5.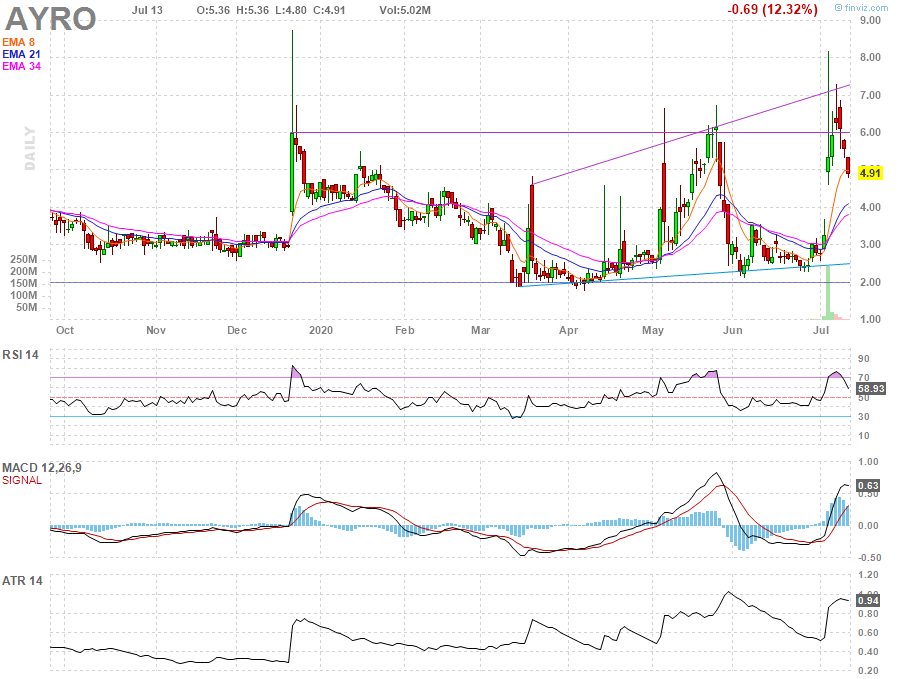 Source: Finviz
If AYRO is able to hold that key support level and the EV craze continues, I wouldn't be surprised if the stock gets back to $8.
With just about 16M shares outstanding, and 10.90M floating, AYRO could be a runner.
These are just some Robinhood stocks to keep on the radar.
While the EV catalyst has already started to happen…
I have other catalysts that I'm watching right now, ones that I believe Robinhood traders, as well as Wall Street, aren't really paying attention to.
If you want to learn more about catalysts and my bread-and-butter strategy, then make sure to sign up for this special training session here.