While markets popped off due to stimulus optimism and some positive updates on the POTUS' health, I don't think we're out of the water yet…
I believe volatility will only pick up from here, and there's one sector that will be in the spotlight.
It just so happens to be the biotech sector and I'll be locked and loaded, ready to pounce on all the money-making opportunities.
I want to show you some of the techniques I utilize to uncover biotech stocks set to pop off, the same ones that played a large role in my trading this year.*


Right now, there are specific biotech stocks on my radar and I believe some will offer 5X potential.
How I Identify Money-Making Opportunities In The Biotech Sector
When traders hear of biotech stocks, they automatically think these stocks are too volatile and they can't figure them out
To be honest with you, if you understand the pattern in biotech stocks, it can help you become better at trading them.
So what's the pattern?
Here's how it works. Biotechs have known catalyst events, my goal is to identify them ahead of time…
And take advantage of the run-up into the event.
Makes sense so far?
The key is to identify the catalyst event and plan accordingly.
For example, right now, the one big catalyst on the table is coronavirus still. There's a slew of stocks set to release data, and it's the perfect storm for money-making opportunities.
Even before the POTUS contracted the coronavirus, cases were ramping up across the globe. New York City has some neighborhoods set to close down again.
That being said, there are specific biotech industries I'll look to for potential plays. Right now, the three that stick out the most to me are:
Vaccination

Therapeutics

Diagnostics
You see, stocks within these sectors are set to pop off with an uptick in coronavirus cases. So what I'll do is look for specific catalysts in stocks within those industries, and play… similar to this.
BioNTech (BNTX)
Catalyst Dates: Phase 2/3 Covid data with Pfizer due in October
Buy Zone: $65.00 to $68.00
Profit Zone: $73 or higher
Stop Zone: $62 or below
Options: BNTX October 16 $70 calls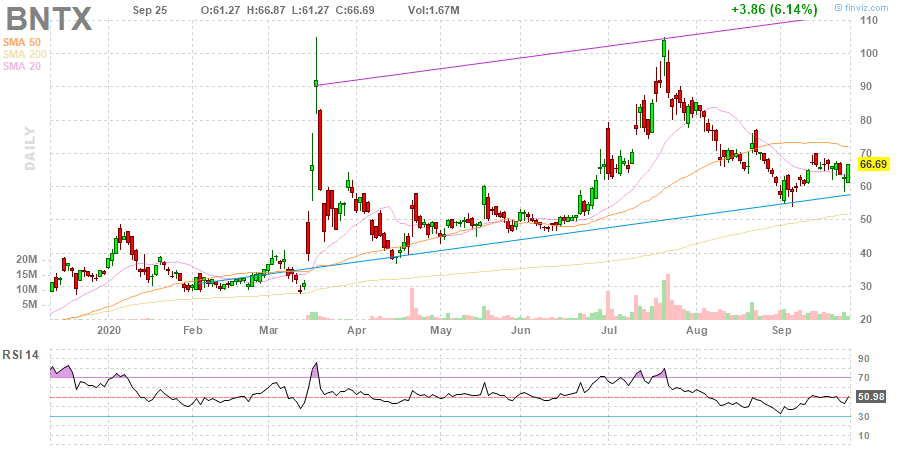 This month, I've got three specific stocks I believe can return 4X to 6X my money… and if you want to find out what they are…
You'll have to join Trade With Kyle.
You'll find out how I utilize catalysts to attack the market and gain access to my extensive video training series.
Not only that, but you'll receive real-time trade alerts, my weekly video watchlist, and of course, the three bonus picks I mentioned earlier.