The whipsaws in the market have many traders dazed and confused — as they still try to figure out how the coronavirus will impact the economy. Not only that, but traders are wondering what the Fed's historic $2 trillion coronavirus stimulus bill means for the market.
Of course, it's been difficult for some to generate trade ideas. If you've had a tough time figuring out what to trade… I hear you. I want to address your concerns and show you how you can effortlessly generate trade ideas in this market environment.
Just about 2 weeks into March, I was able to generate more than $300K in trading profits… and if you think about how wild the market was in those first two weeks, you're probably wondering, Kyle how did you do it?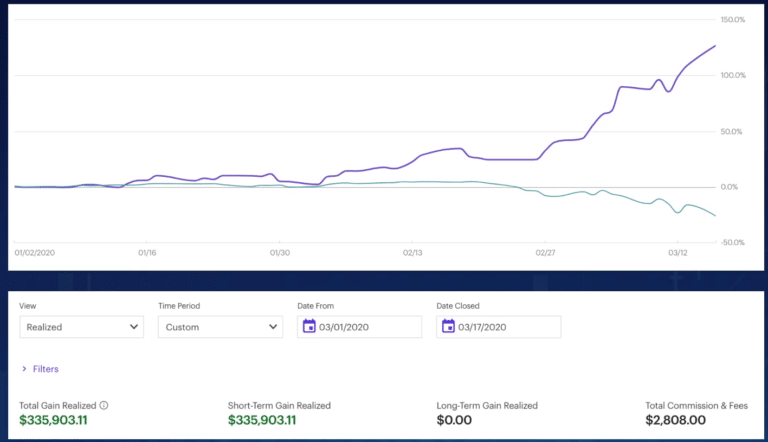 Well, for the most part, my profit buckets revolve around coming up with a stock, a reason to trade it, as well as a clear and concise trading plan. Especially in this market environment, it could get tough since there's so much going on.
That's where my Dollar Ace trading system comes into play. You see, instead of trying to come up with trade ideas on my own… I let the Wall Street fat cats do some of the work for me.
Following the paper trail in this market environment has proven to be profitable for me, and I want to show you exactly how I've spotted some monster winners.
If you know anything about the options market, it's filled with some of Wall Street's brightest minds. However, you don't have to be a genius to trade options. In fact, I've found it to be pretty simple, especially when you can legally steal the smart money's best trading ideas.
Let me show you what I mean by that.
When I follow the paper trail, I want to find long-shot bets… you know, the ones that only someone will place if they have a high conviction.
I want to walk you through a recent trade I had in NVTA. At the time, I noticed 766 NVTA April 17th $15 Puts swept for $0.45 a piece — that was a $34,470 bet. They were purchased when NVTA was trading above $18 per share!
That meant this put buyer was expecting NVTA to drop below $15 on or before the expiration date. 
Pretty interesting play, if you ask me.
Of course, I put that stock on my watchlist… then, I pulled up NVTA and noticed that the stock was relatively weak against the broader market one day.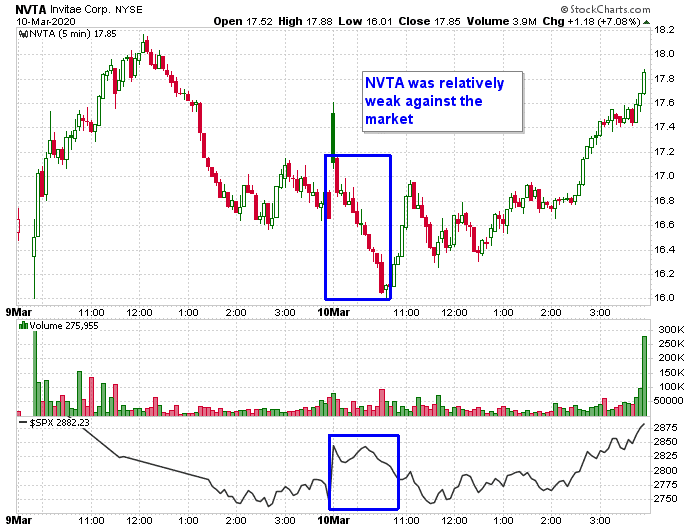 If you look at the chart, NVTA actually started to sell off at one point when the market was actually green. So I figured if NVTA broke the previous day's low and the market turns, the stock could plummet to $15 quickly.
So I bought 50 NVTA March 20 $15 Puts at an average price of $0.61. That trade cost me about $3,050 to put on.
Well, guess what happened just 2 days after I entered the trade?
Here's what happened to NVTA that day.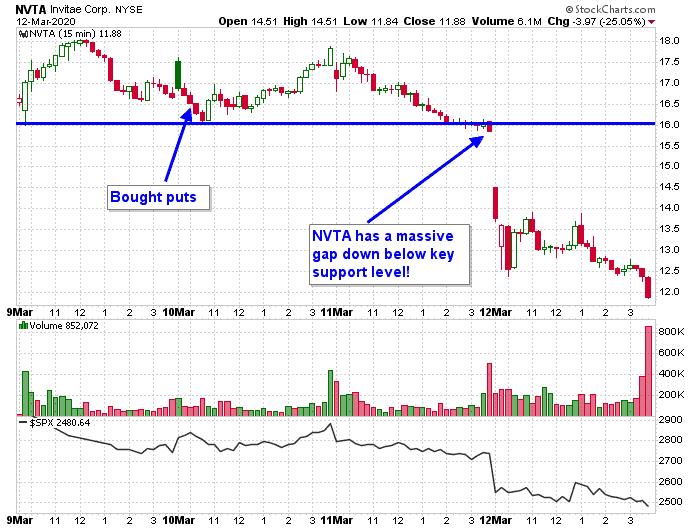 Of course, shortly after the market open, I decided to take my profits off the table, as those NVTA puts were going for $2.00! That $3,050 bet turned into $10,000, or approximately $6,950 in real-money profits! 
In just 2 days, I was able to lock down a 233% winner. 
In this market environment, I find following the smart money pays off. If you think that was just a one-off trade… think again.
Quick Winner In MRNA
The thing about the options market right now is you have to be nimble… that means being able to move swiftly and understanding when to take profits.
For the most part, any trade I get into, I'm properly risk managing and I'm not taking on massive position sizes. Basically, if things get really sour — one trade won't ruin me.
Now, you know the name of the game… following the smart money, and I want to walk you through another quick trade I had in MRNA.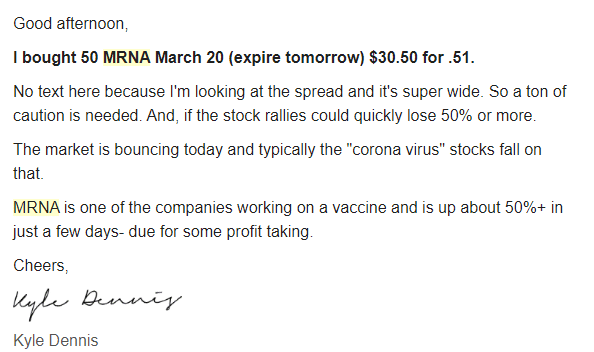 I bought puts in MRNA and let my clients know about my moves. Basically, I saw some interesting activity and figured that there would be some profit-taking after the stock experienced an insane move.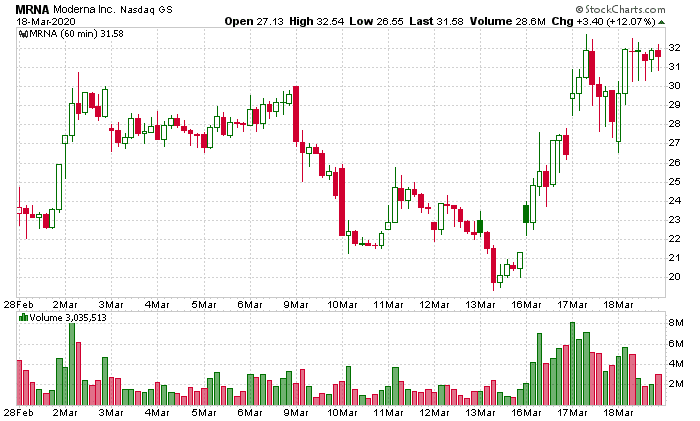 Just take a look at how far and fast MRNA moved in just a matter of a few trading sessions. At some point, I expected the stock to pull in as traders would take profits.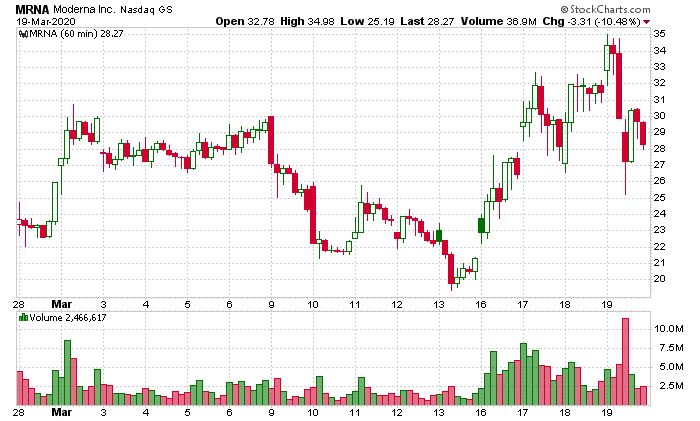 The move happened… and those options EXPLODED!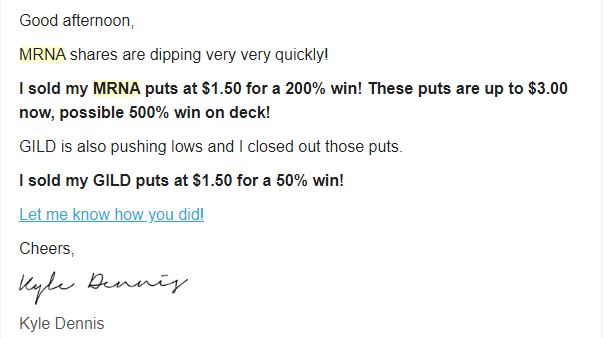 As you can see, the paper trail is gorgeous… and if you understand how to follow the smart money's moves, trading becomes a lot easier. But don't worry, I've outlined everything you need to know in my eBook Dollar Option Trader. Click here to claim your free offer!
Related Articles: