The POTUS signed an executive order to impose sanctions against TikTok — pressuring the parent company to sell its U.S. assets to an American company.
There are less than 45 days when the executive order will take effect, and it looks as if TikTok could be removed from the Google and Apple stores.
That's caused some companies to rush in to take the market share. Facebook's Instagram recently launched Reels to cater to the millennials who love TikTok…
While Twitter showed interest in a potential merger with TikTok.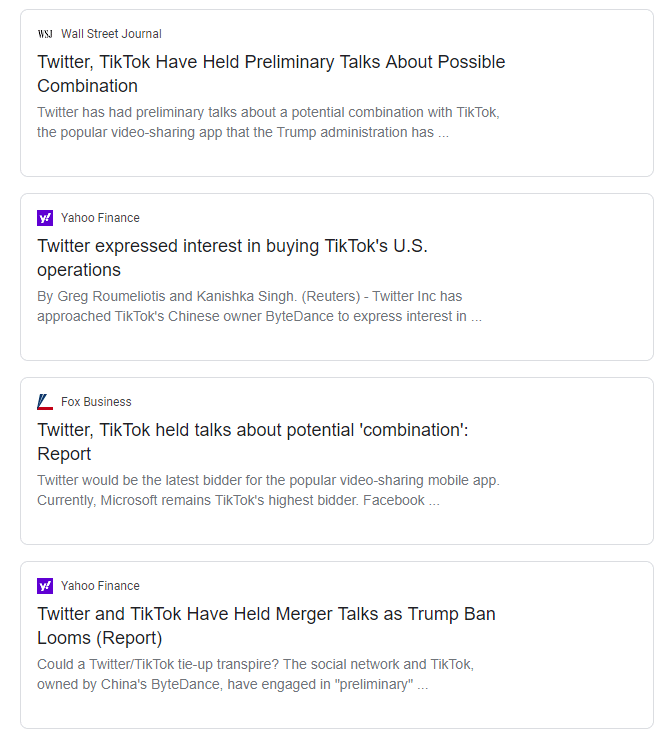 There's one social media investors and traders may have forgotten about…
Snap Inc. (SNAP).
It's also trying to step into the arena and is gunning for TikTok.
Why am I bringing this up?
I noticed a large options order in SNAP… and it signals to me someone might know something about SNAP.
The smart money players were all over it, and I want to point out some potential catalysts on the table for SNAP, and why the stock can pop soon.
Is SNAP Set For A Large Move?
Early on Friday, I noticed some heavy options action in SNAP, this order hit my Dollar Ace Scanner:
11,538 SNAP Sep $26 Calls
They Paid $0.49 Per Contract
If you do the math on that order…
They spent a whopping $565K in premium.
That means they need to see SNAP rise by 22% within the next 40 days, or they run the risk of losing their $565K in premium.
Why would they make such a bet?
Two questions that roll through my mind when I see something like that.
Of course, I'm not going to blindly follow along. I want to see how strong the overall market is, as well as the social media sector.
I don't know about you, but that seems like an awful coincidence with the whole executive order around TikTok.
Not only that, but Snapchat is testing a new feature that enables its users to set their Snaps to music, which is very similar to TikTok… and that bet to capture a fraction of the TikTok audience may pay off.
Only time will tell if this will be reflected in the stock price.
I definitely want to keep an eye on SNAP with all this going on in the social media sector.
The thing is, this wasn't the only "smart money" trade I saw come across my screen.
I've got dozens of trade ideas to look at each day thanks to the Dollar Ace Scanner.  
If you want to learn how I'm able to take this information and uncover potentially large winners in the market…
Check out my exclusive training workshop on unusual options activity.
You'll learn why following "insider" activity is so powerful and how to legally steal some of Wall Street's brightest minds' best ideas.
Related Articles: