My goal is to expose the dirtiest players on Wall Street and show you how you can directly profit off the backs of these whales. Today, I've got a story about a publicly-traded pharmaceutical company (Clovis Oncology) and how it raised $298M by lying to everyday investors and traders.
We all know how Wall Street insiders profit off inside information and use shady tactics to line their pockets — it's all part of the game. When a publicly-traded company lies about a lung cancer drug, I can't stand for that… and I try my best to expose the scum. I'm not doing this and shouting, "The game is rigged!"
Instead, I learn from these insider trading cases so I could not only avoid the scams, but also legally profit from Wall Street insiders.
So let's see how CLVS lied to investors and how the Chief Financial Officer (CFO) benefited from these lies.
The CEO of Clovis Oncology (CLVS) straight-up lied about the company's lung cancer drug with the help of the CFO, and they raised $298M doing it. We all know the financial watchdog — the U.S. Securities and Exchange Commission (SEC) always finds these dirty players… but that's after the fact and the damage has been done.
Sometimes, there are clues behind shady activity in the market, and you can legally profit off Wall Street's insiders and their best ideas (more on that later).
The SEC isn't playing around with this Colorado-based pharma company. It's slapping CLVS with $20M in penalties to settle the charges. Not only that, but the CEO and CFO will have fines out of their own pockets as well.
Clovis is a publicly-traded company with tough competition. Clovis was developing a lung cancer drug being that was similar to and simultaneously being developed by a competitor.
The scandal kicked off in May 2015 during an American Society of Clinical Oncology conference, Clovis told investors that their drug rociletinib's objective response rate in the ongoing clinical trials was 60%. In other words, 60% of patients that received a 500mg dose targeted tumors shrank. 
These are odds many would take. 
And who bought this news to the masses? None other than CEO Patrick Mahaffy. 
60% was an important number because their competitor's success rate was 63% at that time. 
Investors flocked to Clovis believing its lung cancer would be a miracle drug. Clovis made $298 million in a public stock offering in July 2015 thanks to these results. 
Soon after, Clovis executives including Mahaffy and Mast were provided with the lung cancer drug's true success rate. 
The rate was actually lower, much lower than 60%. The objective response rate of the treatment was actually mid-40s.
Less than a month later the U.S Food and Drug Administration showed the objective response rate was actually more like 42%. ─── 18% less than what was told to investors. Both Mahaffy and Mast were informed about these new numbers.
However, Clovis continued to use the ORR number of 60% from the initial May 2015 conference. Investors poured money into a company believing its wonder drug would save lives and boost earnings… but the uninformed investors actually blindly threw their money to the tune of $298 million into Clovis' securities offering.
Even after the secondary offering, Clovis continued and continued to use the beefed ORR of 60% in public disclosures. CFO Erle Mast aided and abetted in these bogus statements and omissions that Mahaffy touted.
The summer success was over. In November things began to fall apart. 
On November 9th, the FDA let Clovis know that it didn't agree with its calculation of success for the treatment. The FDA calculated the ORR to be in the 20s, 40% lower than what Clovis claimed. The FDA demanded Clovis provide it with new ORR numbers by November 16, 2015.
Clovis finally owned up to its lie… and on the deadline, it was announced the ORR was 28%, 32% lower than what investors were told.
The Collapse Of CLVS
The stock collapsed at this news, falling about 70%. Taking share prices from $99.43 to $30.24 in 72 hours.
Once the news was out… Clovis decided to stop its research and development on the drug.
But that's not all folks!
Take what you just learned and add this fact── Clovis also issued stock to its very own employees as part of its stock incentive plan.
So not only did Clovis screw over investors, but they also treated their very own employees no better. Leaving them to hold worthless stock and a reputation of working for a company that specialized in lies. CFO Mast was the only employee not screwed over by the stock collapse. Mast took his inside knowledge and sold his Clovis securities prior to the November 16th stock plummet.
What happened to the company and the CEO and CFO?
Well CLVS is still a publicly-traded company, but it will pay a $20 million dollar penalty for its actions. Mahaffy will be paying a quarter-million-dollar penalty. Mast will pay a $100K penalty and then will be paying disgorgement of $454,145 disgorgement plus interest for selling Clovis stock when it was at its most inflated price.
The SEC also is planning to create a Fair Fund to house the penalties to be distributed to investors harmed by Clovis' lies.
Does anyone else feel dirty reading about how low the CEO and CFO of Clovis stooped? 
The thing is… I see some shady activity in the options market all the time! However, we can legally and ethically profit off the backs of these Wall Street behemoths.
Don't believe me?
Let me show you how it all works.
Profit Off The Backs Of The Wall Stree Behemoths
The options market is filled with clues as to what Wall Street insiders are doing. You see, they try to use options to cover their tracks… but what they don't know is the fact there are scanners out there that detect their every move.
Let me show you how it all works with a case study.
I spotted unusual options activity in Zynga (ZNGA). A trader came in and bought 7,509 ZNGA June 19 $6 calls for $0.66.
That's a whopping $495,594 bet that ZNGA would trade above $6.66 before the June expiration date. When I see a massive trade like that… I put it on my watchlist and send it out to my clients.
Just a few days later… it was time for me to strike, as I saw the perfect entry. However, I didn't follow those "insiders" to a T. Instead, I made the trade idea my own and looked for closer-dated call options. Here's what I sent out to clients in real-time.
I bought 300 ZNGA February 14 $6.50 Calls for .15.
There have been unusual sweepers on this one for months and I'm hearing on my newswires that they just cancelled out of a conference (possible M&A coming?). 
A rumor there but I think it can run today on that with the possibility of hitting a homerun.
The most interesting part about this trade was the fact ZNGA was set to report earnings… and it had just suffered a large drop but found a key support level just under $6.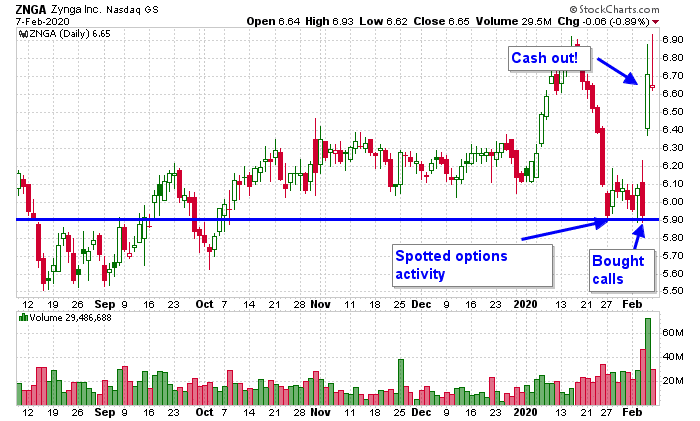 So I took a stab at it…
And what do you know?
ZNGA beat the street's expectations and started soaring, as you can see in the chart above!

Of course, once the news was out, I took my profits off the table and was able to double my money overnight.

If you want to learn how I locked in a 100% on this winner, you'll want to check out my brand new eBook. The tactics that I outline in Dollar Option Trader, are already helping traders post returns of 263%, 448%,  and 545%. 
Stop missing out on these massive winners and claim Dollar Option Trader at absolutely no cost.
Related Articles: