The pictures are iconic.
Influencers and celebs huddled in a packed airport. The styrofoam-plated meals. Piles of mattresses and half-built tents. Most of the world tuned in for at least one of the Fyre Festival documentaries to try and get answers on what the hell happened?
Heck, Netflix released a documentary Fyre and exposed the company behind the fraud. How exactly were people lured into this scheme ── sexy models, prime entertainment, and luxury accommodations. 
Sure, people missed out on a party and it was all a scam, but they left out one major thing… there was a $27.7 million investment fraud that good ol' William Z. (Billy) McFarland had going on…
Ready yourself because you're about to hate Billy's smug face a little bit more.
Between 2013 and 2017, Billy used his Fyre Media and Magnises businesses to lure in over 100 investors. 
From the beginning, it was all about faking it until he made it… and everyone bought into the story. Guess what, he made almost $28 million from doing it. Everything Billy did was filled with deception with a slew of fraudulent acts.
Billy lied about how strong footed his companies were. He falsified documents that reflected a financially sound company with a special focus on revenue and income. Here's the kicker: he altered statement documents for stock owners to create the illusion that there was collateral for Fyre Festival securitized investments.
But wait, there's more…
Billy claimed to have sold Magnises to a 3rd party for $35 to $40 million… but guess what?
Yet again, it was fake and purely for show. He told current and potential investors that he would get CANCELLATION INSURANCE for the Fyre Festival. And if you tuned in for the documentaries, you'd know that festival should've been canceled!
And last but for sure as hell not least ── he claimed to have special and exclusive relationships with all kinds of talent and artists. But if you asked any of them… they weren't going to Fyre Festival nor did he have relationships with them. 
In 2016, Billy launched fyreapp.com which would enable buyers who could afford it to book celebrities, musicians, and other types of talent for live performances. It is here that the legendary Fyre Festival began to take shape.
Billy became the main advocate for both unregistered equity and convertible promissory notes offerings. He also sold ──get ready for it── investments in the Fyre Festival! But these weren't any old investments, these were investment contracts that gave investors profits from the festival (that never really happened) commercial enterprises.
In a PowerPoint presentation investors, he claimed to have the festival on track to make $160 million bookings alone by the fourth quarter of 2017.
Enticed by the massive potential profits, investors threw tens of millions into Billy's companies, and they funded the high life for him. 
He received benefits, perks, and money as part of his status, and it gave him the ability to live like the celebrities he claimed to be friends with. (Not counting Ja Rule here folks.) He got a sprawling Manhattan penthouse. A luxury vehicle with a private driver to go with it. Took a silly amount of trips by private plane.
Billy was dipping his sticky fingers into investors' funds. By using the benefits and the stolen funds he elevated his status even more. Gaining access to more celebrities and premier events. Almost breathing truth into some of the falsehoods he told investors in the first place. 
We all know the story of just how the Fyre Festival went down and it took Billy rightfully with it. 
Billy tapped out to the SEC's charges against him for violating the antifraud provisions of the federal securities laws. He received a permanent officer and director bar. He agreed to cough up a disgorgement of $27.4 million. His companies Fyre Media and Magnises settled without admitting or denying a thing.
Billy originally was sentenced to 6 years in jail with 3 years of probation with Judge calling him a "serial fraudster" who had been "been dishonest for most of his life". The Judge seems to be right because while Billy was out on bail he was charged with selling fraudulent tickets to Burning Man, Coachella, and the Met Gala.
But for now Billy the fraud is currently calling Lisbon, Ohio home …. from behind bars.
If you think this just happens in the private market, sorry to say… but you're 100% mistaken. We actually see schemes in the options market all the time.
Don't believe me?
Let me show you how it all works.
Profit Off Wall Street's Greed
When I look for trades in the options market, one of the biggest tells of whether a stock could make a massive move is unusual options activity (UOA). Basically, all I'm looking at is order flow. If there's a large order that goes off, it tells me someone may know something…
For example, I noticed a Wall Street whale come in and sweep Intel Corp. (INTC) options.
1055 INTC January 31 $67.50 Calls for .40
If you look at the options order, someone threw down more than $40K on a long-shot bet. INTC had to move nearly 5% to the upside for the options trader to make money… and I don't know about you, but I don't think someone is throwing down a large bet like that just to gamble.
So what did I do?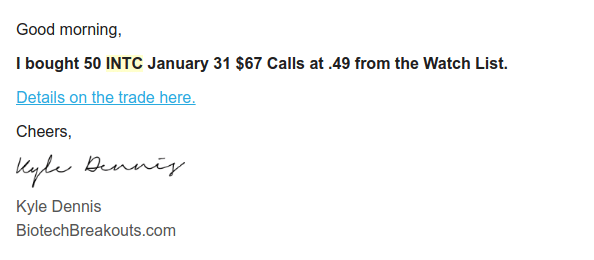 Missed this trade alert? Stop hearing about the smart money trades after the fact and join Dollar Ace now.
Guess what happened with the trade?
The options caught a massive move… and I doubled my money in just a few hours.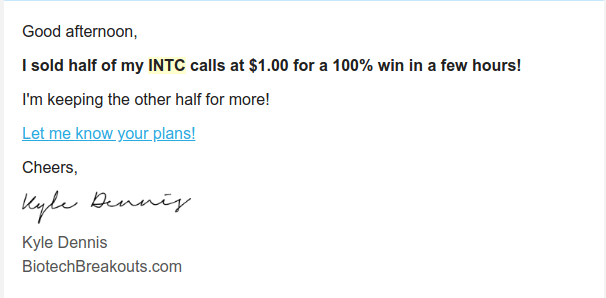 The thing is, I had a feeling the stock could continue to run… so I locked in a 100% profit on half my position and let the rest ride. That means I was playing with the house's money.
The following day… the options exploded AGAIN.

This time around, I took all my profits off the table and locked in a 153% on the second half.
Now, if you missed this alert… that's okay, because I see plenty of trades like this go off in the options market all the time. If you want to learn how I spot these trades and use UOA to my advantage, click here to watch this exclusive training lesson.
Related Articles: