You should know the name of the game by now, exposing the Wall Street scum and how they steal from everyday people. Today, I've got a cringe-worthy case for you that involved 10 people with multiple companies who raked in a whopping $27M in fraudulent stock sales.
Before I get into the story, I want to clarify why exactly I'm doing this.
I don't want everyday people like yourself to get caught up in these schemes. Of course, I don't want people to lie to you and tell you they can manage your money better than you can. Instead, I want to expose these Wall Street fatcats and show you how you can profit off the backs of these "insiders".
Not only that, I want to teach you how to be skeptical when someone comes at you with an amazing investment opportunity, so you could tell them, "Thanks, but no thanks… I know how to make money in the options market on my own."
Now that we've got that out of the way, let's take a look at how these 10 dirty players pumped and dumped stocks to line their pockets with millions of dollars.
Get ready for a lot of names…
Barry C. Honig, John Stetson, Michael Brauser, John R. O'Rourke III, Mark Groussman, Phillip Frost, Robert Ladd, Elliot Maza, Brian Keller, and finally John H. Ford were involved in 3 pump and dumps that brought in tens of millions of dollars.
You may not know any of these greedy folks… but there's one who should stick out right away.
Phillip Frost.
Ever heard of him? If not, the guy is a biotech billionaire and has and does chair on numerous companies and is known for his giving heart. Reportedly he and his wife are the most giving couple in all of Florida. Many donated buildings from universities to museums sport their names.
The now 85-year old may not have known about the scheme… but he did play a role.
The real mastermind was Barry C. Honig. Barry worked the others like chess pieces in a match, and many may have just been pawns in his elaborate scheme. Barry would call them to buy shares or to dump them at his word.
Here's how he did it…
Barry would have them negotiate transactions, take part in promotions, or organize issuance of shares.
However, every scheme ran the same way. Honig coordinated the 9 players to buy a huge amount of a particular stock at a large discount. And the would do this 1 of 2 ways.
Get a shell company and perform a reverse merger.

Get a shell company and finance on terms that at the time would flat out suck for company.
Thereafter, O'Rourke, Groussman, Stetson, Brauser, and Frost would strategically buy, hold, or sell their shares in perfect harmonization with one another. The profits from the sale were always well worth the wait.
How exactly did they profit?
Honig and his buddies would pay for the promotion of a stock. Honig would direct Ford or one of the other 8 to write positive and very misleading articles about the company whose stock they just bought. 
The goal: To make readers believe this was a MUST HAVE stock.  To quote an article word for word "This is big big big!" 
The results from the promos were always a generously inflated stock price.
Honig, Brauser, O'Rourke, Groussman, Melechdavid, and the company ATG burst into action, engaging in pre-release trading purely to manipulate how investors saw the stock. You know, the type of "insider" activity we still see in this market to this day.
I know, I know… let's cut to the chase.
Together the 10 pulled off 3 schemes before getting caught and here's what they raked in:
Pump and dump Scheme 1 ── more than $9.25M in proceeds from stock sales.

Pump and dump Scheme 2 ── more than $9.5M in proceeds from stock sales.

Pump and dump Scheme 3 ──  more than $8.3M in proceeds from stock sales.
Every time real people like you and me were left holding crap stock that was basically worthless.
But what if it didn't have to be that way?
What if you could spot these moves ahead of time and figure out that someone knows something and get in on the same side?
Well, you can.
How To Legally Profit Off The Back's Of Wall Street's Largest Option Players
In order to figure out where the smart money is throwing down their massive bets, I use a proprietary scanner that detects unusual options activity (UOA).
When you hear UOA, you may get taken back for a second… but don't let that scare you. It's actually really simple. All I really do is wait for the scanner to detect a large options order, and thereafter, I dissect the information and put it on a watchlist that I send out to my clients.
Let me show you how it all works, and how I spotted a +153% winner.
I noticed call buyers sweeping up options in Intel Corp. (INTC), so I threw it on my watchlist. 
Why did it stick out to me?
Well, someone bought $42,200 worth of January 31 $67.50 calls — a long-shot bet, as the options were set to expire in a matter of days.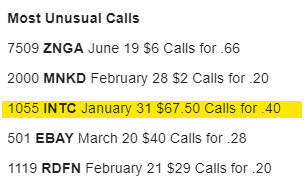 Now, the markets experienced a lot of volatility during this time, so I decided to be patient. The day after I sent out my watchlist, stocks calmed down… so I decided to take a stab and follow this player(s).

Guess what happened in just a few hours?
INTC caught a bid… and I doubled my money! As always, when I double up, I like to take some profits off the table and let the rest ride. After all, I was playing with the house's money at this point. I really couldn't lose any money at this point.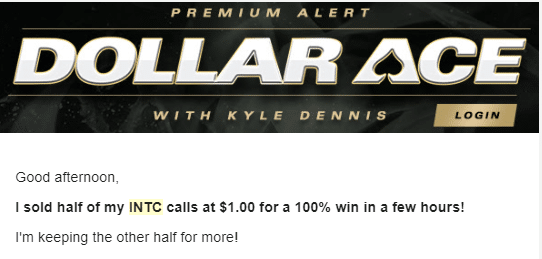 The very next day, the options ran up AGAIN! I juiced another 53% out of the trade… and at that point, I decided to take cash in.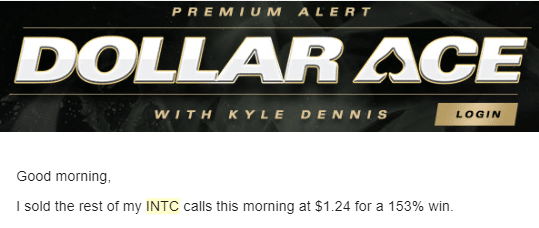 If you want to learn how I locked in a 153% on this winner, you'll want to check out my brand new eBook. The tactics that I outline in Dollar Option Trader, are already helping traders post returns of 263%, 448%,  and 545%. 
Stop missing out on these massive winners and claim Dollar Option Trader at absolutely no cost.
Related Articles: