We all know how there are dirty players on Wall Street… but these fatcats don't go at it alone because it takes two to tango. Today, I've got a story about an accountant who worked at Illumina (ILMN) — a large-cap biotech stock — and doled out insider information to her good ol' friend.
You may think these insider trading cases don't affect you… but there's something we can learn from the duo who swiped millions of dollars trading off non-public information.
This case raised my eyebrows because I couldn't fathom a company as large as ILMN didn't have checks and balances in place.
The story revolves around Martha Patricia Bustos and alternative energy "entrepreneur" Donald G. Blakstad. 
These 2 were the kind of friends that shared everything… literally.
And by everything ── I mean insider information on Martha's employer that made Donald and his buddies $6.2 million richer. And while Martha didn't make a single cent off the insider trading you won't believe the benefits she reaped.
The $6.2M Scheme
As an accountant, you are elbow deep in a company's finances. Martha became even more involved when she was promoted to an analyst. She had access to loads of non-public information concerning Illumina's financial performance. She knew it was her legal duty to keep these financials under wraps.
However, Martha decided to say, "screw it" to the rules and federal laws and share inside information about her company's earnings.
The man who received all of Martha's intel was no other than Donald G. Blakstad almost 30 years Martha's senior and owner of 2 private alternative energy companies. 
Martha tipped off her good friend Blakstad at least 4 separate times about Illumina's quarterly financial performance… and if you know anything about earnings releases, if someone has the right information, they could get paid.
Of course, Blakstad planned to keep their relationship on the down-low… but the SEC caught on (more on that later). He enlisted 2 people to distance him from his dirty work ─ a business associate and an acquaintance. Blakstad would use these 2 accounts to make trades right before Illumina made public finance announcements. 
That's the way it goes down when you're an "insider" who has non-public information. They have to figure out unique ways to cover their tracks.
I know what you're wondering, How much did Don actually rake in?
Donald personally reeled in $4 million in profits from this inside trading scam.
However, he wasn't the only one eating off this information. Blakstad was also an incredibly "giving" man, as he doled out his insider knowledge to at least 4 other business associates and good friends. 
Get this, at least 4 of these people, on at least 1 occasion each traded before Illumina released its earnings reports. Those individuals made at least $2.2 million in profits of Martha's insider intel.
How The "Insiders" Covered Their Tracks
A majority of these unlawfully were placed in near expiration or out of the money options contracts to allow the illegal traders to profit on an even grander scale.
The type of trades I look for when I'm scouting for my Dollar Ace trades.
I know you're probably wondering what happened to these Wall Street fatcats… 
The Securities and Exchange Commission uncovered their dealings through analysis and tech purposefully designed to detect suspicious trading activity. The SEC's latest software as well as old fashion investigative work put this puzzle together and exposed Martha and Donald.
Martha and Blakstad are looking at slew of charges for violating antifraud provisions of the federal securities laws. The SEC is wanting permanent injunctions, disgorgement with added interest, and penalties for the duo.
Sure, that's interesting…
But you know what's even more interesting?
This type of action still happens to this day. The Wall Street whales turn to the options market ALL the time to hide their trades. But little do they know, there are scanners out there that detect their every move.
Let me show you how it all works.
I noticed a Wall Street whale come in and sweep Intel Corp. (INTC) options.
1055 INTC January 31 $67.50 Calls for .40
If you look at the options order, someone threw down more than $40K on a long-shot bet. INTC had to move nearly 5% to the upside for the options trader to make money… all with the coronavirus fears.
I don't know about you, but I don't think someone is throwing down a large bet with all the potential headline risks just to gamble.
So what did I do?
I followed the smart money.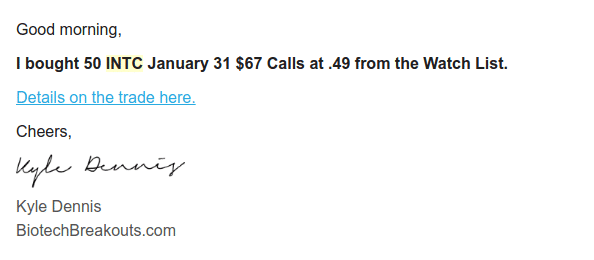 Missed this trade alert? Stop hearing about the smart money trades after the fact and join Dollar Ace now.
Guess what happened with the trade?
The options caught a massive move… and I doubled my money in just a few hours.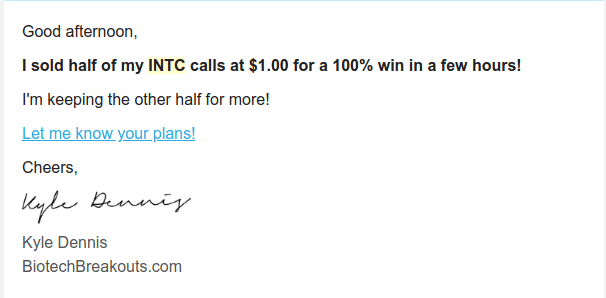 The thing is, I had a feeling the stock could continue to run… so I locked in a 100% profit on half my position and let the rest ride. That means I was playing with the house's money.
The following day… the options exploded AGAIN.

This time around, I took all my profits off the table and locked in a 153% on the second half.
That's the thing about these "insider" trades… they don't necessarily move with the overall market, and the best part is their high-probability setups. If you want to learn how you could potentially make 263%, 448%, and 545% by applying the "insider" strategy, then check out all the details I disclose in Dollar Option Trader.
Related Articles: