There have been rumors circulating about SoftBank's massive options bets in high-flying tech stocks over the summer…
Some have been speculating the conglomerate has been behind the melt-up we witnessed in tech.
Whoever was behind the large tech bet was sitting on some hefty gains, and I would definitely consider them the "smart money".
But listen, the bets SoftBank may have thrown down is a thing of the past, and there are other sharks swimming in the waters…
And my Dollar Ace Scannerdetected some multi-million dollar options bets, signaling they may make a move soon… and they're ones I want to keep on my radar.
Right near the open Friday, a trader came out and blasted…
4,000 LUV Dec 20 $40 Calls
They Paid $5.027 Per Contract
For A Total Of $2.01M In Premium
Now, these are OTM options, which means the stock needs to move higher between now and the next 101 days.
If they hold till expiration, they need shares to rise by 14% just to break-even.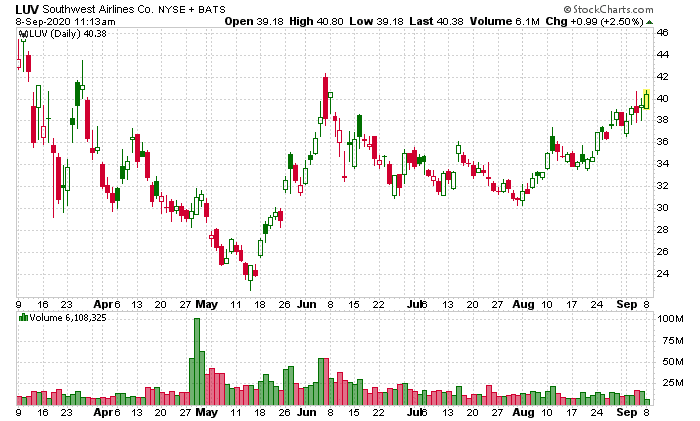 This trade plays along with the idea that more and more smart money is pouring into the "reopening."
That's not the only play my smart money scanner picked up on…
Over 83K call contracts of Delta Air Lines (DAL) traded on Friday, which is a spike when compared to its daily average of 70.4K.
One of the biggest trades I saw, was a trader coming in the morning and buying:
4086 DAL Dec $32 Calls
They Paid $4.84 Per Contract
For A Total Premium of $1.98M
Now, for this trader to make a profit at expiration, they would need the stock to spike by 15% … and if it doesn't…the options will expire worthlessly.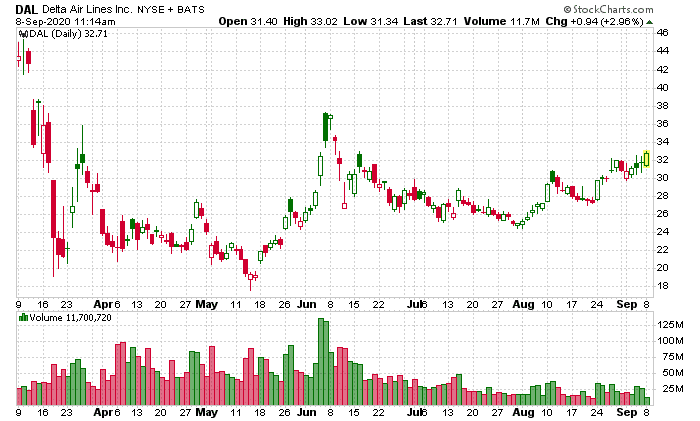 So clearly, this trader is expecting a move upwards from these current levels, and is making a sizable bet.
Last, but not least…
There was some unusual activity in Pinterest (PINS), and who knows… maybe SoftBank is behind this one.
On Friday, when PINS was trading at $34.24, a "Nasdaq Whale" came and bought
10,395 PINS Nov $40 Calls
Paying $3.57 Per Contract
For A Total Of $3.7M In Premium
PINS on Friday closed at $34.38.
So in order for this "Nasdaq Whale" to profit on this trade, they'll need shares of the stock to climb by 26.7% by the next 70 days or so.
If it doesn't get there by expiration, they are set to lose their entire $3.7M in premium.
That said, I'll be keeping my eyes peeled for any more activity in PINS.
Listen, there are so many options bets that my scanner picks up every day.
If you want to find out how it works in real-time, then click here to find out.
Find out how to utilize the smart money indicator to improve your decision making and potentially generate larger returns.