If you ask any trader what's on their mind right now, most will probably tell you they're waiting for the market to show a clear direction.
Uncertainty is at highs and multiple catalysts on the table:
Of course, we've got the U.S. Presidential election in just 4 days.

There's been an uptick in pandemic cases, and some countries are headed back into lockdown.

Stimulus talks have been quiet, and it's expected it'll remain that way until after the election.

We're in the heart of earnings season right now, and that can shake things up too.
Timing and location will be key to attack the market.
Today, I want to show you the number one reason why I believe stocks move — and how to take advantage of the catalysts on the table.
I don't want you to head into next week and freeze-up — and have that deer in the headlights moment.
There's One Factor That Will Move Stocks…
Catalysts are what moves stocks.
Listen, if you don't know what a catalyst is… now's the time to pay attention because there are so many catalysts on the table, and that means money-making potential.
To me, a catalyst is a reason for a stock to move — it can range from market-wide news to corporate earnings, M&A rumors, a fundamental change in the company… whatever the case may be, it's something that can justify a stock's move.
For example, Apple Inc (AAPL) reported earnings last night and tanked this morning. The catalyst here was that the street didn't really love the numbers, as AAPL missed iPhone sales by 20%. Not only that, but the company didn't provide guidance due to the uncertainty of the coronavirus.
When it comes to catalyst plays, I typically look to get in ahead of the event and take part in the catalyst runup.
In other words, I'll look for catalysts a few weeks out, buy shares (or options if they're available) and set a stop-loss and have a target in mind. Generally, I'm locking in profits before the event.* Of course, not all these trades are winners, but more times than not — they're effective.
The major catalyst on the table right now is the election, but there are also catalyst events in specific stocks and sectors.
For example, with the uptick in coronavirus cases, some stocks I'll watch are…
AIM, APT, CODX, CEMI, DVAX, FLDM, INO, IBIO, SRNE, OPK, MRNA, GILD, NVAX, VXRT.
Here's a look at a trade plan I sent out earlier this week.
Inovio (INO)
Catalyst Dates: Submitting info to FDA this month, hear back in 30 days to proceed with trial
Buy Zone: $10.00 to $11.00
Profit Zone: $13.00 or higher
Stop Zone: $9.50 or below
Options: INO December 18 $14.00 Calls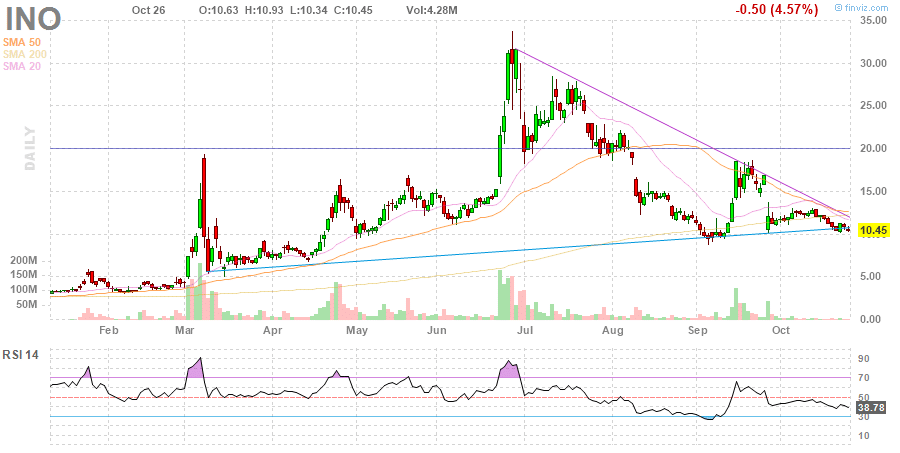 Listen, it might be scary in the market right now. However, just because the overall market is tanking, it doesn't mean you have to sit there and watch your account suffer.
That's why I want to invite you to this important training session.
You'll learn how to utilize catalysts to your advantage, and how to turn fear and uncertainty into opportunities.
I don't think it's wise to trade next week without watching this.
WE MAY HOLD SECURITIES DISCUSSED. RagingBull has not been paid directly or indirectly by the issuer of any security mentioned in the Services. However, Ragingbull.com, LLC, its owners, and its employees may purchase, sell, or hold long or short positions in securities of the companies mentioned in this communication.