After Intel Corp. (INTC) reported earnings last week and announce delays in its next-gen chips…
The stock tanked and finished at $50.59 — 16.24% lower on Friday.
All eyes are on Advanced Micro Devices, Inc. (AMD) next week, as traders try to figure out if the company is taking INTC's cookies.
By the looks of it, this event may be priced in already…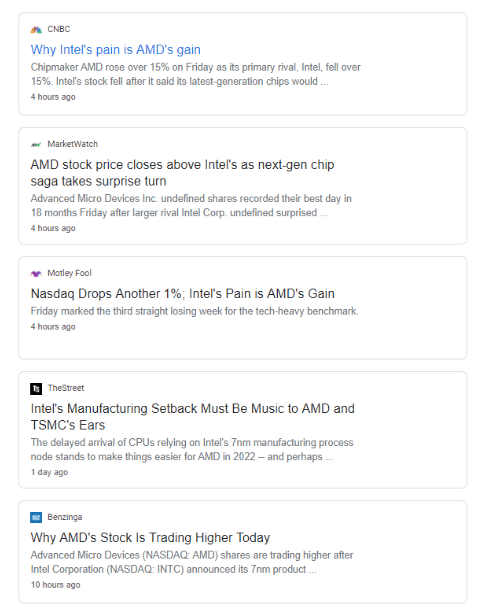 AMD shares exploded higher, and the stock finished 16.50% higher on Friday.
Will that action continue?
One "smart money" player believes AMD will continue higher this week…
And its earnings release coming up, do they know something we don't?
Only time will tell.
I want to show you the activity I saw in AMD, and reveal my thoughts on the trade…
Smart Money Trade In AMD, Or Just A Gamble?
There was a lot of options activity in AMD on Friday. In fact, more than 1M calls in AMD traded on Friday.
That's 412% above its normal activity.
It makes sense, given the INTC news and how AMD could take a chunk of the market share.
The question many traders have on their minds…
Can AMD trade higher?
Well, according to my Dollar Ace Scanner…
The answer is yes.
There is one specific trade that caught my attention.
The trade hit the tape 30 seconds before the market close on Friday… and this cowboy threw down seven figures on the trade.
Here was the action:
2725 AMD Jul 31 $67 Calls
The trader paid $5.05 per contract, for a grand total of $1.38M in premium.
Now at the time of the trade, shares of AMD were trading at $69.36.
In other words, these were deep in-the-money calls being purchased.
Why would a trader purchase those options that expire this Friday before the close?
It's possible that this trader is playing a runup into earnings, which are scheduled to release on Tuesday night…
Heck, they might look to hold AMD into earnings looking for a massive gap up.
Do they know something we don't know about AMD?
We'll have to wait and see about that one.
This is one trade I'll keep on my radar, but probably won't jump into.
You see, for me personally, buying options into an earnings announcement is a little too risky for my liking.
It seems too much of a gamble to me.
While this may be a Wall Street whale piling into AMD, I'm probably not going to follow them into the trade…
My Dollar Ace Scanner can pick up more interesting and potentially better trade ideas than AMD.
The key is to know where to find them and dissect the information.
If this all sounds confusing to you at first, don't worry…
I'm going to make this crystal clear for you and teach you how to find "smart money" trade ideas.
The information I share in this exclusive training session may leave you in awe, wondering why you haven't been using this indicator earlier.
I want you to see it for yourself and reveal how powerful my scanner is.