We all search for the Holy Grail of Trading — the one thing that will take us to the next level and keep us there.
Well, I think I've found it… but, it's probably not what you think:
Diversification.
History's greatest investors preach about diversifying your income stream.
However, when people hear about diversification, they think about traditional buy and hold investing—and spreading your funds across a series of stocks and bonds.
I don't know about you, but I don't have time to park my cash in a bunch of different stocks and bonds…
Forget about that… because that's not the form of diversification I'm referring to.
Instead, I'm talking about the type of diversification that has lead to these results: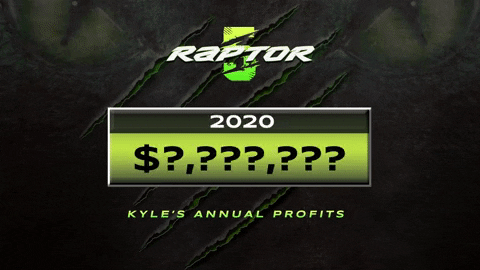 So how exactly did I do it, and more importantly, can you potentially replicate that success?
The answer may shock and delight you.
I know you're probably wondering… Kyle, could I really become a millionaire trader like you?

Well, I can't really guarantee that… everyone's different and it's impossible for me to tell you how you will perform. The only thing I could do is reveal my top strategies — ones that myself and many of my clients use to consistently find massive winners.
Rather than telling you about how my strategies work… I wanted to show you three trade examples using different strategies.
Need Simple and Easy?
Imagine, you could just focus on one trade a week…

How much easier would your life be? You could have one go-to strategy every single Monday…
Every week, I sift through the thousands of biotech stocks out there… until I find the one with the highest chance to explode higher. Sounds easy right?
Well, it is… It's one trade setup with a detailed trade plan… that's it. The goal is to generate profits fast… and repeat.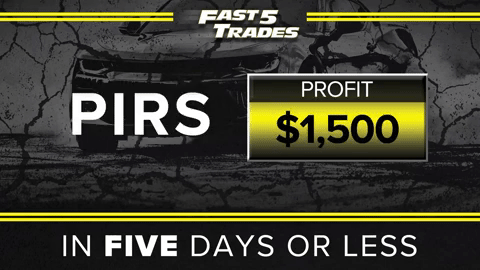 You're probably wondering how this all works…

Check out a Fast 5 Trade idea that I sent out to my clients.
VSTM popped up on huge volume Friday. Today, the company put out news that it submitted its drug in Europe.
They also will be talking about their Phase 2 data at a conference on December 7th next week.
So, a really solid momentum chart setup, a piece of news today, and a solid upcoming catalyst.
Buy Zone: Under $1.15
Profit Zone: $1.35 or higher. Second Target $1.50.
Stop Zone: $0.90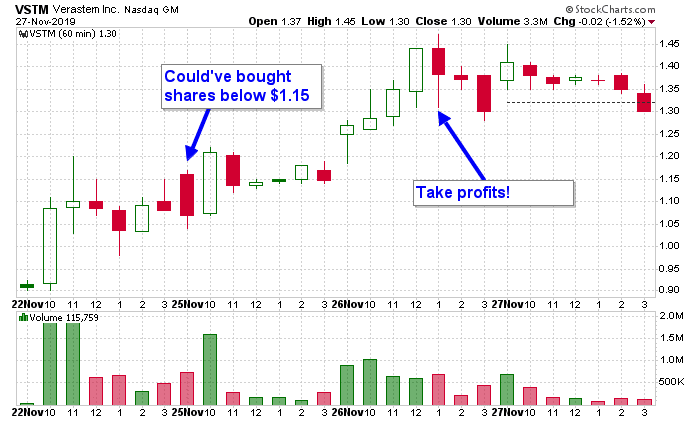 If you look at the trade plan… the buy zone was below $1.15, and you could've put in a limit order to buy at $1.10.

Thereafter, you could've put in a limit order to sell half at $1.35 and the other half $1.45 (remember it's okay to take profits even if it doesn't get right to your target.
That would've been an average return of nearly 30% on just one single trade.
Guess what? Fast 5 is included in Raptor 5… as well as the next exciting strategy. This is where diversification comes into play.

The "Smart Money" Strategy

We all know there's a lot of shady business going on in the markets… but what you might not know is the fact there are well-informed traders out there placing massive bets every single day.

A lot of the times, they place these bets ahead of major headlines… and they've actually gotten sloppy because we can spot when they're buying and selling options.

For example, ahead of General Electric's (GE) earnings announcement… the options scanner I use picked up a sizable order — 4,784 GE November 8th $9.50 calls went off for 19 cents, a whopping $90,896 in premium on a long-shot bet.
Sure, a massive options order went off… but that doesn't mean we follow the "smart money" blindly. I like to pair unusual options activity with chart patterns.
Check out the daily chart in GE below.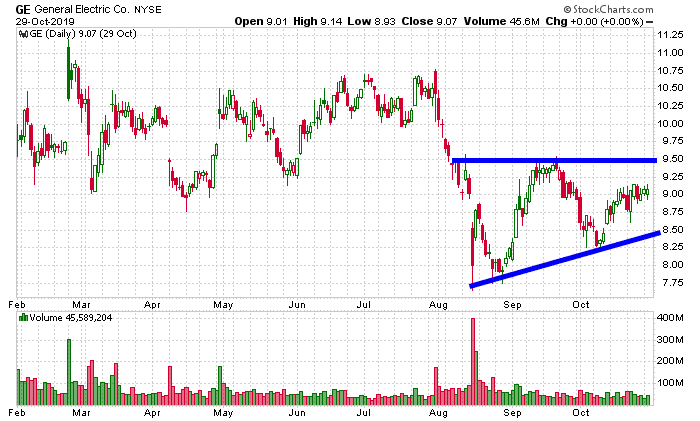 The stock was forming an ascending triangle pattern — a bullish setup.

The interesting part about this trade was the strike price of the GE calls that "insider" scooped up. They purchased the $9.50 calls, which was a key breakout level.
Once I did my due diligence, I figured this thing could rocket higher.
I actually put GE on a watchlist and sent it out to Dollar Ace clients… and the next day, I alerted them when I was getting into the trade:
I bought 400 GE November 8 2019 $9.50 Calls for .14.
This is from yesterday's watch list, after we saw some big unusual call buyers at that price yesterday. In fact, they were buying at .19 so this is even a tad cheaper. GE has earnings October 30th (before the bell) so this is definitely a riskier trade!
Take a wild guess about what happened with GE…


Source: CNBC


GE smashed expectations and actually raised its cash flow outlook even with the tariffs and a projected $1.4B loss this year from Boeing's (BA) grounding of its 737 Max
.Bingo Bango Bongo!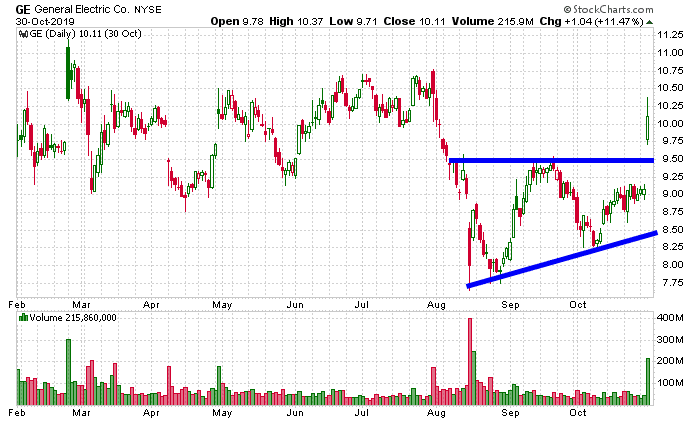 GE actually broke right through that resistance level with ease…

And I locked in a whopping 200% gain overnight!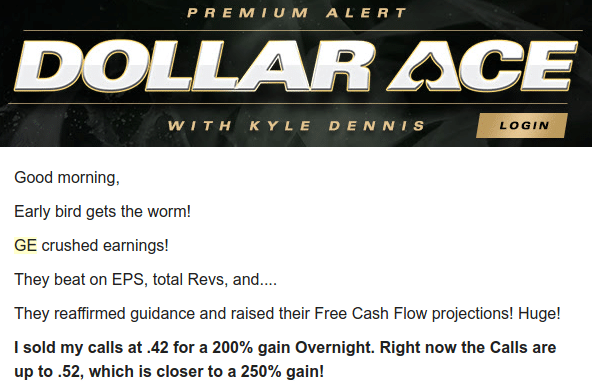 However, I wasn't the only one who raked in a massive gain using the strategy…




The thing is… we see this happen ALL the time with my Dollar Ace strategy… and we can directly profit from these trades.
That's two different streams of income with Fast 5 and Dollar Ace… and I want to show you a third…

The Catalyst Runup
Another strategy I used is focused on biotech and pharmaceutical stocks — a sector that offers some of the best risk-reward opportunities in the game.

With this strategy, I find a catalyst event… pair it with a bullish chart setup… and plan accordingly.
Let me show you how this all works with a real-money trade I had in Soliton (SOLY).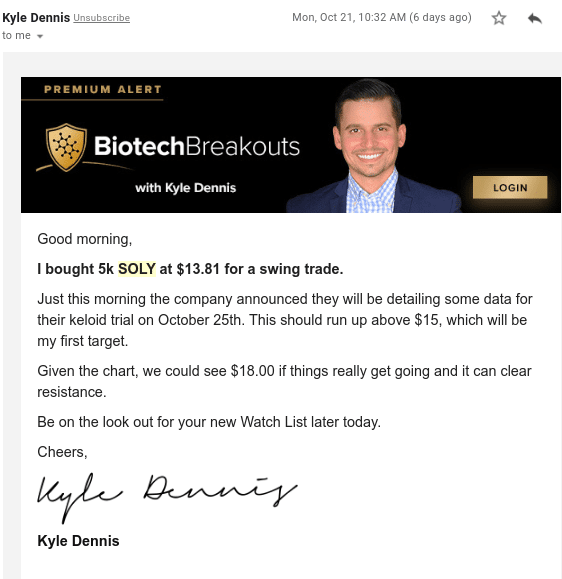 So SOLY had an upcoming data release — the catalyst.
However, I didn't get in just because of the upcoming event… there was actually an interesting chart pattern to go along with it.
The stock was compressing and approaching a key breakout level (the blue horizontal line in the chart below).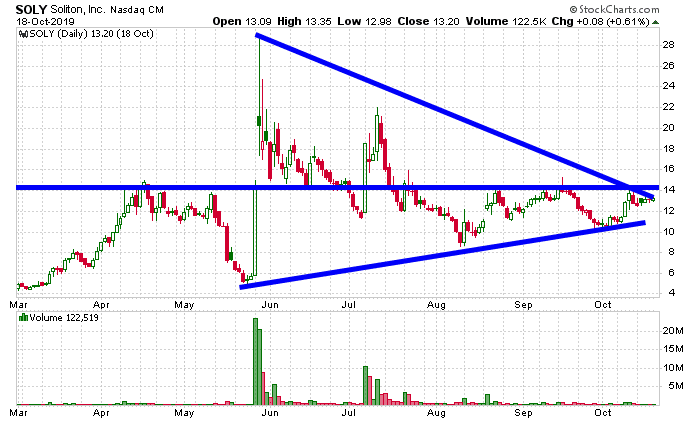 This is a high probability setup.. and with the SOLY set to release data for their keloid trial, it was the perfect catalyst runup trade.
In just 2 days… the stock broke above that level.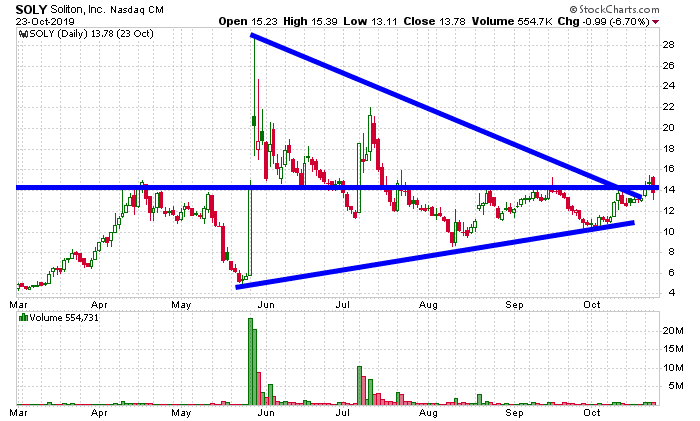 Not quite the target I had my eye on. However, I didn't want to hold the stock into the data release… because I was sitting on $7K in profits… so I decided to lock it in and look for the next best setup.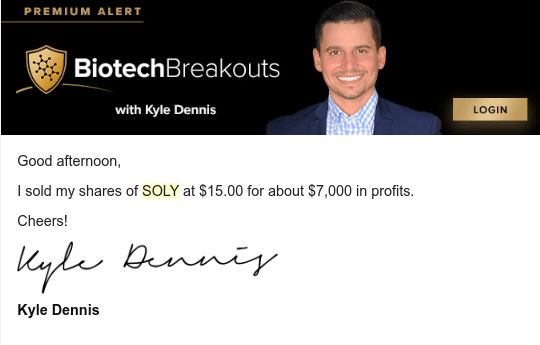 Pretty simple right?
The way I transformed from a struggling trader into an elite trader was by adding different profit buckets to my game — strategies where I have an edge. The three strategies I laid out for you here today aren't even all of the strategies I use.
I have two additional strategies: Sniper Alerts and Option Rocket.
For a limited time only… you can become a charter member of Raptor 5… click here for all the details or check out the rebroadcast here before it gets taken down.
Related Articles: