Have you ever read a Form 10-K filing?
Well, it's an annual report that publicly-traded companies are required to complete, in order to be in compliance with U.S. Securities and Exchange Commission.
For the most part, the first section outlines the nature of the business. For example, this is how Tesla, Inc. describes itself:
We design, develop, manufacture and sell high-performance fully electric vehicles, and energy storage systems, as well as install, operate and maintain solar and energy storage products. We are the world's only vertically integrated energy company, offering end-to-end clean energy products, including generation, storage and consumption. We have established a global network of vehicle stores, service centers and Supercharger stations to accelerate the widespread adoption of our products. Our vehicles, engineering expertise across multiple products and systems, intense focus to accelerate the world's transition to sustainable transport, and business model differentiates us from other manufacturers.  
Source: BamSEC
You see, the Form 10-K tells you the inner workings of a company, what its plan is, the obstacles it faces, how it's executed to date, and how it foresees in the future.
After all, they are in the business of making money.
As a trader, you too, are in the business of making money. If you're not approaching your trading with a business-like attitude, then you are selling yourself short.
Successful traders make money in different ways, utilizing an assortment of strategies. However, despite their differences in trading styles, they share many commonalities.
In fact, if you can do these three things, you too, have a chance to join the ranks of being a consistently profitable trader.
Preparation
Of course, the markets can be unpredictable. But that doesn't mean we should go into the trading day cold. For example, establishing a routine and playing out possible scenarios is a great way to prepare for the trading day.
Why is this so important?
Because selecting the "right" trade is only part of the process. A trader must also put their attention on the mechanics of the trade, like position sizing and managing risk.
If you see a stock moving, and are unsure of the catalyst, unsure on how much you want to risk, or the levels you want to get out it… well, you are scrambling and unlikely to make a calm decision. Let's face it, trading boils to making decisions.
I'm a self-made millionaire trader, and I send out a morning note to my subscribers. In that email, I list some of the top stocks I am watching for potential day trades. I also share details on what I believes the potential catalyst will be, whether it's an FDA announcement or a technical chart pattern.
In addition, I lay out a basic execution plan. Now, I don't just tell you I like a stock. I will inform subscribers what price levels I will look to enter, when to take profits, and an exit strategy if the trade doesn't work out.
Here's a look at one of my emails: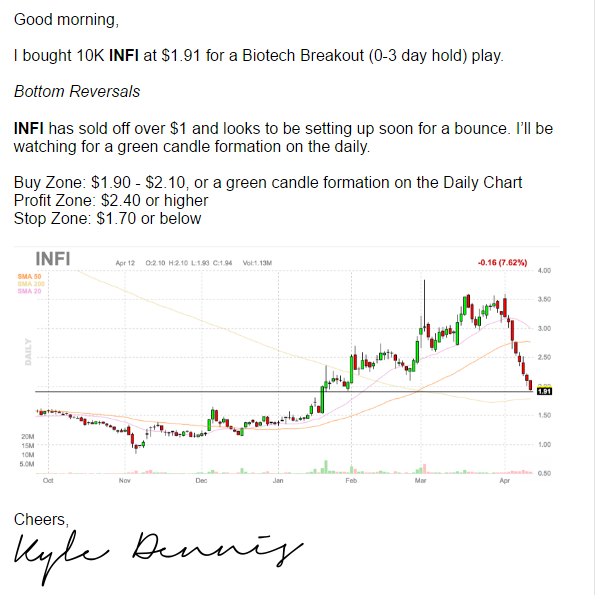 I ended up making about $1,900 in profits on this trade, and alerting subscribers throughout the whole process.
Here's another example…
Let's say a stock is down considerably in the pre-market and it could potentially set up for a reversal play during the day. Checking to see what the catalyst is vital information. For example, is the stock down because it's being investigated by the FBI or is it trading down because a research firm downgraded it?
The devil's in the details. Sure, it's important to know key price levels for a stock. But it also pays to know what is the catalyst that is triggering the move.
Imagine trying to figure out what's going on– then trying to trade and manage risk, could lead to panic or thoughtless decisions.
Study
Let's say you are an active trader, someone who takes 4 trades on average per day. That adds up to 20 per week, 80 per month, and 240 per quarter.
If you are not recording your trade information, then you are putting yourself in a serious disadvantage.
How do you know if a strategy is working, if a stop is too tight, and if you are maximizing your profits?
Without keeping track of trades and journaling, you won't be able to learn as fast.
Here is some useful information to keep stats of:
Time of trade entry/exit

profits/losses

Commissions paid

Symbol traded

Quantity of shares
 In addition, you should record your thoughts going into the trade, what was the idea and plan. For example, my trade in INFI was based on a chart pattern I liked. Tagging trades is an efficient way to track the success rate on specific strategies.
For example, imagine having an organized list of all the times you traded a bottom reversal pattern. If you see it working, do you increase your position sizing or if it hasn't don't well recently, do you avoid trading that pattern?
Making decisions based on hard numbers, is a more business-like approach than relying on memory alone.
If your results tell you that you are a poor earnings trader, but are excellent at trading low-float biotech stocks, then what should you be doing more of?
Analyze what you're doing right and wrong. Eliminate bad habits and leverage up your best ideas.
Set Goals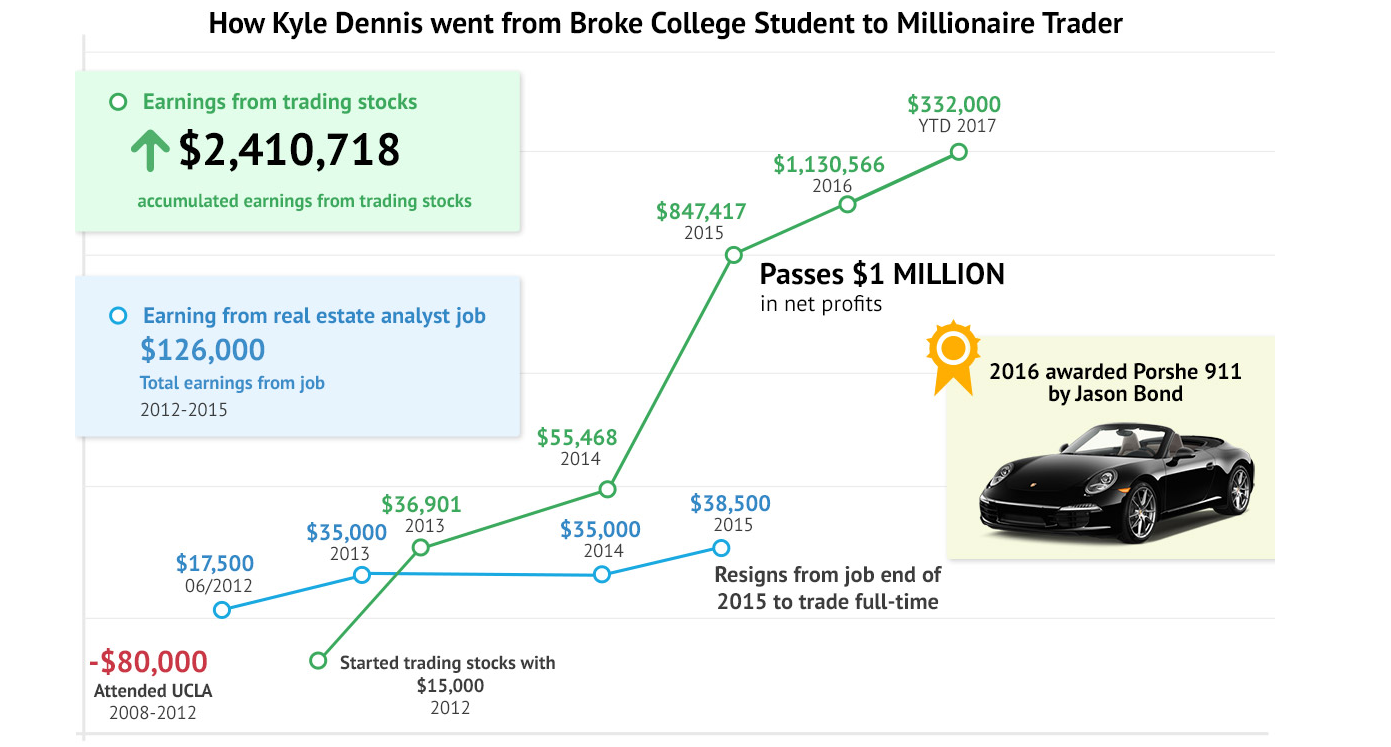 We are all running our own race. Focus on process and the results will follow. For example, instead of setting goals on how much money you'd like to make– create goals that you have greater control of.
Process Goal: Create a watch list of five stocks each morning.
You see, the problem with profit goals, is we can't control the markets. Sometimes the best position is to be in cash. Other times, you can be in a good trade, but still end up losing on it. A goal, like the one mentioned above, is something you have full control over.
Process Goal: Review my trades after each trading day.
You get it? A goal in which you have control over. By doing the right things, you'll start to see the results you want.
All too often, traders get caught up in thinking that it's a strategy or indicator that they are missing– that will take them to the top. However, there are three attributes that all successful traders share: they are well prepared, study their past performance, and set goals. Start implementing these elements into your trading, and there is no limit to how far you can take your trading.
Want more info? Get my free newsletter here: www.biotechbreakouts.com
Related Articles: