Abbott Laboratories (NYSE: ABT) shares were up slightly after its 1Q 2017 financial results. However, the company saw Alere as a "bit of a fixer-upper." More on the Abbott Laboratories and Alere Inc later. First, let's see how Abbott Laboratories earnings came in.
Abbott Laboratories 1Q Financial Results
Abbott Laboratories reported 1Q 2017 GAAP earnings per share (EPS) from continuing operations of 22 cents. The company's adjusted EPS from continuing operations came in at 48 cents per share, which was above its prior guidance range of 42 cents and 44 cents. That in mind, Abbott beat the Zacks consensus estimate by 11.6%. Additionally, its adjusted EPS rose by just over 17% year over year.
Abbott Laboratories reported 1Q 2017 worldwide sales of $6.33B, which beat the Zacks consensus estimate of $6.11B. Now, its 1Q 2017 sales grew by nearly 30% from its 1Q 2016 revenues. The company also completed the acquisition of St. Jude Medical, which is a leader in the broad medical device industry, and could provide expansive opportunities that could potentially grow Abbott's revenues and earnings.
According to Abbott Technologies Chief Executive Officer and Chairman Miles D. White, "Our first quarter results reflect a strong start to the year…The integration of St. Jude is going well and recently launched products are contributing to double-digit sales growth across several areas of our Medical Devices business."
The company's Established Pharmaceuticals Division (EPD) sales rose by approximately 7% to $950B. Moreover, sales in key emerging markets rose by over 15%, primarily driven by commercial initiatives and locally relevant portfolio expansion. Additionally, Abbott's Medical Device segment doubled on a reported basis on St. Jude inclusion. Moreover, its Cardiovascular and Neuromodulation sales rose by over 200% on a reported basis.
ABT Takeover of Alere Inc
As stated earlier, Abbott called the diagnostics company as "a bit of a fixer-upper." The deal had some roadblocks due to some issues in Alere's accounting and sales price. However, Abbott still agreed to a takeover price of approximately $5.30 billion, down from $5.80B. ABT experienced  some troubles with its acquisition of Alere, and the closing of the deal could be very unpredictable. The deal is expected to close in the third quarter, but this could potentially expand Abbott's reach in the point-of-care diagnostic testing.
ABT Performance
The stock traded between  $43.12 and $44.00  today. ABT traded between  $36.76  and  $45.84, over the past 52 weeks. Consequently, ABT is  currently just under 5% below its 52-week high and over 18% above its 52-week low. The stock was up over 6% over the past three months, and just over 13% year to date.
Here's a look at ABT's recent performance on the daily chart: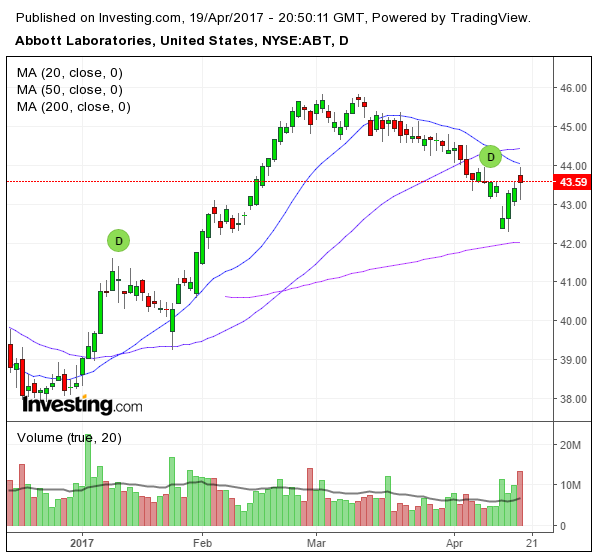 Source: Investing.com
ABT looks like it's testing the 20-day moving average, but its 20-day SMA recently crossed below its 50-day SMA. Now, we'll be waiting to see how the stock trades around this level of resistance.
Final Thoughts
Despite beating its revenue and earnings estimate, the stock only ended up under 1% on the day. This could be attributed to some complications with its deal with Alere Inc. Abbott Laboratories is still committed to closing is ALere acquisition, which is expected to close in 3Q 2017.
Related Articles: