Adamis Pharmaceuticals Corp (NASDAQ: ADMP) shares were down over 10% today, after announcing the pricing of its underwritten public offering of approximately 4.285M shares of its common stock at $3.50 per share. Consequently, this would result in gross proceeds of approximately $15M. Let's get into the details of this public offering.
Adamis Pharma Public Offering
Yesterday, the company announced that it was offering an undisclosed amount of its common stock. In its SEC Form 424B5 filing, the company noted that it had cash and cash equivalents of around $5.1M, which included accounts receivable of around $800K, approximately $1M in restricted cash and $12.5M in liabilities, on December 31, 2016. As of March 31, 2017, the company stated that it had approximately $1.4M in cash and cash equivalents, which includes restricted cash.
That said, Adamis Pharma, at the time, stated that its existing working capital and the proceeds of the public offering should be able to sufficiently fund its operations for the 2017 fiscal year.
As stated earlier, the Adamis priced its public offering, and expects it to close on April 26, 2017. Keep in mind that the public offering is still subject to the satisfaction of customary closing conditions. In addition to its public offering of 4.285M shares, the company granted the underwriters a 30-day option to purchase up to 642,857 additional shares of its common stock to cover over-allotments, if any.
ADMP had 22.6M shares outstanding, 16.82M shares floating and a short ratio of 11.18%. Therefore, this public offering would dilute the company's shares, which was the primary catalyst that drove shares lower today.
Today, in its press release, Adamis Pharma stated that it intends to use the net proceeds of the public offering for general corporate purposes, which could include expenditures related to research and development (R&D) and clinical trials, capital expenditures, acquisitions of new technologies or products, the repayment of refinancing, just to name a few.
Moving on, let's take a look at the stock's technicals.
ADMP Technicals
The stock traded between $3.52 and $3.75 on April 21, 2017, after announcing the pricing of its public offering. Over the past 52 weeks, ADMP traded between $2.40 and $10.98, and therefore, it's over 60% below its 52-week high, and over 35% above its 52-week low. Prior to the announcement of its public offering, ADMP was up nearly 40% over the past three months.
Take a look at ADMP's performance on the daily chart: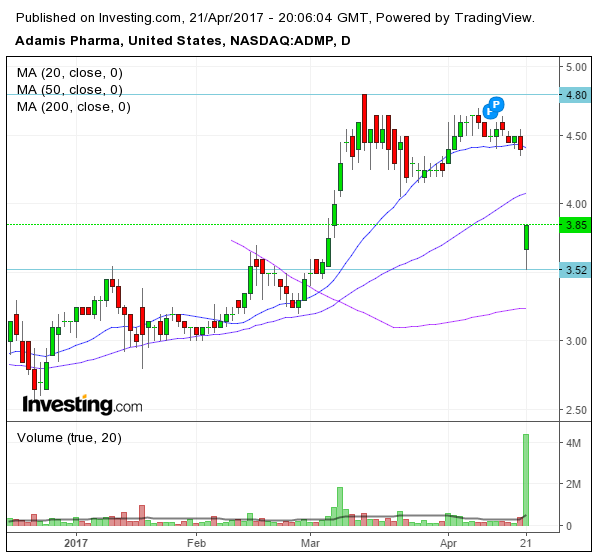 Source: Investing.com
As of today's close, the stock closed significantly below its 20- and 50-day simple moving average. Now, if you notice the blue line, ADMP found some support just above its offering price.
Final Thoughts
ADMP priced its public offering and this would result in gross proceeds of approximately $15M. The company intends to use these proceeds for various purposes ranging from R&D to acquisitions of platforms and technologies. In other words, the company may be looking to use the proceeds in an attempt to grow its business.
Related Articles: