Akari Therapeutics PLC (ADR) (NASDAQ:AKTX) shares were up 24.79% today, after William Blair initiated the stock with an Outperform rating with a price target of $37. The stock closed at $11.70 per share yesterday, and therefore, the price target was over 200% above that price. Now, there were some interesting comments by William Blair analyst Tim Lugo.
Analyst Comments
According to William Blair analyst, "Akari Therapeutics' lead candidate, Coversin, is a next-generation complement inhibitor looking to enter the same therapeutic category that Alexion's Soliris created, which was the basis of one of the most successful biotech launches of the past 20 years."
With that said, Lugo believes that Akari Therapeutics' leading product, Coversin, could find a niche in patients who do not respond well to Soliris, or those whose genetic mutations prevent the activity of Soliris. This could explain why William Blair is bullish on the company.
In addition to this, the William Blair analyst noted that Akari has already successfully treated one European patient whose genetic mutations may have prevented the activity of Soliris. However, the Lugo also stated, "one patient's worth of data is far from definitive, we like the risk/reward profile of shares ahead of the company's Phase II study, which is likely to be detailed at Akari's analyst event on April 24 and should provide data on several additional patients."
That said, with the company's Phase II study and the company's analyst event on April 24, it could give an indication of where it's product stands, and the efficacy of its results.
Akari Therapeutics PLC (ADR) Statistics and Performance
AKTX traded in a range between $13.62  and $18.50 today. AKTX has a 52-week range between  $6.22  and  $19.75 . Therefore, Akari Therapeutics is currently over 170% above its 52-week low  and just over 10% below its 52-week high. Prior to today's performance after the analyst coverage, the stock was already up over 70% on the week. AKTX has been trading well above its simple moving averages, as shown in the chart below.
Here's a look at the stock's performance on the daily chart: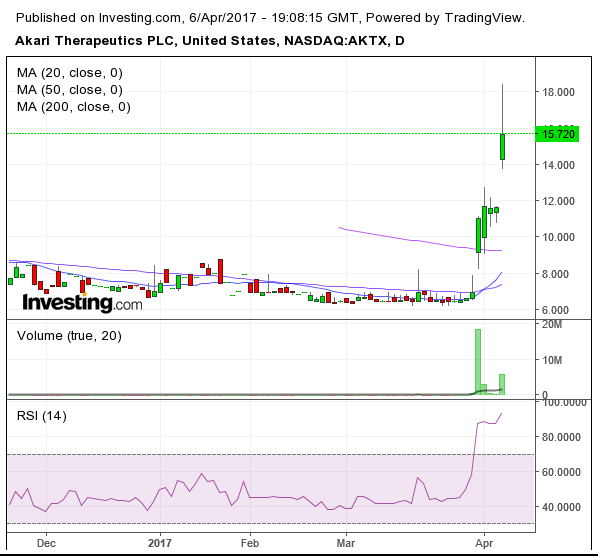 Source: Investing.com
As shown in the chart, there has been large spikes in volumes over the past trading sessions. Although the stock's relative strength index (RSI) is above 70, the stock could continue higher after the analyst coverage, and the amount of its floating shares. Akari Therapeutics PLC ADR has 3.37M shares floating, 11.8M shares outstanding, and a short ratio of 0.14%. Now, although the stock has 11.8M shares outstanding, only 3.37M shares are available for trading in the open market. Therefore, the stock could have more extreme moves due to the lack of shares available to trade, the impact of supply and demand could greatly affect AKTX's price.
The company has a book value per share of 3.485. Additionally, AKTX 's fourth quarter 2016 net income fell by 2,347.37% year over year. However, the company's EPS grew by 20.00% quarter over quarter (QoQ).
Final Thoughts
AKTX shares are up due to William Blair's overweight initiation on the stock, with a price target of $37. Keep in mind there is an analyst event coming up on April 24, and the company could make a comment on its Phase II trial of its leading product. Moreover, the stock has a low float, which could be an indication that shares could have an extreme move.
Related Articles: