Akebia Therapeutics Inc. (NASDAQ: AKBA) shares were up over 30% today after it announced it expanded its collaboration with Otsuka Pharmaceutical, for vadaustrat. Now, the companies entered into a collaboration and license agreement for China, Europe and other territories.
Akebia and Otsuka Collaboration Details
Vadadustat is currently in the Phase III development stage and could be used for the treatment of anemia associated with chronic kidney disease. Now, similar to all small-cap biotech companies, Akebia needs capital to continue testing drugs in its pipeline. This agreement helps Akebia do so.
Under the terms of the collaboration agreement, Akebia would receive $208M, or more, in committed capital from Otsuka Pharmaceutical. Additionally, Akebia is eligible to receive up to $657M in milestone payments. Not only that, but Otsuka would make tiered, double-digit royalty payments of up to 30% of net sales of vadadustat in Otsuka Pharmaceutical's territory, which currently includes Australia, Canada, China, Europe and the Middle East.
Otsuka Pharma and Akebia Comments
According to John P. Butler, President and Chief Executive Officer of Akebia, "We are very pleased to expand our strategic relationship with Otsuka, a company who shares our vision to improve the lives of patients with kidney disease…We now have a single, strong collaborator for the two largest markets, the U.S. and Europe. This simplifies governance and decision making, maximizing the efficiency of our global Phase 3 development program and ultimately the commercialization of vadadustat. We are able to accomplish this while obtaining substantial funding for our vadadustat development program and retaining significant long-term value for Akebia."
Tatsuo Higuchi, president and representative director of Otsuka Pharmaceutical, stated, "Thanks to Akebia's expertise in developing vadadustat, we anticipate that it holds significant promise for renal anemia. We are also convinced that by strengthening our cardio-renal portfolio with a drug candidate like this, following our own tolvaptan, we can contribute to changing the standard of care worldwide for patients with complex kidney diseases."
Now, after this news broke, Adam Feuerstein, who is known for his calls on biotechs, wrote an article entitled, "Akebia Surges but is Undervalued, Making Takeover a Potential Remedy." This could have also been another catalyst that sent AKBA shares running higher.
Moving on to AKBA's statistics.
AKBA Statistics
Akebia currently has a market cap of under $500M, and it has 38.78M shares outstanding, 31.78M shares floating and 5.81% shares short. Now, since the stock has just 31.78M shares floating, it would be considered a low float. Its low float and low market cap were two of the reasons that attributed to its strong rise today.
Over the past week, AKBA has been up 37.06%. Additionally, it's up just under 30% over the past quarter, but up over 50% over the past six months. Here's a look at AKBA on the daily chart below: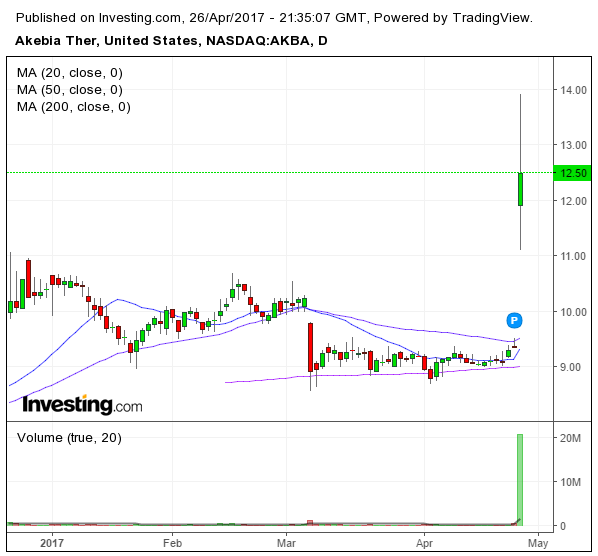 Source: Investing.com
AKBA broke above its 20-, 50- and 200-day simple moving averages after this positive catalyst, and the stock made a new 52-week high.
Final Thoughts
This expanded partnership between Akebia and Otsuka send shares higher, and Feuerstein thinks Akebia may be undervalued, in relation to some of its competitors with late-stage drugs in its pipeline. Now, Akebia's drug is currently in the Phase III development stage, and if the data is positive, Otsuka may consider acquiring Akebia.
Related Articles: