Shares of Akorn, Inc. (NASDAQ:AKRX) were up over 15% on news that Fresenius SE is considering a bid for the generic drug company, according to people familiar with the situation. Fresenius is the largest publicly-traded health care provider in Europe, and this could potentially result in some synergies. However, take note that nothing is official yet, and the companies are just in talks. One interesting point to note is that representatives of both companies declined to comment.
Could This Bid Actually Be Real?
Now, back in July 2016, Stephan Sturm was appointed at the Chief Executive Officer of Fresenius. The CEO has been expanding the health care group through acquisitions. Most notably, Fresenius agreed to purchase IDC Salud Holding SLU, a Spanish hospital group, for 5.76B euros, which was the company's largest acquisition, at the time.
Akorn's business is similar to that of the German health care provider's Kabi medicines division, which specializes in intravenous drugs. That division accounts for approximately 20% of Fresenius' revenue stream. With Akorn being a generic drugmaker, this potential takeover does not seem too farfetched. However, nothing is set in stone.
Since we don't have a confirmation whether the takeover rumor is actually real news, yet, we'll still take a look at some technicals. More importantly, we'll look at Akorn's valuations.
AKRX Performance, Statistics and Valuation
The stock traded between $25.41 and $30.64 today. The stock currently has a market capitalization of approximately $3.7B. AKRX traded between $17.61 and $35.40, over the past 52 weeks. Consequently, the stock is currently approximately 16% below its 52-week high and, after today's performance, the stock is just above 69% above its 52-week low. AKRX is over 30% above its 50- and 200-day simple moving averages.
Here's a look at the stock's performance on the daily chart: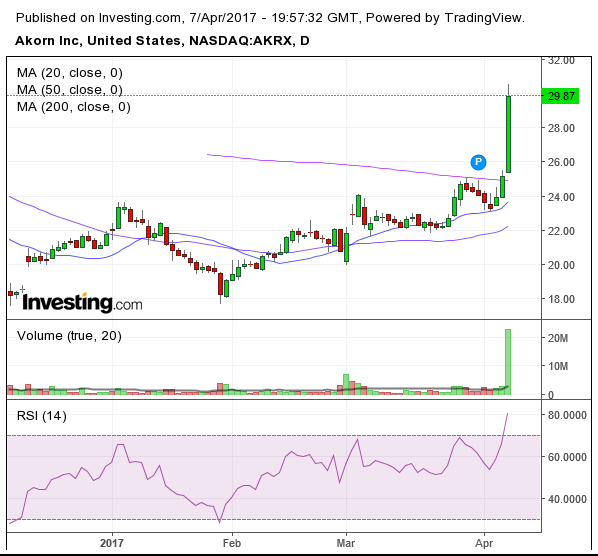 Source: Investing.com
Akorn, Inc. currently has a book value per share of 6.5, and consequently, it closed with a price-to-book ratio of approximately 4.5. AKRX has a price-to-revenue ratio of approximately 2.9. Additionally the company is trading at a forward price-to-revenue, based on next year's revenues estimates, of around 3.17. Based on next year's earnings estimates, Akorn, Inc. has a forward price-to-earnings ratio of 17.45, while the industry average is over 25. Additionally, the stock has a price-to-sales ratio (P/S) of 2.8, while the industry average is around 2.5.
AKRX grew its FY 2016 revenue by 13.40%, year over year. Additionally, AKRX grew its FY2016 net income by over 20% year over year. That in mind, the company has shown its ability to grow, which may be an attractive quality to Fresenius.
Final Thoughts
Akorn shares were up due to a potential takeover, by Fresenius. Now, we don't know whether Fresenius is actually weighing a bid for AKRX, since representatives from both companies declined to comment. Therefore, we'll have to wait and see for if the companies' issue any press releases later.
Related Articles: