Athenahealth Inc (NASDAQ: ATHN) shares were down nearly 20% on the day, after the healthcare company cut its guidance and missed consensus estimates last night. With the weakened outlook for the 2017 fiscal year, there was selling pressure in the stock. However,  it caught a bounce above $100, but closed at $98. Take a look at the 5 minute chart on ATHN: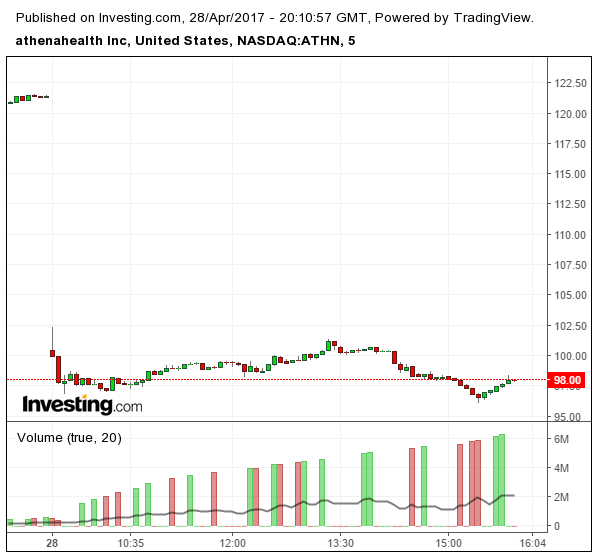 Source: Investing.com
Let's take a look at the company's earnings release, and see why the company cut its guidance.
Athenahealth Financial Results
Athenahealth reported non-GAAP adjusted net income of $12.5M, or 32 cents per share. Now, this was slightly below its figures in the same period in the 2016 fiscal year. Now, its EPS figure shocked analysts, as the consensus estimate was 47 cents per share. Additionally, Athenahealth reported revenue of $285.4M for the third quarter of 2017, an 11% increase from the same period in the prior fiscal year. Despite showing some growth in its revenue, athenahealth missed the consensus revenue estimate of just over $297M.
Generally, what's most important in a company's earnings is its outlook, if it provides those figures, for the fiscal year, because the markets are forward looking. Now, athenahealth did provide guidance for the 2017 fiscal year, as stated earlier. The company cut its guidance due to "weaker than expected trends experienced in the first quarter of fiscal year 2017."
Athenahealth now expects its GAAP total revenue to come in around $1.21B to $1.25B for the full year. Additionally, its GAAP operating income is expected to come in at a range between $36M and $46M. Moreover, its non-GAAP adjusted operating income is forecast to be between $120M and $140M.
CEO Comments
Athenahealth Chairman and CEO Jonathan Bush stated, "athenahealth is truly differentiated in the healthcare industry as the only national, single-instance cloud-based medical record in the country. Today, our network has grown to over 99,000 providers, 88 million unique patient records, and 2.8 million covered lives…We are strategically and financially aligned with the destinies of our clients, which separates us from traditional on-premise software vendors. Despite revising our 2017 financial outlook, we believe we are well-positioned for another renaissance as government mandates wane and we dedicate our efforts to our unique product management. We strongly believe our business model is on the right side of history as we build out the healthcare internet."
Final Thoughts
Athenahealth shares were down 19.30% on the day, after missing the Wall Street estimates, and cut it guidance for the full year 2017. Now, when a company cuts guidance, it's pretty bad news because its uncertain about its business and how it'll before. Consequently, traders and investors price this in, and it typically causes the stock to sell off.
Related Articles: