Aurinia Pharmaceuticals Inc (NASDAQ: AUPH) shares were up over 5% at one point, but pulled back and ended up just over 1.50%, today. Shares were up due to the company's announcement of additional 48-week results from its global Phase IIb AURA-LV study for the treatment in lupus nephritis, during the National Kidney Foundation 2017 Spring Clinical Meetings in Florida. Let's get right into the results.
Additional Positive Results from Voclosporin Program
In late March 2017, Aurinia Pharma provided 48-week data from its open-label AURION study, and the primary endpoint was met. AUPH provided additional data yesterday, and noted that the trial met its complete and partial remission, CR and PR, respectively, endpoints at 48 weeks. In addition, all pre-specified secondary endpoints, which have been analyzed to date, were also met at 48 weeks.
The pre-specified secondary endpoints included: reduction in Systemic Lupus Erythematosus Disease Activity Index, also known as SLEDAI score; time to CR and PR; and reduction in urine protein creatinine ratio over the 48-week period.
Now, both doses of voclosporin at 48 weeks showed continued improvement in the control group across multiple dimensions. Voclosporin groups showed that it was able to improve speed and rates of PR and CR, with statistical significance. 100% of the patients that achieved CR at 24 weeks in the low-dose voclosporin group remained in CR at 48 weeks, which shows the robustness of clinical response. Moreover, the reduction in SLEDAI scores and proteinuria levels continued to significantly separate from the control group.
The company did not observe any unanticipated safety signals, and noted that voclosporin was well-tolerated, in general.
Here's a look at the efficacy results in the table below: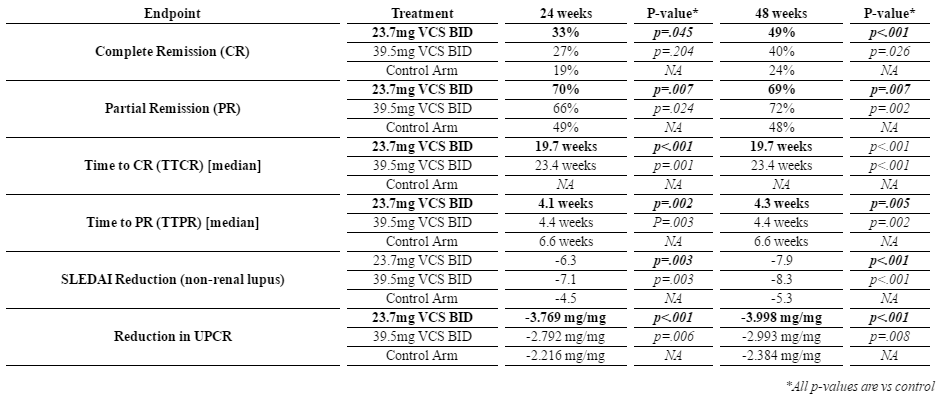 Source: Aurinia Pharmaceuticals
According to Aurinia's Chief Medical Officer Neil Solomons, MD, "We are pleased by the recognition of the medical and scientific communities of the AURA study results. Beyond the remission rates we've shown with voclosporin, the significant improvement in SLEDAI scores points towards a durable, immunological effect on a broad range of clinically meaningful lupus outcomes."
Solomons added, "This data provides us with tremendous confidence that we can execute a successful Phase III program and make a meaningful impact on patients' lives."
Let's take a look at AUPH's recent performance and some technicals.
AUPH Performance and Technicals
Aurinia Pharmaceuticals Inc. has 36.36M shares floating, 52.8 million shares outstanding, and a short ratio of 14.68%. AUPH traded in a range between $7.16 and $7.86 today. Now, AUPH traded between $1.74 and $10.54, over the past 52 weeks. Consequently, the stock is currently over 30% below its 52-week high, but over 300% above its 52-week low, based on today's closing price. Over the past three months, AUPH has been up over 150%, and it's up over 200% year to date, primarily due to some "positive" news in voclosporin.
Look at AUPH's performance on the daily chart: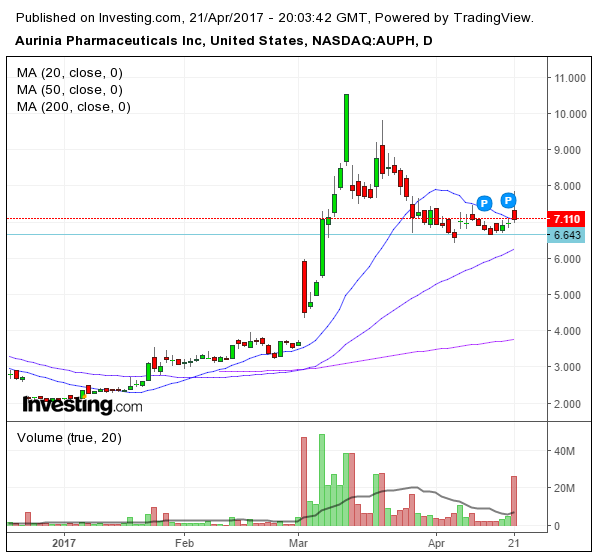 Source: Investing.com
Final Thoughts
Aurinia Pharmaceuticals provided additional 48-week data for voclosporin, and it's the first treatment candidate to meet all of its clinical endpoints in a global prospective lupus nephritis trial. Now, the company is conducting additional analyses on the treatment, and it expects to present data at future medical and scientific meetings, so we'll be keeping an eye on AUPH.
Related Articles: