Shares of Cleveland BioLabs, Inc. (NASDAQ: CBLI) were up significantly today, rising over 200%. The catalysts: positive opinion from the European Medicines Agency and the U.S. Food and Drug Administration's (FDA) completion of its review of a side-by-side analytical comparison of two formulations of entolimod. Let's get right into the details of the these catalysts.
Commencement of In Vivo Biocomparability Study
Cleveland BioLabs and the FDA agreed the data from the review of the side-by-side analytical comparison could indicate the in vitro analytical comparability of the two formulations of entolimod. Now, following the review, the FDA provided the company with its consent to initiate an in vivo biocomparability study of the formulations in non-human primates. Entolimod is an investigational drug that is currently being developed in an attempt to mitigate the potential life-threatening consequences of a nuclear or radiological attack.
The goal of the study is to compare the historical drug formulation that was previously used in clinical and non-clinical studies in relation to the potentially marketable entolimod formulation that was submitted for approval for pre-Emergency Use Authorization. The biocomparability study is funded, partly, by the Department of Defense Joint Warfighter Medical Research Program contract, which could be worth up to $9.2M.
European Medicines Agency Positive Opinion of Entolimod Pediatric Investigation Plan
That wasn't the only catalyst CBLI had today, as stated earlier. Cleveland BioLabs also announced that the European Medicines Agency accepted CBLI's pediatric investigation plan, which could potentially lead the way for submission of a Marketing Authorization Application for entolimod as a countermeasure to medical radiation.
CBLI Statistics and Valuation
The stock traded between $2.03 and $3.44, and made a new 52-week high, today. CBLI has a 52-week range between $1.22 and $3.44. Therefore, the stock is over 150% above its 52-week low and is just slightly below its 52-week high. CBLI is currently above its simple moving averages, and it was a confirmation in a reversal of trend, as the stock broke above its 20-, 50- and 200-day SMA.
Here's a look at CBLI's recent performance on the daily chart: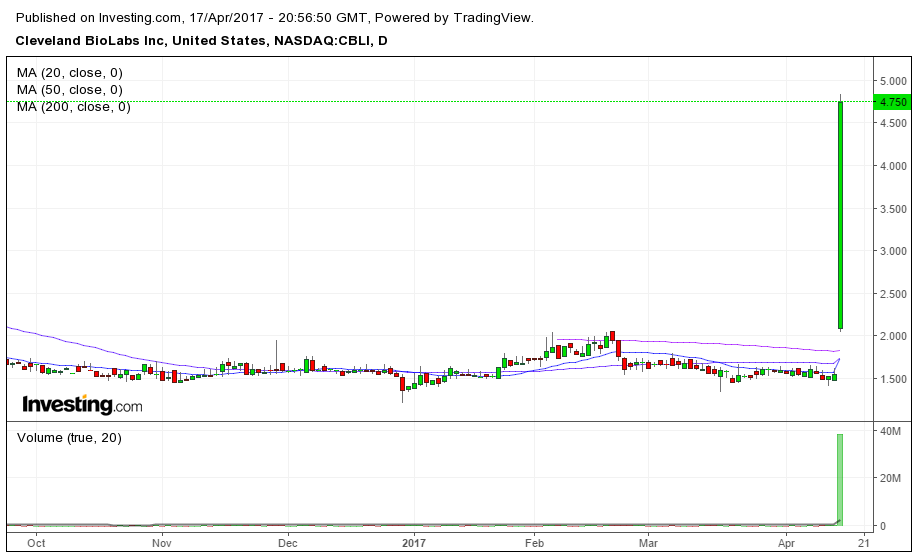 Source: Investing.com
CBLI has a price-to-revenue ratio of 8.80. Moreover, it has a trailing 12-month price-to-sales ratio (P/S) of 4.9, while the industry average was 6.1. CBLI has a book value per share (BVPS) of 0.685, and therefore, it had a price-to-book ratio of around 5, which was below the industry average of 6.4. CBLI has 11.0M shares outstanding, 2.85M shares floating and a short ratio of 0.17%. Now, keep in mind CBLI has a low float, and therefore, it could continue this extreme move, if traders and investors continue to buy the stock. Also, the stock may be hard to borrow, which could further argue that the stock could continue its extent.
CBLI's revenue fell by 21.98% during 4Q 2016, when compared to its revenue during the 4Q 2015., year over year. The company operated at a loss during 4Q 2016; however, its net loss fell by 13.36% from 4Q 2015.
Final Thoughts
CBLI just announced its expected commencement of its Vivo Biocomparability Study, as well as positive opinion from the European Medicines Agency. Consequently, shares more than doubled today. However, this could also be attributed to its low float, since low float stocks tend to have extreme moves when there are catalysts due to the demand and supply aspects.
Related Articles: