Cyclacel Pharmaceuticals (NASDAQ: CYCC) shares were up big today, yet again. CYCC shares were up 27.26% today, after being up over 70% yesterday. Now, the main reason by its rise was due to its announcement that independent investigators presented data for one of its drugs, which is currently being evaluated in a Phase I Trial in patients with advanced solid tumors.
The company announced its presentation of its preclinical data over the weekend, and it demonstrated potential therapeutic uses. Now, the press release issued over the weekend, showed that Cyclacel's CYC065 therapy could be used for the treatment of cancer. Moreover, the independent investigators found that the drug substantially inhibited growth, triggered apoptosis, or the death of cells, and induced anaphase catastrophe in murine and human lung cancer cells with known high metastatic potential.
Now, if you don't know what any of that means, not a lot of people do…The company simply stated that the drug be used for the treatment of some cancer patients. That in mind, this could potentially increase the stock's earnings and revenues, if and when this drug gets FDA approval.
Two Sides to Every Story
Now, there are two sides to every story, and The Street's Adam Feuerstein believes this could be a sign of stock manipulation, after the stock gained over 70% yesterday and over 25% today. Feuerstein tweeted that Cyclacel is "a zero", and traders and investors buying the stock are "trading worthless pieces of paper." Additionally, The Street's biotech expert noted that stock manipulation in"down-and-out, micro-cap biotech stocks" is not out of the ordinary. Feuerstein also tweeted, "The blatant manipulation of down-and-out, micro-cap biotech stocks is out of control. Regulators should step in. $CYCC" In addition, Feuerstein highlighted the fact that social media could further increase stock price manipulation in low-float stocks.
CYCC Statistics and Valuations
The stock made a new 52-week high of $10.90 today, and it's trading well above its 52-week low of $3.05.
Here's a look at the stock's recent performance on a daily chart: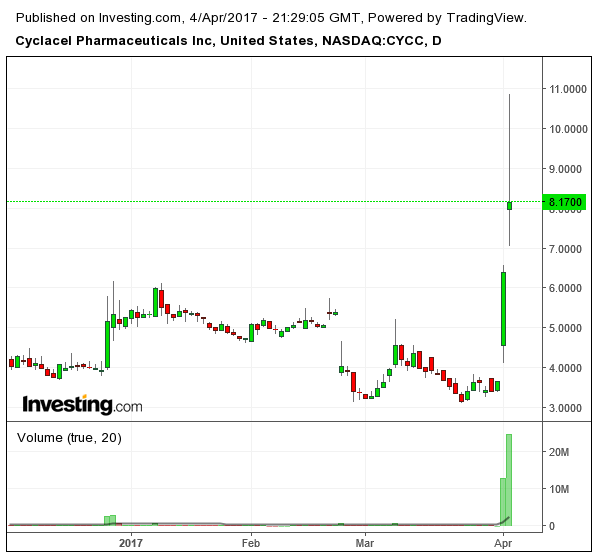 Source: Investing.com
CYCC has a price-to-book ratio of 1.6, while the industry average is 5.8. Cyclacel has a price-to-sales ratio of 20.1, while the industry average is 6.2. Now, its valuation ratios are mixed, as the price-to-sales ratio is indicating the stock is overvalued, while its price-to-book ratio is indicating its undervalued. Now, Cyclacel also recently reported its earnings in late March. CYCC reported a 4Q loss of 69 cents per share, on revenue of $0.3M. However, Cyclacel slightly beat the consensus estimate of a net loss of 73 cents per share on revenue of $0.2M.
Final Thoughts

CYCC has been up significantly over the past two days due to some data that it released over the weekend. Now, The Street's Feuerstein believes it's stock manipulation, but only time will tell.
Related Articles: