EXACT Sciences Corporation (NASDAQ: EXAS) shares were up over 20% today after the company provided guidance and topped its earnings estimates. Now, the company's raised guidance could be an indication that the stock could potentially continue to rise this year. Let's get right into EXACT Sciences first quarter 2017 financial results. First, here's a look at EXAS on the daily chart: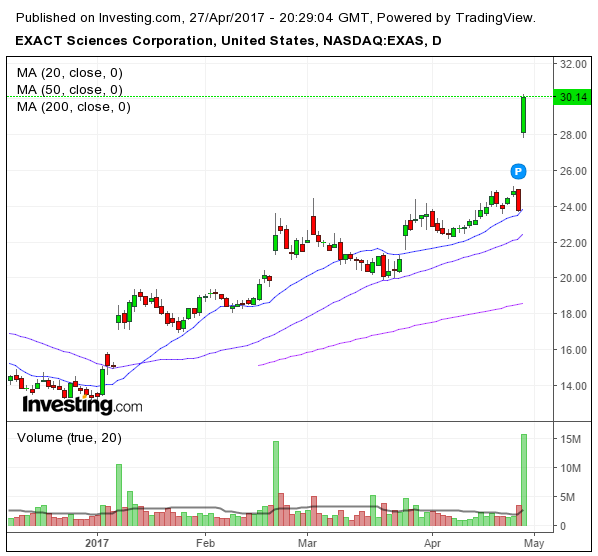 Source: Investing.com
EXACT Sciences 1Q 2017 Financial Results
Exact Sciences reported revenues of $48.4M, and completed around 100K Cologuard tests during the quarter. Now, the company's first quarter revenues grew by over 200% year over year, and its Cologuard test volume grew by approximately 150% from the first quarter of 2016. The company's strong revenue growth surprised analysts, who were only expecting $37.29M, on average. Moreover, Exact Sciences reported a first quarter net loss of 32 cents per share, while the consensus estimate was a net loss of 41 cents per share.
According to Exact Sciences Chairman and CEO Kevin Conroy, "Our team is proud of the impact we are having on the early detection of colon cancer…More than 450,000 people have been screened using Cologuard since it was launched, including many patients who had never previously been screened. We believe that increasing patient demand and physician awareness, and Cologuard's recent inclusion in the Star Ratings position our test well for long-term, sustainable growth."
Now, around 10K healthcare providers ordered their first Cologuard test during 1Q 2017, and since the product was launched, around 70K providers ordered the test in the first quarter. Approximately 197M Americans have health care plans that cover Cologuard, and consequently, the company sees that it could continue its growth in 2017.
EXAS Full-Year 2017 Guidance
Exact Sciences raised its full-year 2017 guidance, which is generally a bullish signal. The company previously expected to report revenue in between a range of $170M and $180M and at least 415K completed Cologuard tests. However, after its strong first quarter performance, Exact Sciences now expects its full-year 2017 revenue to come in between a range of $195M and $205M, and completed Colorguard test volume of at least 470K.
With the guidance raise, EXAS could continue higher, if the company exceeds those expectations. Cologuard was approved by the FDA back in 2014, and is used for colorectal cancer screening, but it could be used to screen adults of either sex. Although the company is operating at a loss, this is quite common with small-cap healthcare stocks. The aging population could provide some opportunity for Exact Sciences' Cologuard, and the company could potentially turn a profit soon.
Final Thoughts
Exact Sciences Corporation has a market cap of just over $2.5B, and nearly 30% of the floating shares are short, according to finviz. Consequently, shorts may be forced to close out, which could cause the stock to run higher, following today's performance. Now, the company provided strong guidance, and that is one of main catalysts that caused the stock to skyrocket.
Related Articles: