Express Scripts (NASDAQ: ESRX) shares were down over 10% on the day, after the company announced that Anthem intends to shift its business when the current long-term PBM contract expires on December 31, 2019. Let's take a look at the company's 1Q 2017 results first, before we move onto the update on the Express Scripts and Anthem Relationship.
Here's a look at ESRX on the daily chart: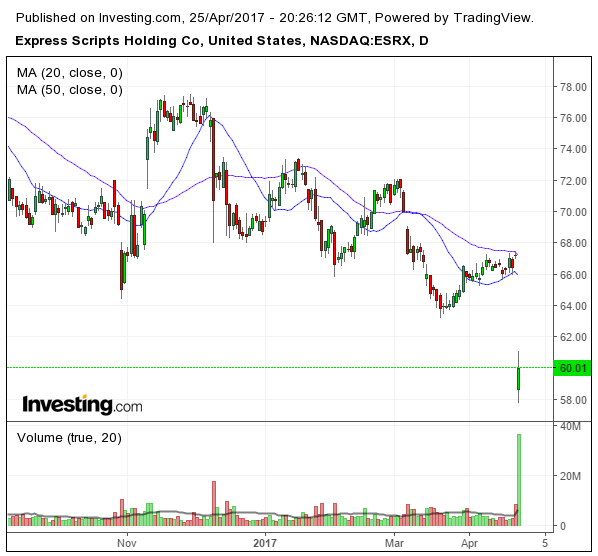 Source: Investing.com


ESRX 1Q 2017 Financial Results
Express Scripts beat the consensus adjusted earnings per share (EPS) estimate by just a penny, when compared to the Zacks Consensus Estimate. Express Scripts adjusted EPS came in at $1.33 per share, while analysts surveyed by Zacks were expecting $1.32. Most notably, the company's adjusted EPS grew by 9%, when compared to the same period in previous fiscal year. Despite beating its EPS estimate, Express Scripts revenue came in at $24.65B, missing the Zacks Consensus Estimate of $25.04B. Express Scripts revenue fell slightly, year over.
Express Scripts raised its full-year 2017 adjusted earnings per diluted share guidance. ESRX now expects its adjusted diluted EPS to come in at a range between $6.90 and $7.04, the company previously had a guidance range between $6.82 and $7.02. Express Scripts expects its adjusted EPS to be in a range between $1.70 and $1.74, which would be a growth of 8% to 11% from the second quarter of 2016. Moreover, the company expects its 2Q 2017 total adjusted claims to come in between $343M and $353M.
Let's move on to the news that overshadowed the company's earnings beat and guidance raise.
Anthem Potentially Cutting Ties With ESRX
In the company's first quarter 2017 financial results press release, Express Scripts provided an update on the relationship with Anthem. Express Scripts announced that it was told by Anthem management that Anthem is looking to move its business following the expiration of its current contract. Moreover, ESRX noted that Anthem was not interested in discussing pricing concessions for 2017 to 2019, or receiving Express Scripts' proposed pricing for the period following the contract expiration.
According to Express Scripts CEO Tim Wentworth, "It is difficult for us to understand why Anthem has not recognized the potential value which could be brought forth by engaging in meaningful discussions regarding a mutually beneficial pricing arrangement for the remaining term of our contract and beyond…No other party can offer Anthem savings prior to 2020, and no other party can provide updated pricing terms beyond 2019 without the risk and disruption of a lengthy and complicated implementation."
ESRX Conference Call Notes
In the company's conference call, Wentworth stated, "When you are servicing the market as well as we are servicing Anthem, it is unheard of that they wouldn't want to try renegotiation on the contract. However this is a very unique contract. I absolutely hope they rethink this decision. We remain committed to serving their customers. My door will always be open and my phone will always be in my pocket to reinstate this contract."
Express Scripts CEO also noted that the company's solutions are still in demand, and its work is highly important. He also noted that ESRX is well-positioned for growth and could lead the way to affordable access to medicine, with or without Anthem.
Final Thoughts
The news of Anthem looking to cut ties with Express Scripts sent shares lower today. Now, traders placed more emphasis on this potential and overlooked the company's guidance raise. That in mind, it would be interesting to see how the Anthem and Express Scripts actually plays out, and how ESRX trades tomorrow.
Related Articles: