It's been a pretty choppy week in terms of trading for most people right now.
For me, it's business as usual… except I'm leaning a bit more on my Dollar Ace Scanner.
You see, if a specific type of options trade hits the tape, my scanner will pick it up — and I'll quickly develop a plan and take action.
This week, it helped me uncover two plays that generated triple-digit percentage returns in a relatively short period.*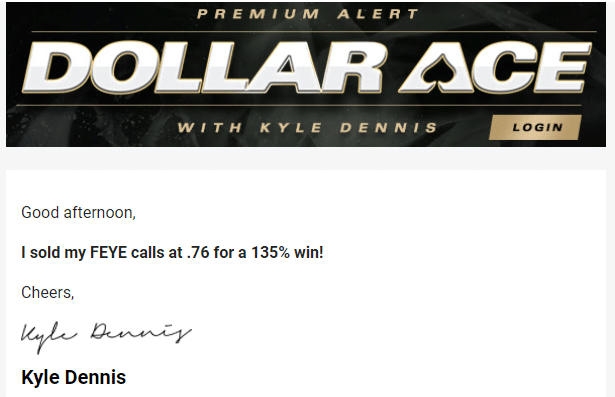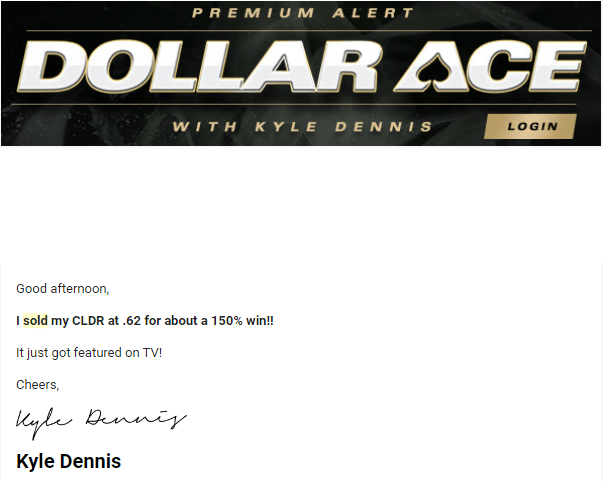 While I do want to tell you all about this strategy, I want to take a step back and show you how to start thinking crafty.
The best way I know how to do that is through these SEC cases. You see, when you start to realize just how much wild activity is out there…
You'll start to put the pieces of the puzzle together and learn how to follow the paper trail, in my opinion.
With that being said, I've got a juicy story for you today.
It involves a former Wall Street trader who ran a wild scheme to defraud investors out of $19Ms.
How A Former Wall Street Trader Scammed Investors Out Of $19 Millie
Arrested, sentenced to 5 years in prison, and divorced.
This former Wall Street trader is being put through the wringer and it's all because he decided to take the 2008 collapse and go dark with it.
Defrauding investors. Running a Ponzi Scheme. And making it rain with luxuries using his investors' hard-earned money.
This disgraced trader has gone on the record saying that he hates himself…
Ex-Wall Street trader Paul A. Rinfret ran a multimillion-dollar fraud scheme that flat out disrespected investors for more than five years. He and his family would lead a life of luxury all on the investors' dime.
Paul founded Plandome in the midst of the financial crisis in 2008. Soon he would go beyond managing his own company and start down the path that would lead to his downfall.
Starting in late 2013, Paul began to solicit investments for Plandome. But how he did is the key.
If It Sounds Too Good To Be True, It Probably Is…
He told investors his company had an epic record trading S&P 500 futures contracts. A trading strategy he had been touting around town.
A strategy he claimed netted him HUGE returns. We are talking claims of 235%, even 362%. Paul also boasted that he never EVER had a losing month.
He claimed that his company managed a nice $25 million in assets. Supposedly Plandome also had a well-known audit firm onboard ensuring everything was on the up and up.
None of this was true.
But Paul did not actually start trading until 2014.
He also was a very talented man ── Talented at losing money. Something so routine that it was like breathing to Paul. He lost investors' money month after month.
Plandome also never had more than $8.7 million in assets. Nowhere close to the $25M he claimed.
There also was no audit firm on retainer to police Plandome or Paul… Bet investors wish this one hadn't been a lie.
And these would not be the only lies Paul was telling.
How He Strung Investors Along
He made sure investors received bogus account statements each month. Working hard to keep the image that investors were making money.
He went as far as doctored bank records to show the company account plush with cash.
Paul also faked the company's performance records and history to back up his nonexistent S&P trading strategy.
Paul was not just selling bull to investors… He was offering a hot and spicy buy one get one special.
This ex-Wall Streeter was working hard to fool brokerage firms and even banks to keep his scheme rolling.
See, the NYSE slapped ole Paul with sanctions. At one brokerage firm, he was forbidden from even opening an account in his name.
In 2013, he squirmed way into a brokerage by borrowing two family members' names to open an account.
Once he discovered a sneaky way into the brokerage firms, he went for it.
Soon he would open another account using their names in 2014. But there was a big change. These family members were now deceased.
By 2017, he was using his kids' names to open accounts. He even started listing his kids in the company partnership agreements.
Soon he was pretending to be his kids too.
It didn't take long for one investor's concerns to start to crack ole Paul's façade.
April 5, 2019, he confessed to the part of his scam. Owing up to losing EVERYTHING and just fake it all was.
But this confession was still loaded with lies. Paul was blaming his son, who he claimed was behind all the bogus info sent to investors.
Paul chose to omit what he was using investors' funds, including the ponzi payments he was making.
Leaving out how investors funds paid his family living expenses. Covering student loan payments, gas, gym memberships, tanning salon visits, DMV fees, and so much more.
Paul funded wildly elaborate vacations. He was throwing lavish parties and slather his family in jewels and luxury.
His spending was on a different level. Blowing $12K on cigars. $130K eating out. Pouring $35K into custom cabinets. $50K renting a house in the Hamptons for vacation.
He even threw an engagement party for his son at an exclusive Manhattan restaurant. Complete with a photo wall featuring the hashtag #RinfretAllDay.
By October 2019, he pled guilty, and this fall, he received his sentence. A 63-month vacay to the big house for defrauding investors out of over $19 million.
That would not be the only punishment to be laid at his feet.
His family was completely unaware of what was happening right under their noses.
His wife of 44 years packed her bags and filed for divorce. His kids have written him off.
I don't blame them… Imagine your dad pretending to be you and committing fraud in your name.
When you start to see this type of activity, I believe it can help you put the pieces of the puzzle together. For example, the Fireye (FEYE) trade I showed you earlier actually piqued my interest because there were rumors about it before.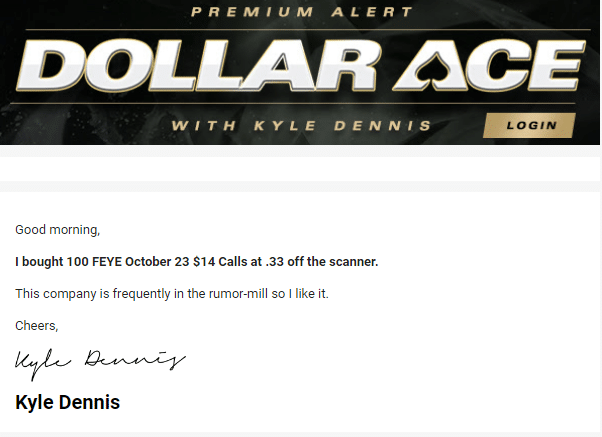 I figured someone might've known something about FEYE, so I took a stab… and I locked in a 135% winner real quick.*
Listen, there's a lot of shady activity out there and my scanner helps me uncover large bets that Wall Street whales are placing every day.
I take their ideas and turn them into profits.*
Now that you have an open mind, you're invited to attend this exclusive training session.
You'll discover how I utilize unusual options activity to attack the market, and why I believe it can provide traders with a unique advantage.
*Results presented are not typical and may vary from person to person. Please see our Testimonials Disclaimer here: https://ragingbull.com/disclaimer