Geron Corporation (NASDAQ: GERN) shares were up nearly 20% today after Janssen Research and Development completed the second internal data reviews of IMerge and IMbark. Janssen R&D reviewed the clinical trials of the telomerase inhibitor Imetelstat in lower risk myelodysplastic syndromes (MDS) and relapsed myelofibrosis for IMerge and IMbark, respectively. Let's take a look into the data review and some fundamentals.
Janssen R&D Internal Data Review
Janssen R&D's second internal data review of IMerge, a Phase II/III clinical trial evaluating imetelstat in transfusion dependent patients with low or intermediate-1 risk MDS, found that the safety profile was consistent with previous clinical trials of Imetelstat in hematologic malignancies and no new safety signals were identified.
The first part of the trial will continue unchanged, and patients that are still in the treatment phase could continue to receive imetelstat. Moreover, the company plans to provide the U.S. Food and Drug Administration (FDA) with a data package and proposed refinements to the trial design for the second part of the IMerge trial. Now, if the second part is initiated Geron Corporation expects the Phase III stage of the trial to be open for patient enrolment during the fourth quarter of 2017.
According to the second internal review of IMbark, the Joint Steering Committee determined the safety profile is inline with the previous clinical trials of the product in hematologic malignancies, again.
GERN Statistics and Fundamentals
GERN traded in a range between $2.45 and $2.73 today. GERN has a 52-week range between  $1.81 and $3.35. Therefore, GERN is currently over 40% above its 52-week low and just over 20% below its 52-week high. GERN is around 22% above its 200 day simple moving average. Additionally, the stock is approximately 21% above its 50-day simple moving average.
Here's a look at the stock's performance on the daily chart: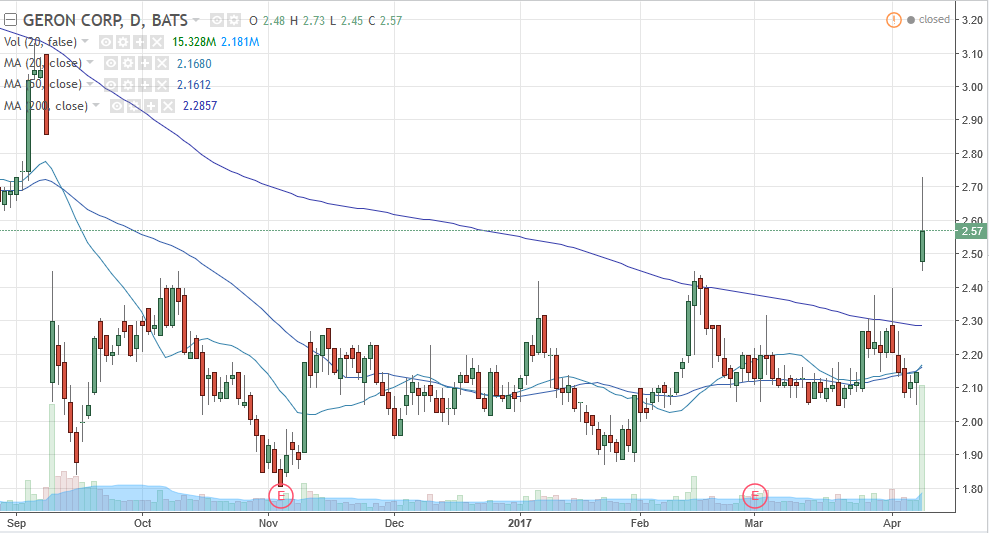 Source: TradingView
Moving onto some fundamentals.
The company has a book value per share of approximately 0.77. GERN has a price-to-revenue ratio of 68.39, and a forward price-to-revenue, based on next year's revenues estimates, of 13.62.  Moreover, it has a trailing 12-month price-to-sales ratio of 55.5. The company is currently trading at an attractive price-to-book ratio of approximately 3.32, when compared to the industry average of 5.8, suggesting GERN may be undervalued. Geron Corporation has 158.33M shares floating, 159.2 million shares outstanding, and a short ratio of 20.25%.
Final Thoughts
GERN was up nearly 20% today, after it announced its completion of the second internal data reviews for Imetelstat trials, which were conducted by Janssen Research and Development. The company is expected to provide a data package to the FDA, and if the FDA feedback is positive, this may cause Janssen to initiate Part 2 of IMerge. In turn, this could open the Phase III stage to patients for enrollment later this year.
Related Articles: