Horizon Pharma PLC (NASDAQ: HZNP) reported its first quarter 2017 financial results today, and the company missed the Street's revenue and EPS estimate. Not only that, but the company lowered its revenue, and adjusted earnings before interest, taxes, depreciation and amortization (EBITDA) guidance. Here's a look at Horizon Pharma on the daily chart: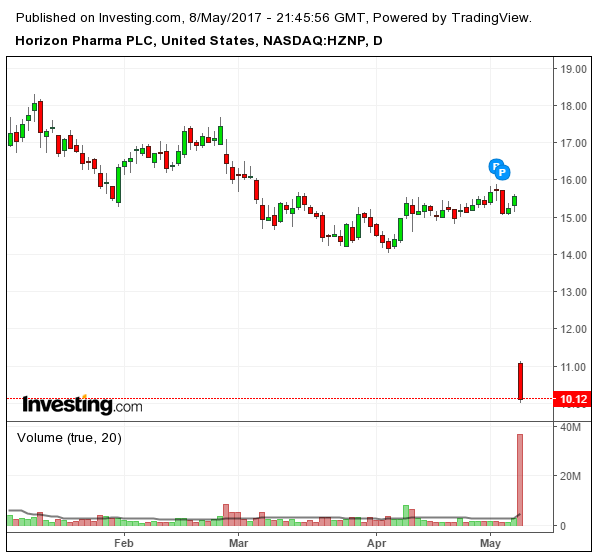 Source: Investing.com
After today's performance, the stock was down nearly 40% over the past three months, and nearly 25% over the past year.
Let's take a look at the company's earnings results and why shares ended significantly lower on the day.
Horizon Pharma First Quarter 2017 Financial Results
Horizon Pharma reported a non-GAAP diluted earnings per share (EPS) of 21 cents, which was below the Zacks Consensus Estimate of 25 cents. The company's non-GAAP diluted EPS fell by 16% year over year, indicating a contraction and potential roadblocks for growth. Moreover, the company reported net sales of $220.9M, which was well below the Zacks Consensus Estimate of $253M. Horizon Pharma also reported an adjusted EBITDA of $51.9M, which was a decrease of 28%, from $72M in the same period during the prior fiscal year.
According to Horizon Pharma PLC Chairman, President and Chief Executive Officer TImothy P. Walbert, "We generated strong first-quarter performance in our orphan and rheumatology business units, with KRYSTEXXA and RAVICTI achieving record net sales; however, our primary care business unit performed well below our expectations."
Walbert added, "The lower primary care business unit results were related to the implementation of the contracting model with pharmacy benefit managers, which has not performed in accordance with our expectations. While we are proactively addressing this underperformance, with greater visibility into the impact of this transition, we are revising our full-year 2017 net sales and adjusted EBITDA guidance."
Now, the company's guidance cut was the main focus of the financial release.
HZNP Guidance Cut
When a company issues guidance, it gives shareholders and other market participants an idea of how the company could potentially perform in the forecast period. If a company cuts its guidance, it indicates uncertainty and less optimism about future revenues, earnings or EBITDA. That in mind, this tends to drive the stock lower, which was the case with HZNP.
Horizon Pharma revised its 2017 net sales guidance to a range between $1B and $1.035B, which was below its previous guidance range of $1.24B and $1.29B. Moreover, the company cut its adjusted EBITDA guidance to a range between $315M and $350M, from a range between $525M and $575M. This lowered full-year 2017 outlook accounts for the cost reductions, primarily in its primary care business and reinvestment of the reductions. Consequently, this may have been the primary catalyst that sent shares lower.
Final Thoughts
HZNP shares were down significantly today, after its first quarter 2017 financial results. The company missed the Street consensus estimates, and cut its outlook, which is considered an unfavorable sign to investors. The key takeaway here is that you'll want to look at a company's guidance, if it provides guidance, which would give you an idea of how the company expects to perform.