If you want to learn how to trade biotech stocks, you'll need to start with the basics. Now, if you're new to the biotech trading world, there's a lot of nuances to understand. For example, companies release data on specific dates – sometimes the dates are known months ahead of time. That said, there are advantages to this. For the most part, my trading involves catalyst events. I'm constantly looking for my next play, and trading biotech stocks allow me to alert the trading community about my next moves. Moving on, let's get right into things and learn how to trade biotech stocks by developing a plan.
How to trade biotech stocks – developing a plan
First thing's first, biotech stocks are volatile, and if you don't know how to navigate this industry…it's extremely risky. Now, my bread-and-butter trades involve biotech stocks, and if you want to see how I turned $15K into over $5M, check it out here.
When I'm developing a plan or watchlist, I like to use BioPharmCatalyst. It's free, and has a lot of powerful information.
For example, let's say you want to get an idea of how these events affect biotech stocks. Well, they have a historical calendar: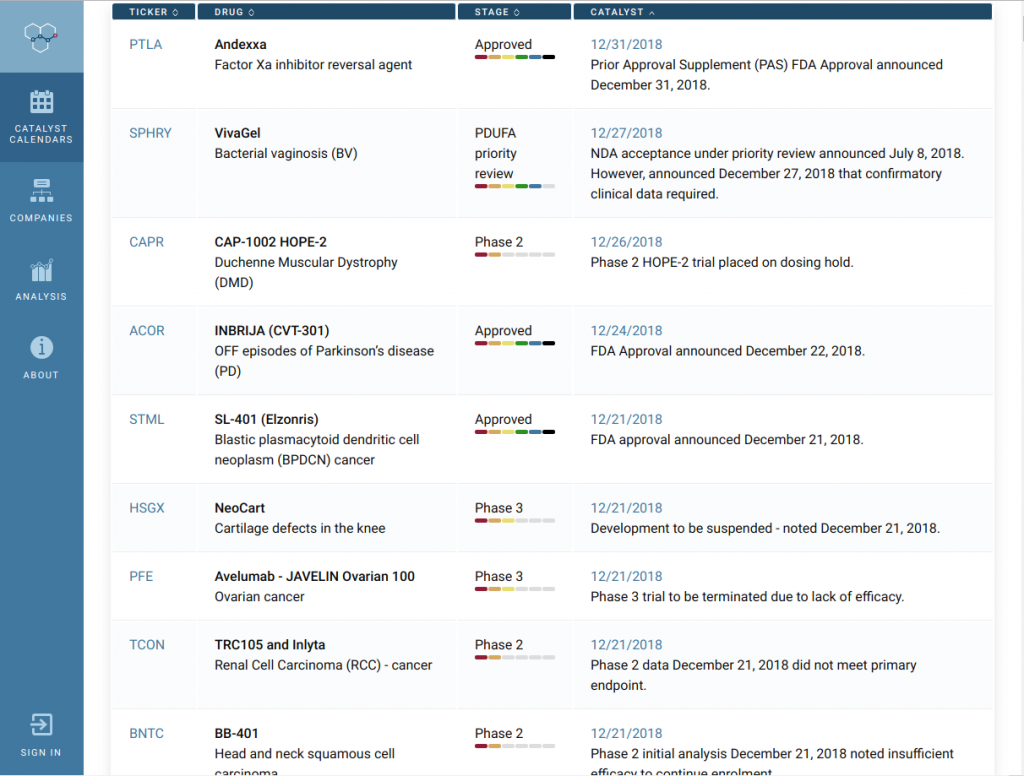 Then, you can look up the stock and see how it performed that day. Write that down, whether the event was good or bad. Ultimately, this will help you understand the lingo and how to trade biotech stocks.
Well, I'll use this website to track any upcoming events that interest me.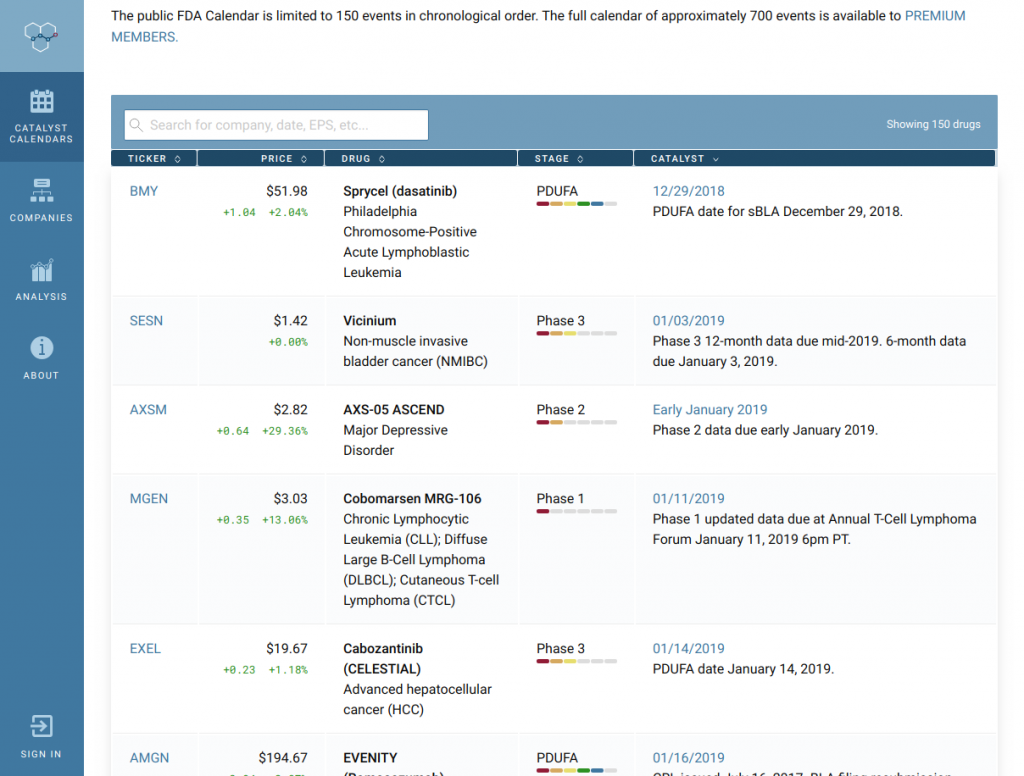 If something comes up on my radar I'll develop my plan.
Keep in mind, I'm also looking at charts, information, fundamentals, and insider buying and selling.
That said, let's take a look at an example plan – this is probably the best way to understand how to generate ideas.
How to trade biotech stocks – Example trading plans
Here's a look at some trading plans that were sent out to members in Biotech Breakouts. Read them carefully, and you can see a pattern with these.
Reminder: Charts are updated every Sunday evening for the next week!
Catalyst Swing Names (1-4 week holds) that I am watching
Immunomedics (IMMU)
Catalyst Dates: FDA Approval on January 18, 2019
Buy Zone: $17.50 to $18.50
Profit Zone: $20.00 or higher
Stop Zone: $16.50 or below
Stemline Therapeutics (STML)
Catalyst Dates: FDA Approval February 21, 2019
Buy Zone: $9.75 to $10.50
Profit Zone: $12.00 or higher
Stop Zone: $9.25 or below
Rexahn Pharmaceuticals (RNN)
Catalyst Dates: Phase 2 data due January 17-19
Buy Zone: $.95 to $1.05
Profit Zone: $1.20 or higher
Stop Zone: $.85 or below
Aevi Genomic Medicine (GNMX)
Catalyst Dates: Phase 2 ADHD data due out in January
Buy Zone: $.90 to $1.10
Profit Zone: $1.35 or higher
Stop Zone: $.85 or below
Now, what do all of these trading plans have in common? Well, first, there's the ticker, then the catalyst dates followed by buy zone, profit zone, and stop zone. Moreover, I include a chart.
These plans will allow me to execute and alert Biotech Breakouts members about my buys and sells. For example, if a biotech stock reaches my buy zone…I'll alert the community and let them know I'm buying it.
I'm also looking at charts too, so if this is all new to you, I suggest you check out this guide on how to trade biotech stocks.
Final Thoughts on How to trade biotech stocks by developing a plan
When you're developing trading plans, there are a few things to keep in mind:
First, ask yourself: "Why am I in this trade?"For example, my edge trades are in biotech stocks around catalyst events. So usually, I would just write the date of the catalyst and what type of data is being reported. Your reasons to be in a trade a may differ from mine…you might like to use fundamentals or technicals. Whatever the case may be, write this down in your trading plan.
Where will you buy the stock?Now, I use technicals to let me know when to buy the stocks on my watchlist. I'm usually buying at support areas.
Where will you stop out and take profits?Trading without stop losses is risky and dangerous. I always trade with stop losses, and I have pre-determined levels where I would stop out. I also have profit targets. If you don't use profit targets, you might end up holding on too long – in hopes of the stock moving higher…however, the stock might pull back…leading you to give back your profits – or worse – end up losing money on the trade.
#-#-#
Kyle Dennis runs Kyle Dennis' Biotech Breakouts (biotechbreakouts.com). He is an event-based trader, who prefers low-priced and small-cap biotech stocks.  
Exclusive System Tracks Wall St. Insiders
"Dollar Ace Simply Exposes Information That Wall Street Wants To Keep Quiet" Said Kyle Dennis
"One member, Wesley M., has already reported 360%+ gains in just a few short days. Don't miss this!"
(Reserve Access Now)
"What Recession?!" Jason Bond nets $55,060 in realized profit in One Day
After going 6 for 6 on profitable trades recently, we caught up with Jason to ask how he did it.
Check out Jason's exclusive interview revealing this tightly guarded strategy. (Watch Now)
RagingBull.com Co-Founder, Jeff Bishop, Launches High Conviction Trade Service
"We listen to our clients and we give them EXACTLY what they want, so we designed a service to deliver 1 trade, 1 time a week, with a 100%+ PROFIT TARGET, directly to your inbox every Monday before the market opens. (Read More)
Be a Better
Stock Trader, Starting Today
Get the expert insights, tips and strategies you need to optimize your trading skills and profiles
START NOW