There is one famous saying in the stock market, "Buy low and sell high." However, it may be difficult to find something that could potentially be a runner. One of my favorite setups is buying "beaten" down names that have the potential to rise. I'm looking for these stocks to run up into a catalyst even and break out higher. When you want to learn how to trade stocks, the break out pattern is something you want to keep in your tool kits. Keep in mind, we're focused on biotech stocks here, but you may take some things you learn here and apply it to other industries. However, we've found success using our battle-test approach. You may be scared to trade stocks at first, but it's not hard to learn over time.
How to Trade Stocks – The Break Out
When you're learning how to trade stocks poised to break out, there are few things you need to understand. First, you need to understand the basics of support and resistance. Thereafter, you need to identify the potential catalyst. Moreover, you would need to practice proper risk management and writing out your trading plan.
Now, we're going to focus on a real trade here. I find that it's easier for you to learn this approach with real examples, rather than just hypothetical ones.
How to Trade Stocks – Finding Stocks to Trade
The first step is to find interesting chart patterns where a stock looks like it's about to break out. Now, it's not hard to do this. Finviz has a free screener that you could use to filter for stocks to potentially trade. For example, I'll filter by industry, average volume and chart pattern.
Using Finviz's Screener tool, I filtered for stocks in the biotechnology industry with an average daily volume of over 750K currently trading in a down trend.
Here's a look at some of the stocks we found from the filter.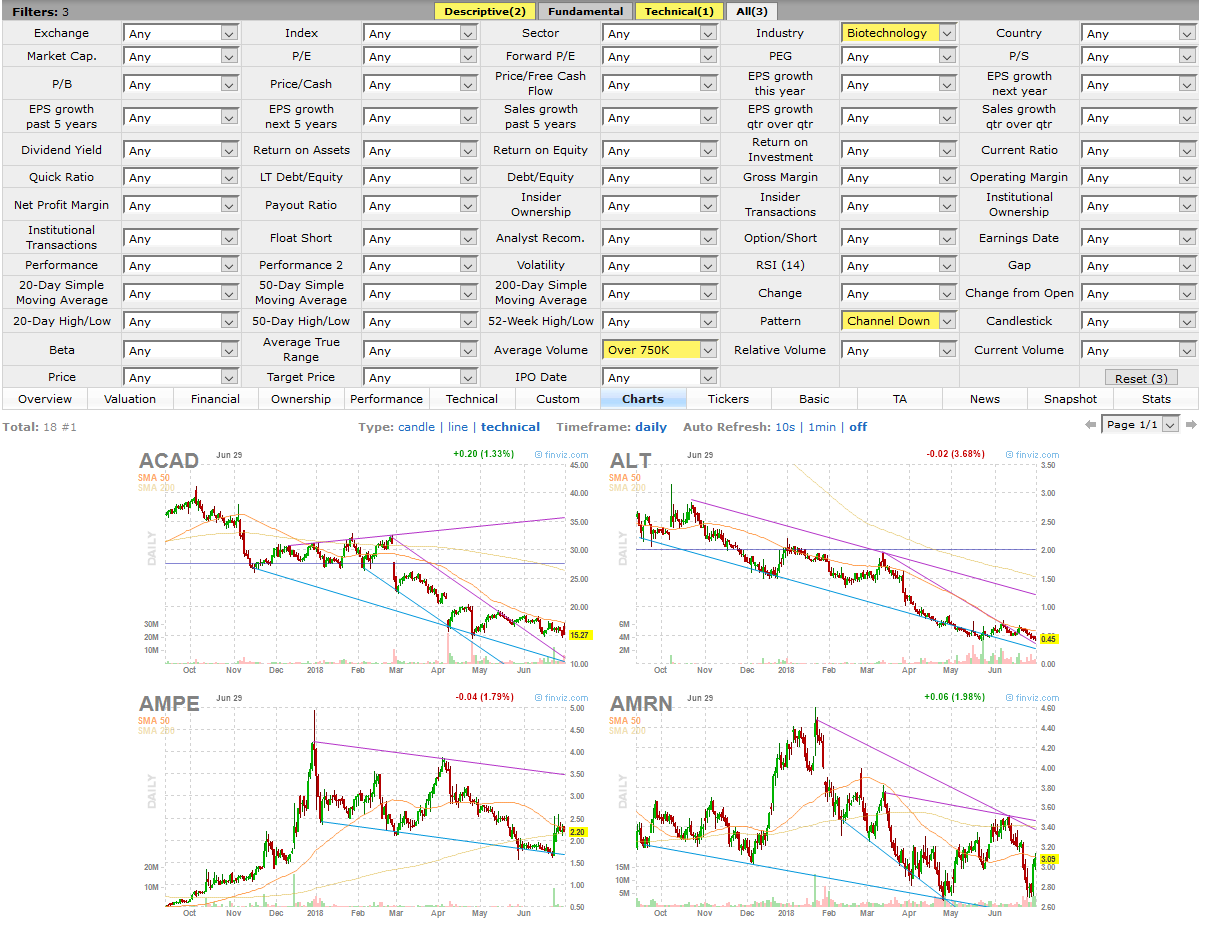 Now, you could do the same thing, but you might want to change some of the filters. May be you want to trade stocks with a higher average daily volume, say over 2M shares per day that just made a multiple bottom.
How to Trade Stocks – Break Out Example
One stock that came up on the filter was Cytokinetics Incorporated (CYTK). Now, this stock had an upcoming catalyst event. The company was set to report Phase II data, and had an interesting chart pattern. Now, we've found biotech stocks tend to go up into a catalyst event and tend to break out. I like to use BioPharmCatalyst to find upcoming catalyst events.

Here's a look at my trading plan before I bought the stock.
Catalyst Dates: Phase 2 data due out June 16
Buy Zone: $8.20 to $9.00
Profit Zone: $10.00 or higher
Stop Zone: $7.40 or below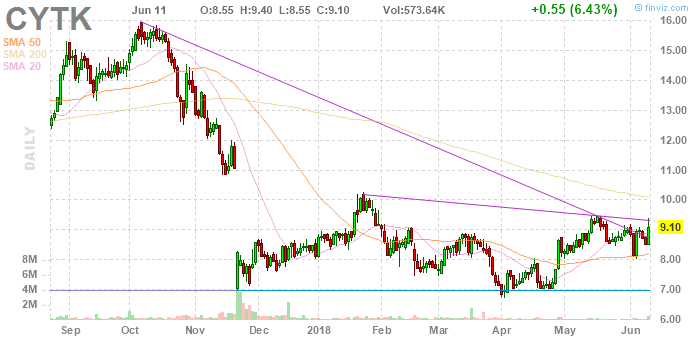 Now, I bought 3K shares of CYTK at $8.80, when it was in my buy zone. The company reaffirmed it would be releasing data soon, so I figured the stock could get a nice run into the event. The stock did just that, and tried to break out of the recent resistance area, shown in the chart above.
Even though the stock ran up, but did not hit my target I decided to take profits. The reason? Well, I did not want to be long the stock heading into the Phase II data release. With biotech stocks, it's extremely risky to hold a position into a catalyst event. What happens if the stock reports poor data results? The stock could plummet, so it's prudent to get out of your position before the event. Now, it's not too difficult to learn this trading style, there are only a few keys to becoming successful with this.

I ended up selling 3K CYTK at $9.20 and took my profits of around $1,300. I expected a little more out of the trade, but some times the risk outweighs the reward. Now, the stock actually made a high of $9.90, so I'm a little disappointed about that.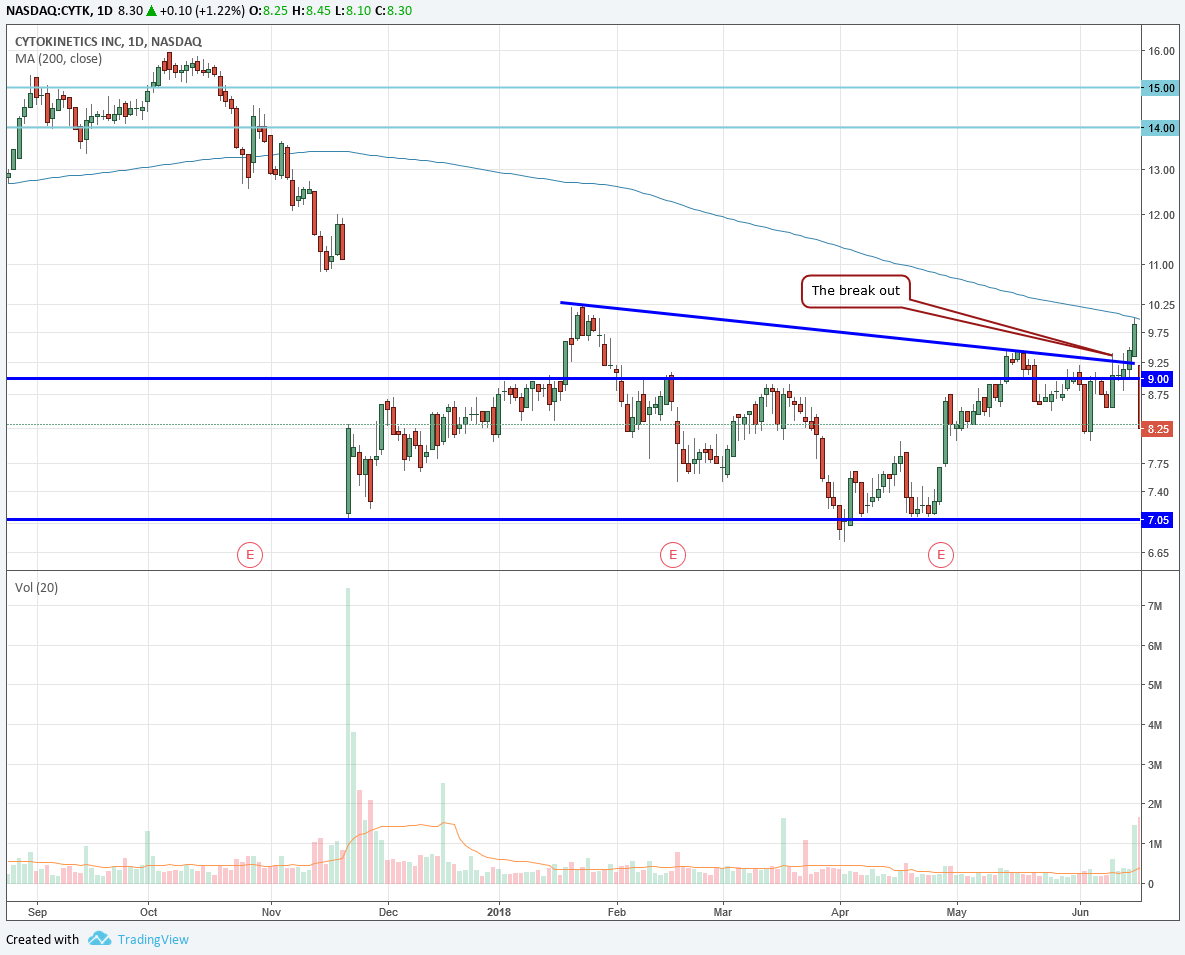 The Bottom Line
When you're learning how to trade stocks, the break out is something you want to keep in your arsenal. Try to use some of the techniques here to find stocks to potentially trade. You may want to use Finviz as your screener when you're first starting out learning how to trade stocks. It's powerful and easy to use. Moreover, if you want to find catalyst events for biotech stocks, you could use BioPharmCatalyst. Now, if you want to learn how to trade stocks, it's going to require a lot of grit. You need to keep at it and learn all the ins and outs of trading.
#-#-#
Kyle Dennis runs Kyle Dennis' Biotech Breakouts (biotechbreakouts.com). He is an event-based trader, who prefers low-priced and small-cap biotech stocks. He's also using his knowledge and looking to multiply his capital through options trades.
Related Articles: