Neurocrine Biosciences, Inc (NASDAQ: NBIX) shares were up over 20% today, after the company announced it received U.S. Food and Drug Administration (FDA) approval for INGREZZA for the treatment of tardive dyskinesia (TD), which is a neurological disorder. Neurocine's innovative drug is the first and only FDA-approved medicine for the treatment of TD in adults. Let's delve into the approval.
FDA Approval of Neurocrine Biosciences' INGREZZA
The FDA approved INGREZZA based on data from the company's Phase III Kinect 3 clinical trial, a randomized, double-blind, placebo-controlled and parallel group trial testing of INGREZZA's efficacy on patients with moderate to severe TD who have underlying schizoaffective disorder, mood disorder or schizophrenia. Now, the product label does not have any black box warning, while its competitor AUSTEDO, which was recently approved for the treatment of chorea in those with Huntington's disease and is currently under review for treating TD, has a black box label.
That in mind, Neurocrine Biosciences aims to officially launch INGREZZA with a sales force next month, which could potentially drive the company's revenues and earnings.
The company's announcement prompted some analysts to upgrade the stock. We view Ingrezza's label as the best possible scenario and above expectations. Jefferies raised its price target on NBIX to $65, from $58. JPMorgan analyst Anupam Rama believes NBIX could trade near his $60 price target. Additionally, BMO believes that Ingrezza's label and the FDA approval could send Neurocrine Biosciences to $100 per share.
Neurocrine Biosciences Statistics and Fundamentals
The stock traded between $50.00 and $53.20 today. NBIX has a 52-week range between  $37.35 and $55.15 . Therefore, the stock is currently over 30% above its 52-week low and around 6% below its 52-week high. NBIX is currently trading well above its 20-, 50- and 200-day simple moving averages, and gapped above those averages. Consequently, Neurocrine Biosciences broke out of its trend.
Take a look at NBIX's performance on the daily chart: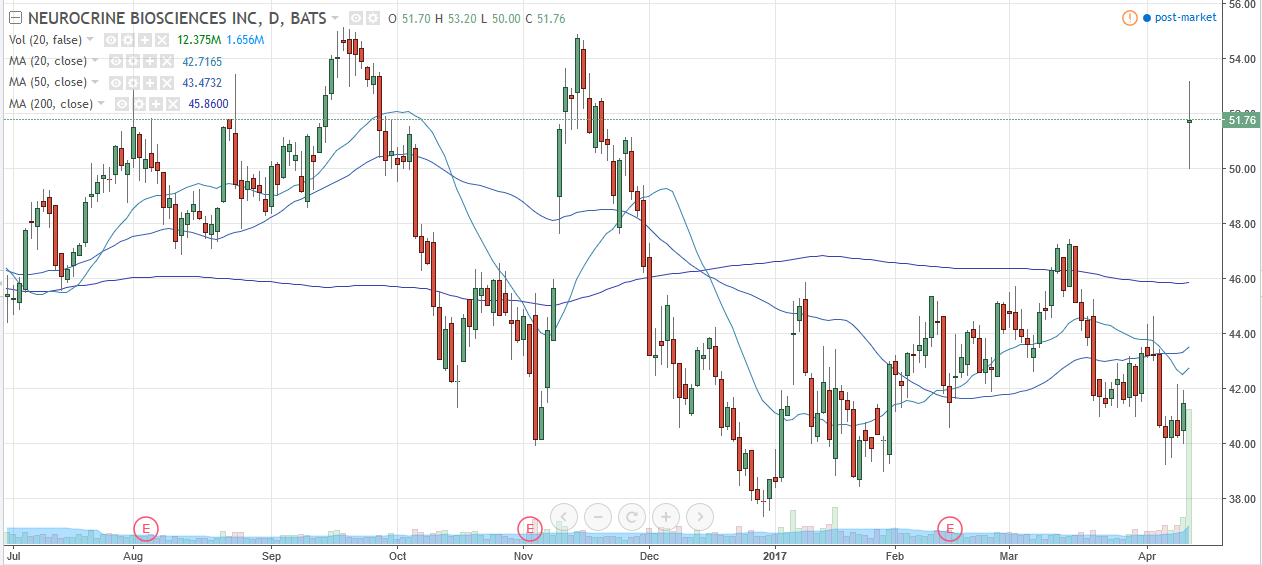 Source: TradingView
The company has a book value per share of 3.6, and consequently, it had a price-to-book ratio of 14.2. The stock has a forward price-to-revenue, based on next year's revenues estimates, of approximately 26.7.The stock also has a price-to-sales ratio (P/S) of 240.90. From a value standpoint, NBIX is overvalued, when compared to the industry average. However, INGREZZA could be one of the company's key drivers of earnings, after the product launch. NBIX has  85.91 shares floating, 87.1 million shares outstanding, and a short ratio of 4.12%.
NBIX's 4Q 2016 revenue fell by 25%, year over year. Additionally, NBIX 's fourth quarter 2016 net income fell by 58% year over year. The company's 4Q 2016 EPS fell by over 50% from its net loss of 34 cents per shares during the fourth quarter of the 2015 fiscal year.
Neurocrine Biosciences Inc. is estimated to report earnings on 2017-05-03*, and the average analysts' estimate is $(0.63). *Note: Neurocrine Biosciences earnings date is subject to change.
Final Thoughts
Neurocrine Biosciences Inc shares were up significantly today, after announcing the FDA approved INGREZZA for the treatment of TD in adults. The company is expected to officially launch its product in early May, and it'll be interesting to see the sales figures for the product in its next earnings report.
Related Articles: