Shares of Valeant Pharmaceuticals (NYSE: VRX) were down over 6% today, which was due to reports that surfaced today, indicating that the company was having a hard time selling its iNova subsidiary. It seems like the company can't catch a break here.
Bids for Valeant's iNova Come in Below Expectations
Valeant Pharmaceuticals may be weighing some options for iNova, VRX's Australian subsidiary. According to a report issued by The Australian, three final bids for iNova over the past week may have been below what Valeant's expectations. Now, the report noted that offers for iNova from two trade buyers and a private equity consortium came in at approximately $900M, which was below the over $1B offer expectations placed on the business.
That in mind, Valeant may withdraw the Australian subsidiary from the market. Last week, The Carlyle Group and Pacific Equity Partners, two private equity firms, placed a bid for iNova. The two private equity firms initiated their final offer, together.
Yet again, this could potentially be worse news for shareholders. Valeant has been trying to pay down its own debt, after former Valeant CEO took on a lot of debt. So far, the company has just paid just over $2B of its debt.
VRX Statistics, Performance and Ratios
The stock traded between  $9.52  and  $10.16  today. VRX has a 52-week range between  $9.52  and  $38.50 . Therefore, the stock is currently 1.73% above its 52-week low  and -74.84% off its 52-week high. VRX is -42.12% below its 200 day SMA. Additionally, the stock is 24.21% below its 50-day simple moving average.
Here's a look at the stock's performance on the daily chart: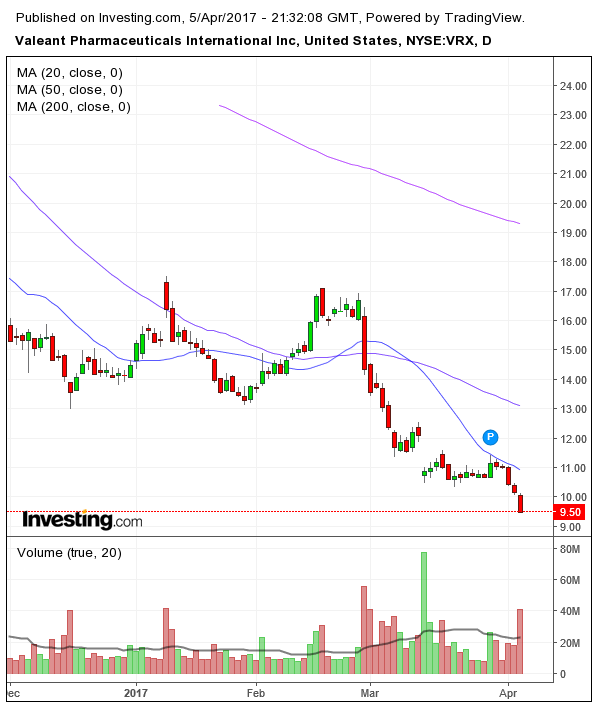 Source: Investing.com
Moving on, let's take a look at VRX's valuation ratios.
VRX has a book value per share (BVPS) of 9.062. VRX has a price-to-revenue ratio of 0.35, and a forward price-to-revenue, based on next year's revenues estimates, of 0.39. Based on next year's earnings estimates, the stock has a forward price-to-earnings ratio of 2.5462. The stock also has a price-to-sales ratio (P/S) of 0.366.
From a valuation standpoint, when compared to its peers, Valeant actually may actually be attractive. The company's price-to-sales ratio is well below the industry average of 2.5. Additionally, VRX is trading at a price-to-book ratio of 1.1, while the industry average is 1.6.
However, keep in mind that the company's revenue fell by 7.40%, year over year. Additionally, VRX 's net income fell by 736.11% year over year. The company's EPS fell by 5.63% quarter over quarter (QoQ).
Final Thoughts
Valeant Pharmaceuticals just received some potential bad news again, after a report stating bids for its Australian subsidiary iNova came in at below $1B. However, the company is trading at attractive valuations, compared to some of its peers.
Related Articles: