Getting Started in Biotech Stock Trading
The trading of pharmaceutical and biotech stocks is difficult. Nearly anyone who tries to trade biotech stocks finds it extremely difficult due to the terms, clinical trial data and a number of other intricacies of the industry. But what if you could learn 3 tips to trade biotech stocks like a pro? Once you learn the mechanics behind biotech stocks, you could start to generate some nice profits.
One of the main problems with learning how to trade biotechs is the fact that many don't know where to start. There's a lot that goes into trading biotech stocks, but when you have successful traders or pros letting you know some simple hacks, you cut that learning curve. That said, let's take a look at 3 hacks to trade biotechs like a pro.
3 Hacks to Trade Biotech Stocks Like a Pro
There are a bunch of secrets of the stock market out there, and it's our goal to try to hack these "secrets" to profit from our trades. I use three hacks every day to find potential trades, then I'll use my battle-tested strategy, which you could read all about in this free e-book.
For the most part, these three tips for trading biotech stocks like a pro should get you up and potentially trading pharmaceutical and biotech stocks. Keep in mind, this isn't going to be easy and you'll need to approach trading these stocks with a lot of grit.
Hack #1- Check Out the Biotech or Pharmaceutical Company's Treatments
Treatments and clinical trials are among the key drivers of pharmaceutical and biotech stocks. That said, you'll need to focus on whether these companies' clinical trial results are good or bad. One way to stay up to date on upcoming data releases and other key events is BioPharmCatalyst.
BioPharmCatalyst is a free and easy-to-use tool that helps to filter for potential trading opportunities.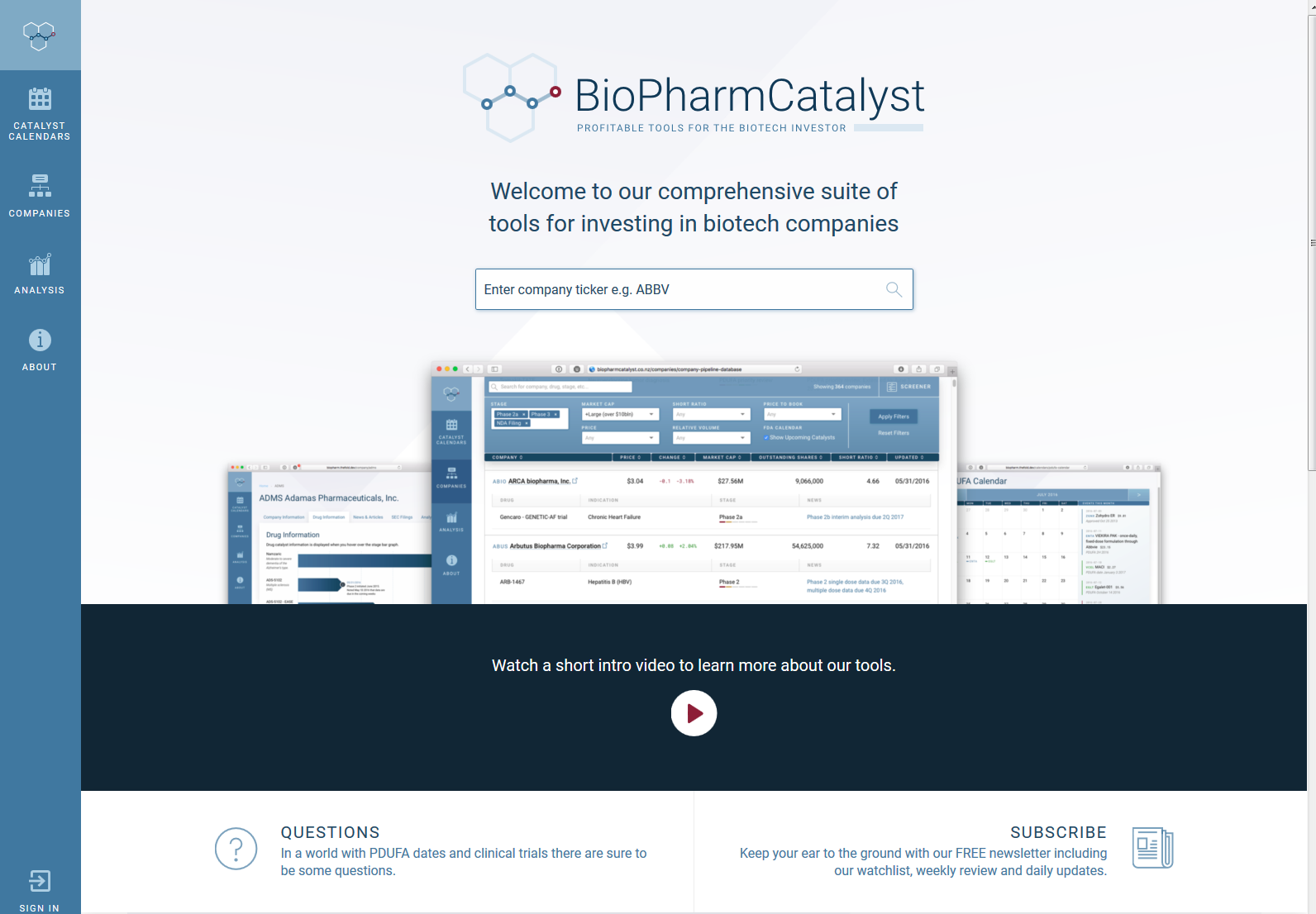 Source: BioPharmCatalyst
Once you get to the site, you can look up all the upcoming catalysts. For example, I like to go to "Catalyst Calendars" on the left hand sidebar of the website. From there, I select "FDA Calendar". This gives me an idea of what companies are reporting key data points and when. This helps me to potentially reduce risks when trading biotech stocks.
For example, if you are long a biotech stock based on technical analysis, thinking it could break out due to some chart pattern, you should look at the website to see whether the company is reporting any clinical trial data. The last thing you want to do is hold onto a biotech stock into a catalyst event. The reason being: It's highly risky and the company could report poor data results. If this happens, you could potentially lose over 25%. We don't want that to happen.
I use another free tool, Finviz, to screen for stocks to watch.
Hack #2- Use Finviz to screen for biotech stocks
Finviz is a great tool to filter out for stocks you actually want to trade.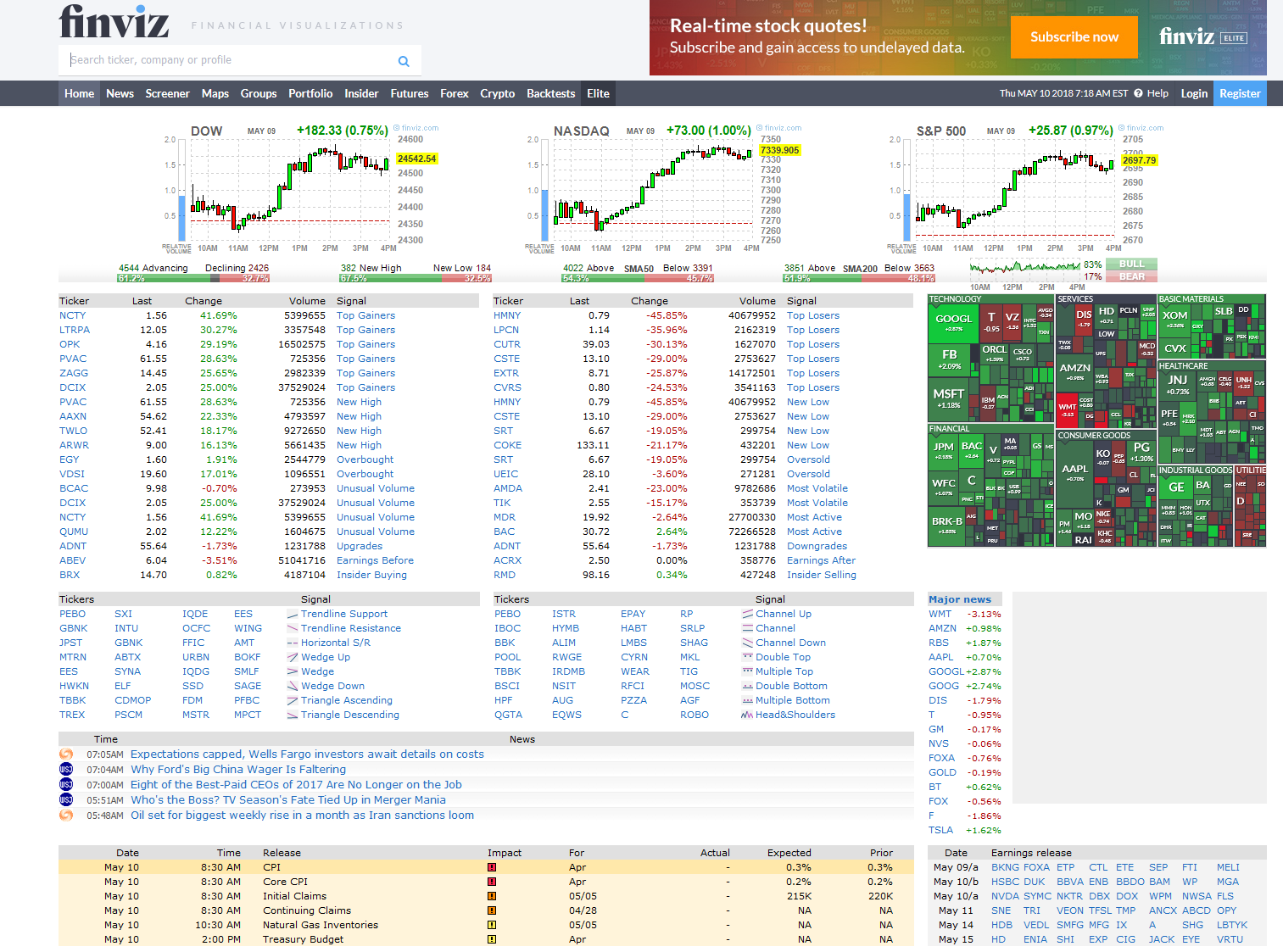 Source: Finviz
Now, if you go under the "Screener" tab, you should see something like this: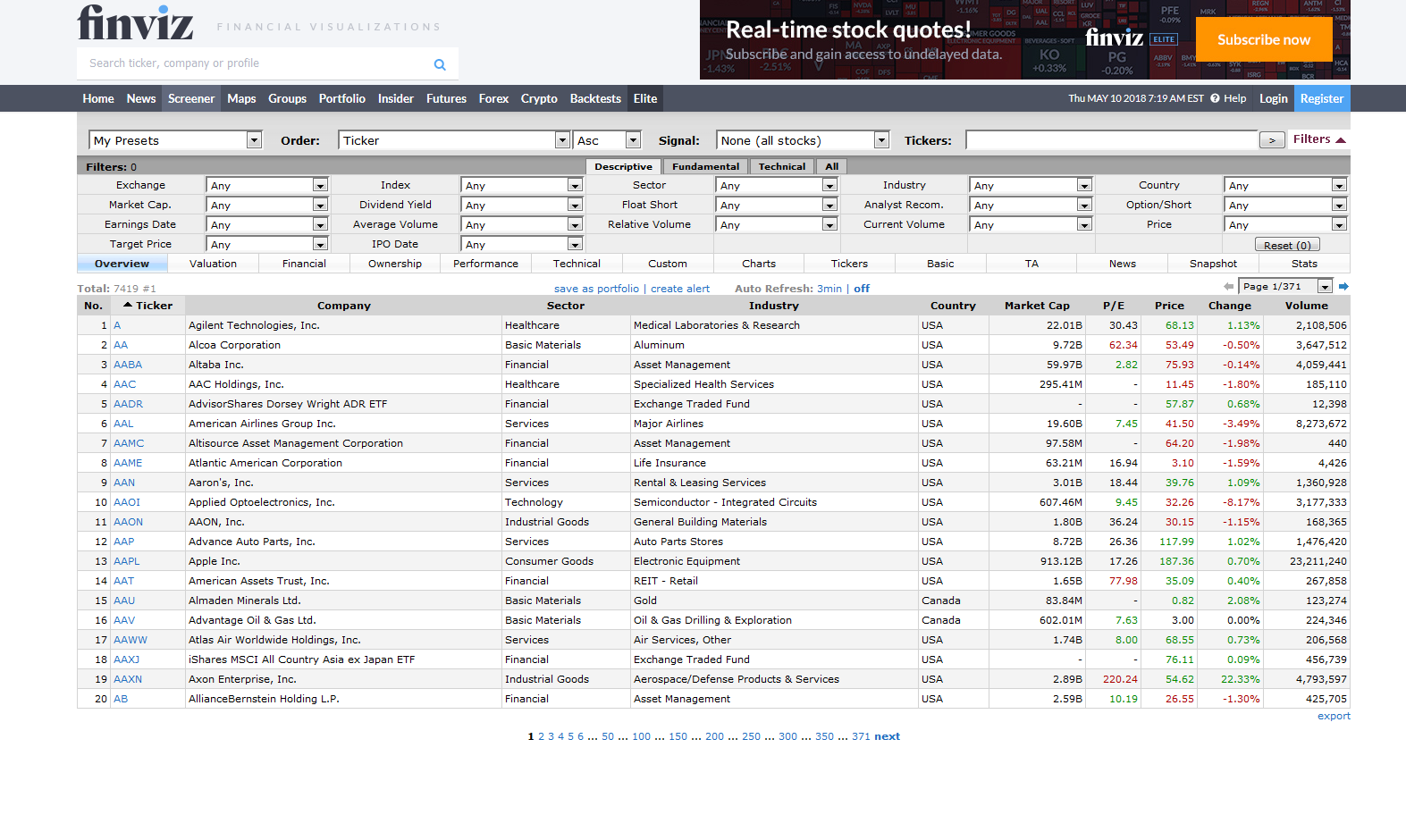 Source: Finviz
Let's see how you could filter for biotechnology stocks. Go to the "Industry" dropdown and change the industry to biotechnology.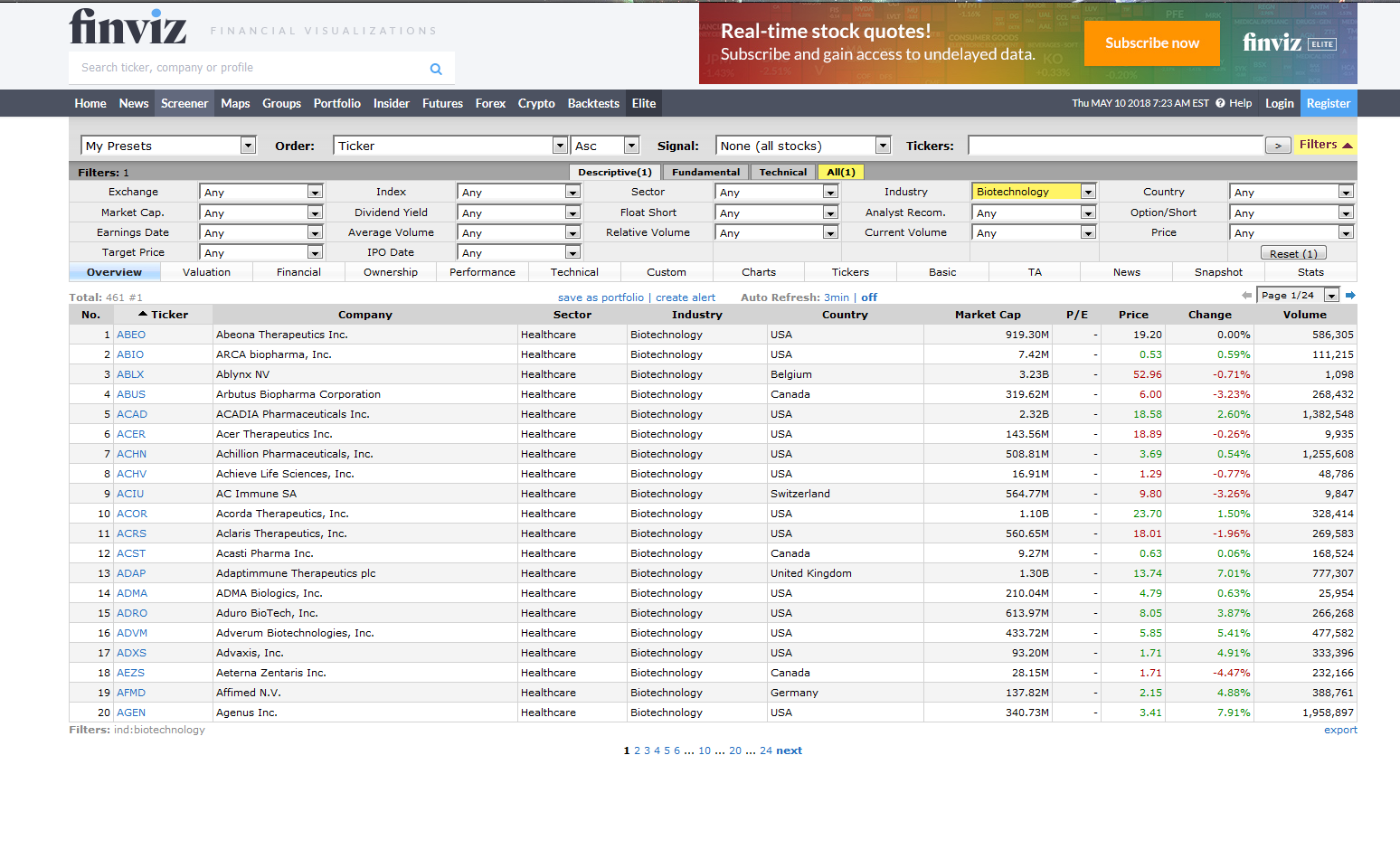 Thereafter, you could specify the price of the stocks you want to trade, market cap, volume and even some key technical patterns. For example, let's say you want to try trading biotech stocks that have an average daily volume of more than 500K and currently trades under $10 per share.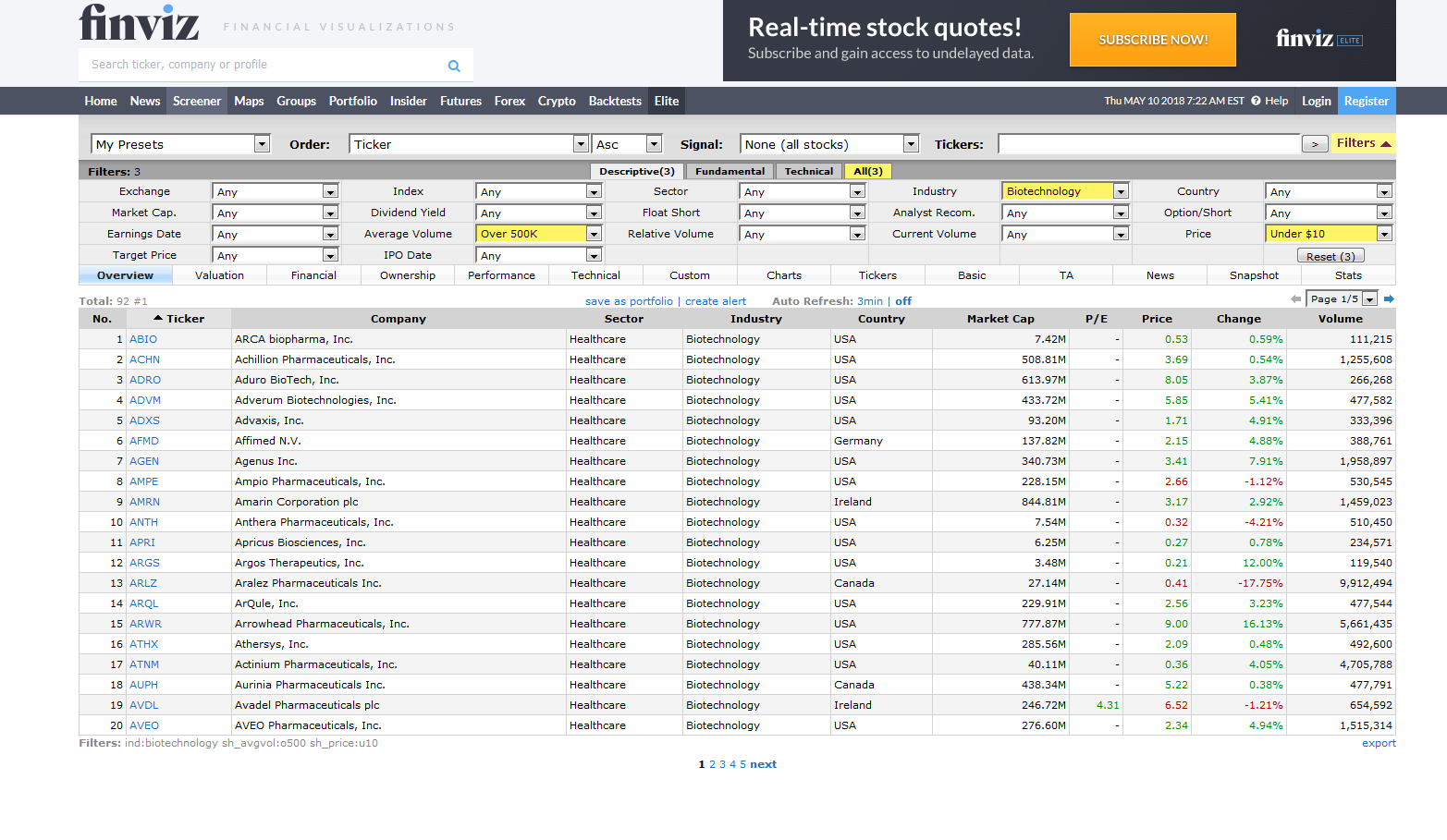 Source: Finviz
The initial list was cut down from over 400 names to just 92. You could filter this any way you want, if you find trading more liquid high-dollar name stocks do that. If you're more comfortable trading low-dollar names, say under $5 per share, you could do that too.
One of my favorite features of Finviz is the pattern filtering. Since I combine catalyst events and technical patterns, so BioPharmCatalyst and Finviz go hand in hand. If I don't see anything I like on the upcoming FDA calendar, I'll go to Finviz and filter for stocks.
Now, if you go to the "Technical" tab on Finviz, you could filter for a pattern that works for you. For example, I'll often filter for the "Channel Up" pattern.
Remember our initial list of more than 400 names? Well, that's been cut down to 6.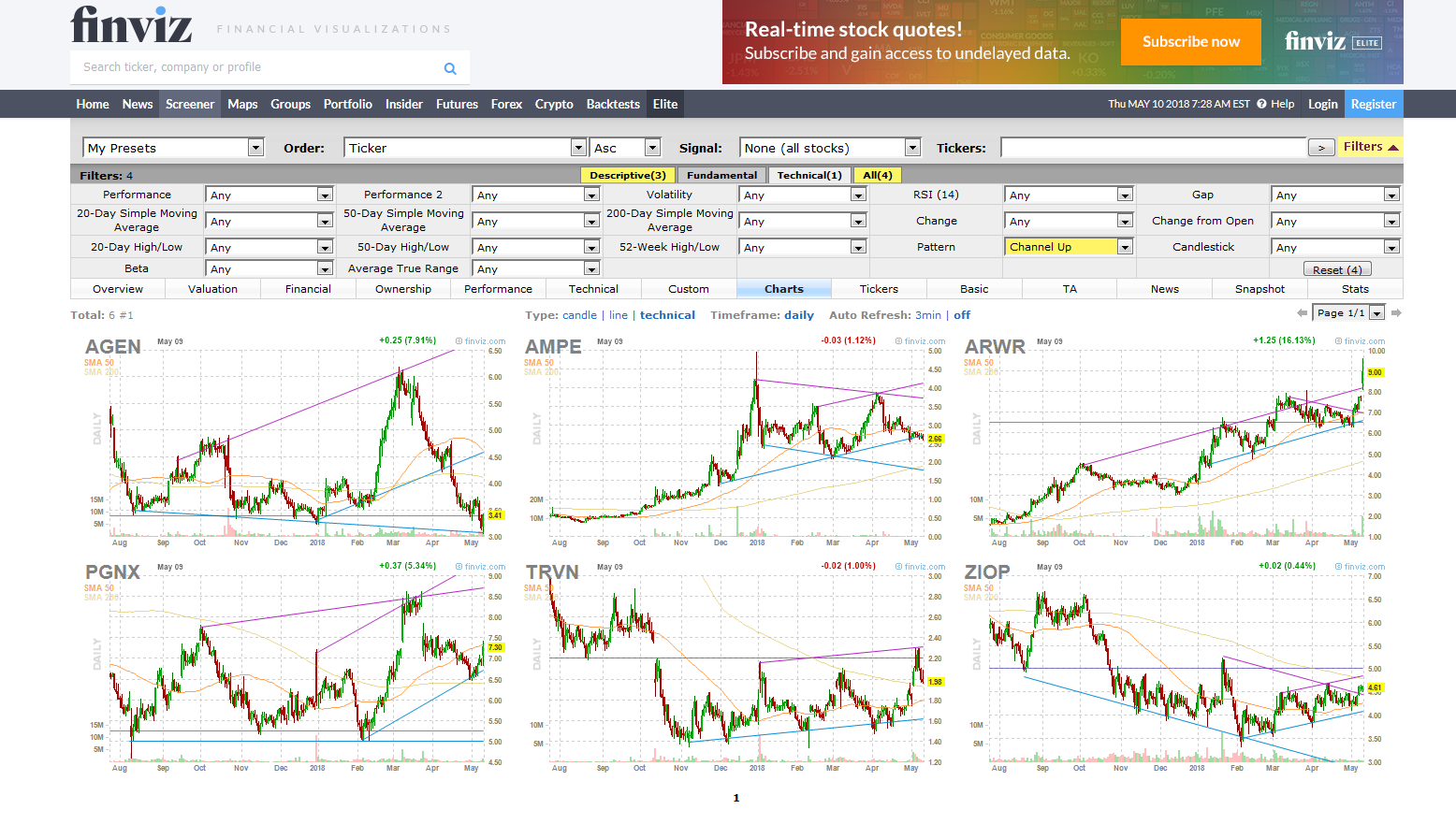 Source: Finviz
Trading biotech stocks is hard enough and who wants to stay up all night researching hundreds of names, when you could filter for patterns that work.
If I see a pattern I like, I'll go to BioPharmCatalyst and see if any of these names have any upcoming events, and if they do, I'll put it on my watchlist.
Another great free too if ClinicalTrials.gov.
Hack #3- ClinicalTrials.gov to trade biotech stocks like a pro
ClinicalTrials.gov is a website backed by the U.S. National Library of Medicine, U.S. National Institute of Health and U.S. Department of Health and Human Services. It's pretty much a database that lets you search for both privately and publicly funded clinical studies.
The sponsor and research team of the clinical trial provides and updates the clinical trial data.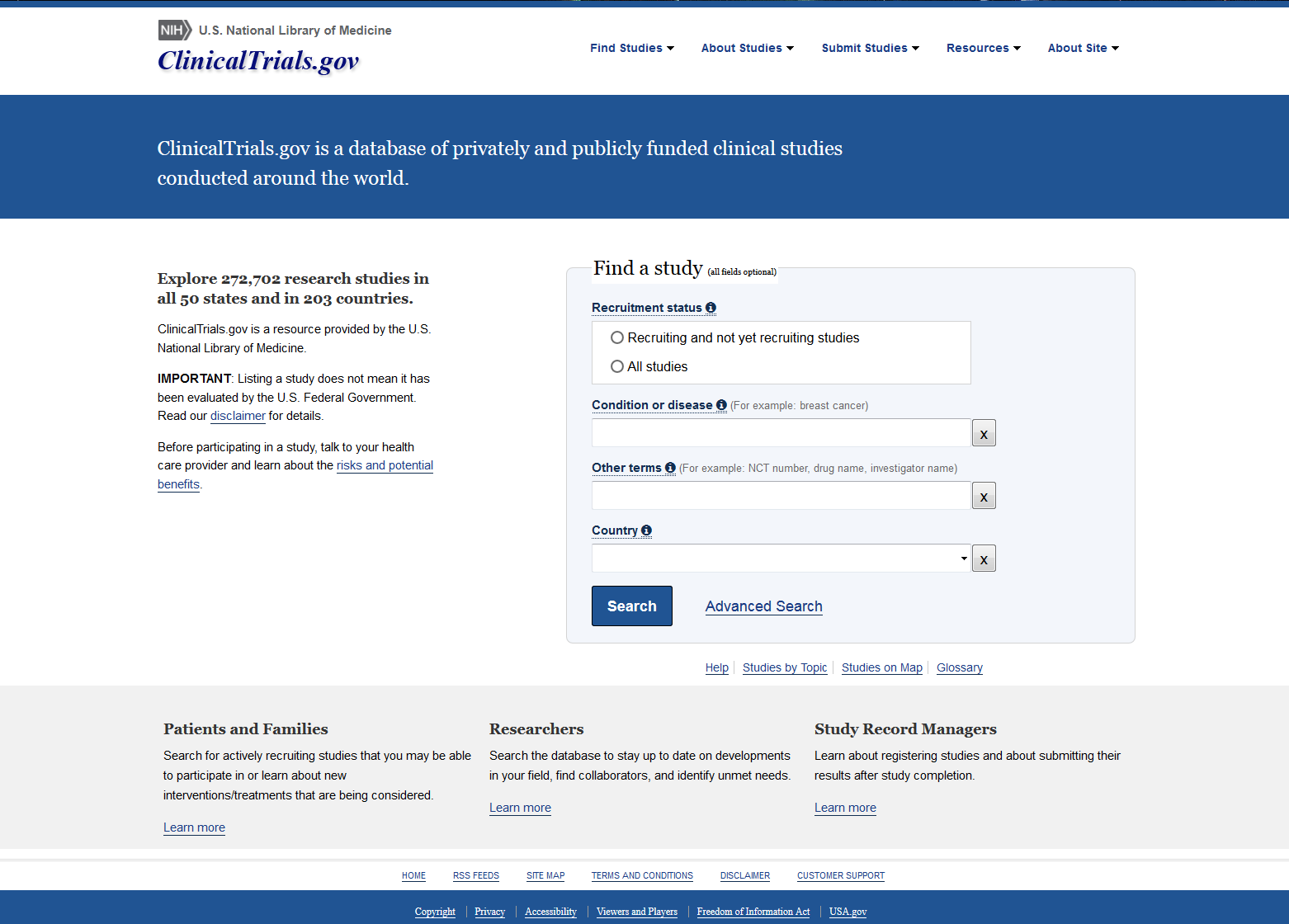 Source: ClinicalTrials.gov
You could look under "Advanced Search" and filter for different conditions, terms, studies and results. You do need to keep in mind that there might be a delay in the time when the information is actually posted on ClinicalTrials.gov and when the company announces the results in a press release.
This data doesn't provide a wealth of information on the trial status, such as the number of patients enrolled. However, the website provides the classification of the trial status, such as recruiting, suspended, terminated, completed, withdrawn, etc. This is all public information on catalyst events potentially affecting biotech and pharmaceutical stocks.
For example, you could specifically search for the treatment in either the Phase II or Phase III stage of the clinical trial. Thereafter, you could see the results and discern whether it's positive or not. Now, it could be difficult to figure this out at first, but once you learn the terms and more about biotechnology and pharmaceutical stocks, things should get easier.
Final Biotech Stock Trading Tips
If you're looking to trade biotech stocks like a pro, you should start using these three free tools. Finviz and BioPharmCatalyst are great tools providing beneficial synergies for catalyst trading. If you want to delve deeper into the specifics of the clinical trials, you could look to ClinicalTrials.gov. These tools won't make you a success overnight, but if you continue to use them, you should see your trading improve because you're not trading random biotech stocks. Moreover, a wealth of opportunity could be uncovered.
Related Articles: