The set-up: Karyopharm Therapeutics Inc. (KPTI) is a clinical-stage biotech focused on therapies for blood cancers. It's on my radar because they have Phase 2-3 top-line data coming out this fall for a liposarcoma indication on their lead drug, selinexor. Another interesting catalyst is a Phase 2b trial study on selinexor in multiple myeloma, due next April. Another good sign is that analysts at Jefferies Group recently reiterated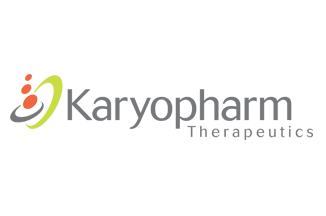 their "buy" rating on KPTI with a $19 price target, up from $16.
What's on the chart: KPTI has pulled back pretty significantly since mid-April. On March 2, it hit a high of $13.84, but then the stock got pummeled by a failed selinexor trial for a different indication, and a brief clinical hold imposed by the FDA. Since the beginning of August, it's been bouncing right above support at $8. It pulled back down to $8.11 on Monday, and then popped up. It looks to me like it could run over $10, maybe to $11, in the next four weeks or so.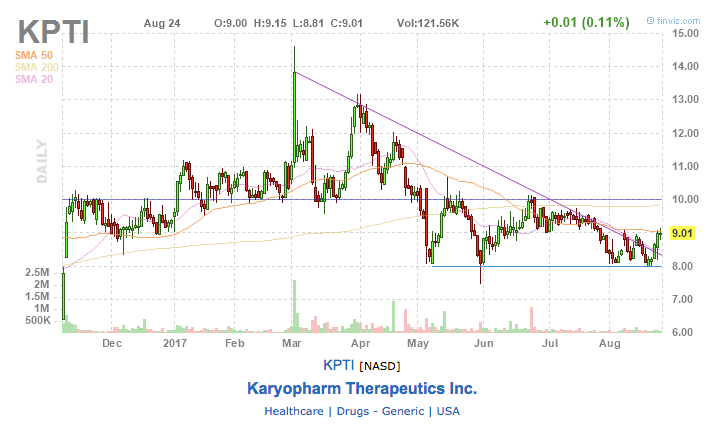 How I may play it: I think there should be one more dip back down. On Thursday, it sneaked up when I wasn't looking, and closed at $9.01. If it falls back down to $8.50, I'd be really interested in picking up a starter position.
#-#-#
Kyle Dennis runs Kyle Dennis' Biotech Breakouts (biotechbreakouts.com). He is an event-based trader, who prefers low-priced and small-cap biotech stocks. He currently has no shares, options or open orders in KPTI; he last held the stock on June 24, 2016, when he played it as a day trade.